Instant Pot Hard Boiled Eggs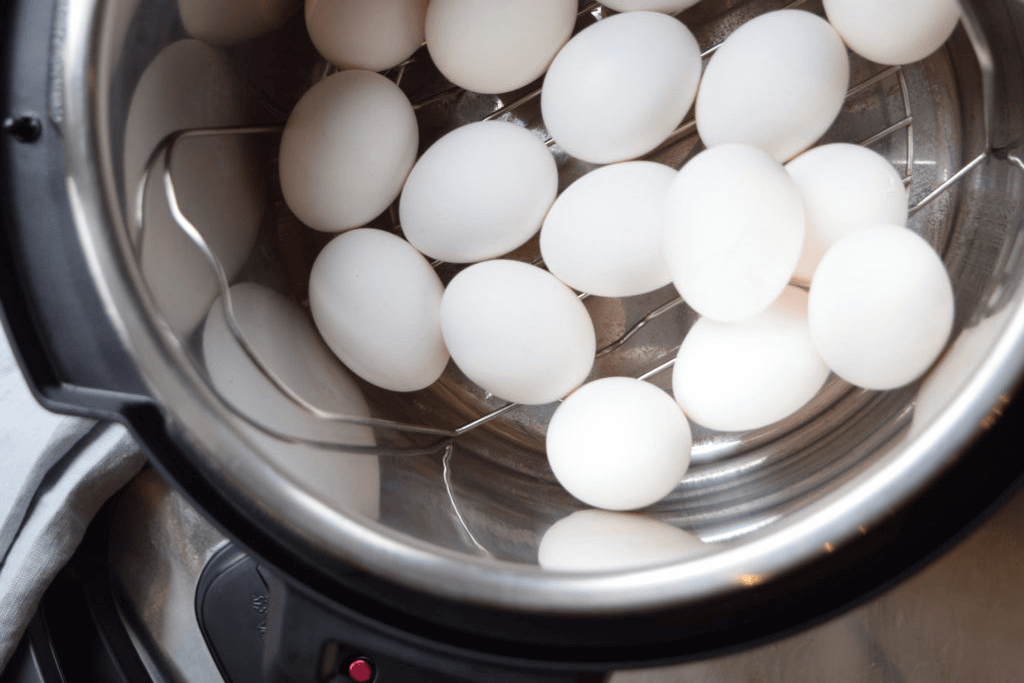 You know how people say… it's as easy as boiling an egg? Making the perfect hard boiled egg is somewhat of an art. There are those people (like myself, my aunt, my mother and my late grandmother), who swear by the method of placing the eggs (pierced with an egg piercer) in an empty pot, cover with cold water, bring to a boil, once boiled, shut the heat of and let sit in the boiled water for 7-11 minutes, depending on how you like them. I like the yolk jammy so I cook them for 7 minutes (AKA "the 7-minute egg") and then there are others who actually boil the eggs, starting in cold water the entire time on the heat.
BUT…
Then the Instant Pot was born.
Have you ever boiled eggs in an instant pot?  I don't do it all the time, because it is a large vessel that lives most of the time in my basement.  But when I am making a lot of eggs, like at Passover, the instant pot is the way to go.
This is the instant pot I have and love Instant Pot Duo 7-in-1 Multi-Use Programmable Pressure Cooker, 8 Quart | 1200W
Happy cooking friends!

Instant Pot Hard Boiled Eggs
Ingredients
4-20

eggs

it is ok if they overlap

1

cup

of water
Instructions
Place the steamer basket in the liner of the pot, add the water, place the eggs on top.

Close the lid, turn the valve to "sealing", I know that is obvious, but I have been known to forget that!

Turn the pot on "manual" high pressure for 5 minutes.

Once the time is up, "Quick Release" the pressure, open the lid, run cold water over the eggs, add some ice cubes, let them rest until they are cool, peel and enjoy!

Note: some people say that if you add some salt to the water they will be easier to peel.  I am on the fence.