Peach and Blueberry Tea Cake
I say tea cake, you say coffee cake, let's just eat the whole thing! Especially with the peaches in full bloom and beauty. I know that those baby blues are trying so hard to be the shining star here, but, no my friend, it is the peachy peach that you will savour in every bite.
The combo of peach and blueberry is an obvious win, but don't hesitate to replace those blues with cherries or raspberries. If you don't do nuts, leave 'em out!
The cake bottom is hearty enough to be called a crust and if you so choose to spread it into a square pan, you can cut them into squares. Dress it and cut it how you like it but just make it, you will gain lovers, trust me on this one.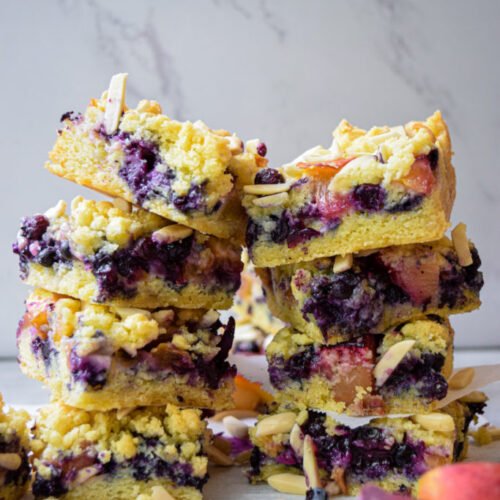 Peach and Blueberry Tea Cake
Ingredients
2

ripe peaches, diced* (you need about 1½ cups diced peaches)

1

cup

fresh or frozen cherries, pitted (the frozen ones are pitted already!), you also can use raspberries or blueberries

2

cups

(9 oz./255 g) all-purpose flour

1

cup

(7½ oz./215 g) granulated sugar

2

tsp

baking powder

1/4

tsp

salt

2

eggs

1/4

tsp

almond extract (or 1 tsp. vanilla extract)

1/3

cup

melted butter

1/3

cup

sliced or slivered almonds, with or without skins
Instructions
If you are using cherries, allow them to defrost a little while you are preparing for the rest of the cake.  Cut the cherries into halves. 

Dice the peaches and mix the cherries (or raspberries or blueberries) with the peaches

Preheat oven to 325˚F. Lightly butter an 8-inch (or 9-inch) round or square cake pan and line the bottom with parchment paper.  

In a large mixing bowl, whisk together the flour, sugar, baking powder and salt.  

In a separate bowl, whisk together the eggs and extract and THEN stir egg mixture and melted butter into flour mixture until well mixed.  THE DOUGH WILL BE VERY STIFF almost like a crumble.

Spread or press about two-third of the batter mixture over the bottom of the pan (reserve the last one-third for the topping).  NOTE – I use an inverted spatula or my fingers to do this spreading.

Top with the fruit mixture.

Top fruit with the remainder of dough (you will need your fingers to break the dough up and flatten out the pieces on the top (like a cobbler); some of the fruit will stick out.  

Sprinkle the sliced almonds on top.

Bake for 70 minutes; when a toothpick is inserted in the centre of the cake it should come out clean.  If the fruit is very wet, it may need more time.

Cool on a rack, remove from pan by lifting the parchment out with the cake.