Spicy Tuna Salad Nori Wraps with quinoa and avocado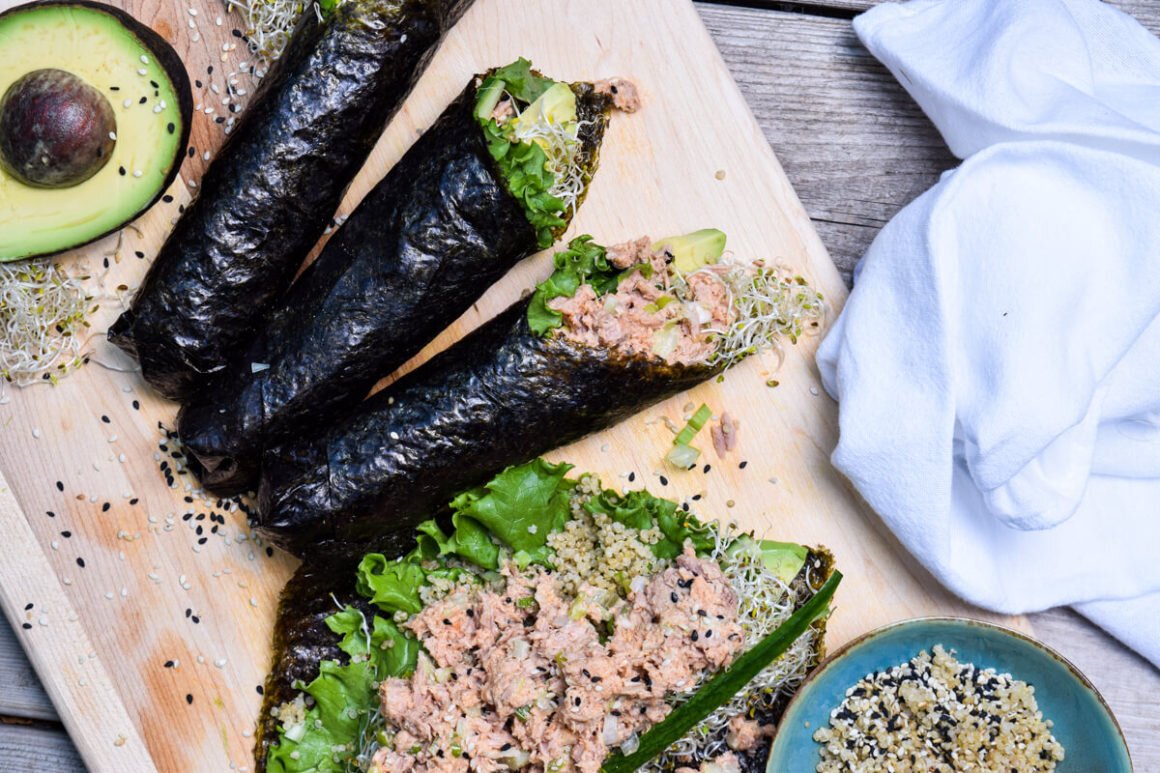 If you are anything like me, you eat close to the same thing for lunch every day. But the other day I needed to get out of my rut so I came up with these spicy tuna nori wraps. Think tuna wrap meets a sushi hand roll.
Nori is so healthy and something you can keep on hand in your pantry. But remember, once you open a pack it doesn't stay fresh and crisp for very long, so use it within a week or two. Or if you have a vacuum sealer (I have THIS one, it's my new best friend) you can repackage the nori sheets. You can find nori sheets in most grocery stores, health food stores or Asian markets. You can also find them HERE.
I feel good eating these pretty wraps for so many reasons. First of all, nori is a sustainable crop. It takes little effort to plant and harvest, requires no fertilizers or medicines and is good for the environment. Nori is an excellent source of iodine, which is great for your blood and contains calcium, copper, iron, magnesium, manganese, phosphorus, potassium, selenium, zinc and then some! Nori can actually contain up to 10 times more calcium than milk! It offers vitamins A, B, C, D, E and K, as well as niacin, folic acid and taurine. And thanks to the level of vitamin C it contains, the bioavailability of its abundant iron content is increased.
So what's next? The tuna. For me, it's non-negotiable. The only tuna I'd use for these wraps is Italian tuna packed in olive oil. It has the best taste and once you try it, you will not go back!. You don't need to add very much mayo to this salad (in fact, you can leave it out altogether ) because the tuna will have a little leftover olive oil in it even after you drain it.
I always have a little cooked quinoa on hand so I added it to these wraps, making them a complete balanced meal. But feel free to leave the quinoa out.
Add any veggies you like to this. I added avocado and cucumber so that I was reminded of a California roll.
And, of course, sprinkle in a little sriracha….Is anything better than spicy tuna?

Spicy Tuna Salad Nori Wraps with quinoa and avocado
Nori, a sea vegetable is incredible good for you, packed with minerals and nutrient.  These toasted sheets act as a perfect wrapper for this delicious spicy tuna wrap.  You can find nori in any Asian grocery, health food store, or usually at the sushi counter in a standard grocery store.
Ingredients
2  160 gram cans tuna, drained well, I use Rio Mare Italian tuna packed in olive oil

1 stalk of celery, chopped finely

1 tbsp. mayo

2 tsp. sriracha

1 green onion, minced

4 sheets of nori, toasted seaweed sheets

2 large lettuce leaves

About 1 cup of alfafa sprouts

1-2 small cucumbers, sliced thinly

1 cup cooked quinoa

see note

½ ripe but from avocado, sliced thinly

1 tbsp. toasted sesame seeds, optional (I like black and white combination)
Instructions
Mix drained tuna with the celery, mayo, sriracha and green onion.

On your work surface, lay down a sheet of nori with the long, horizontal side towards you. The "dull" (not "shiny") side of the nori sheet should be facing up. Prepare a small bowl of water next to you for dipping your fingers.

Place half of a lettuce leaf towards one side of the nori sheet and on an angle so that you can roll the wrap in a cone shape.

On the lettuce leaf add a pinch of alfalfa sprouts,  ¼ of the tuna salad, layered with a few slices of cucumber, about ¼ cup cooked quinoa and 2 slices of avocado.  Sprinkle with a few sesame seeds.

Lift the filled end of the stuffed nori over and roll it on top of itself, you should reach the end of the lettuce leaf half.  Wet your fingers and brush the end of the nori and the bottom corner near the lettuce leaf with water.  Pick up the bottom corner and fold it into the roll to seal up the bottom and continue rolling.  Attaching the roll together with a little more water.  Let it rest on the sealed end.

Repeat with the other three sheets.Serve the same day.
Notes
To cook quinoa:

 

Place the quinoa in a pot with 1½ cups water, bring to a boil, turn the heat to low, cover and cook for 15 minutes.

 

Remove from the heat, open the lid and fluff with a fork.

 

You will only need 1 cup of this cooked quinoa, you will have about 3 cups, use it for salads or freeze it.