1-2-3 Veggie Stir-Fried Noodles
The best kind of noodles for this recipe are the thick Chinese Miki "Pre-Cooked" noodles.  They are fresh and found in the refrigerated section of most grocery stores, sometimes vacuum packed in a block.  It says right on them that they are "pre-cooked" but I find that they need to be cooked, even just for a minute or so to loosen them up.  
Feel free to substitute any noodle you like, just make sure you cook the noodles "al-dente" and choose a noodle that will hold up to a stir-fry.  I find that Soba noodles work well, I like this brand, or sometimes I will use wide rice noodles, undercooked.
King Soba 2-Pack 100% Buckwheat Noodles, Organic & Gluten Free
This recipe is "veggie-heavy". In other words, there is a disproportionate amount of veggies to noodles. Also, I made the sauce in this recipe very light in flavour and in amount. I wanted to be able to taste the veggies and not be overpowered by a goopy unhealthy stir-fry sauce. Feel free to double the sauce if you like a stronger taste or need a little gravy.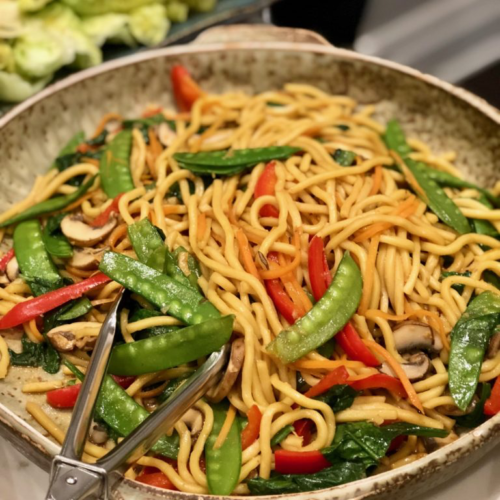 1-2-3 Veggie Stir Fried Noodles
Ingredients
About

300-400 grams

of fresh thick Chinese wheat noodles or any noodle you like

2

tbsp

grapeseed oil

2

cloves

cloves garlic

minced

6-8

mushrooms

sliced thinly

1

red pepper

julienned

1

carrot

julienned

Big

handful

of snow peas

ends removed

3-4

cups

baby spinach
For the Sauce
2

tbsp

low sodium tamari or coconut aminos

2

tsp

sugar or coconut sugar

1

tsp

freshly grated ginger

½

tsp

Asian hot sauce

I use sriracha

A little water to swish in the empty sauce bowl once the sauce had been poured into the stir-fry
Instructions
In a small bowl mix together all the sauce ingredients, set aside.

If you are using Chinese Miki Precooked Noodles:  Unwrap the noodles and place in a bowl with warm water.  Using your fingers, loosen them so that they separate, be gentle.  Bring a pot of water to boil and boil the noodles for 1-2 minute.  Drain and rinse, set aside.  They do not need to be freshly cooked when you stir fry them (see step 4).

In a wok or large fry pan, heat oil, add the garlic and sauté for less than 30 seconds.  Add the mushrooms, sauté for 2-3 minutes, add the peppers, sauté for 2 minutes, add carrots, sauté for 1 minute.  Add the snow peas and spinach, sauté until the spinach is wilted.

If the noodles have cooled and are sticky, run hot water through them.  Add the cooked noodles, toss everything together. 

Add the sauce, swish a little water through the empty sauce bowl and add that to the stir-fry, toss until coated.  Serve immediately.