3-Ingredient Individual Chocolate Souffle​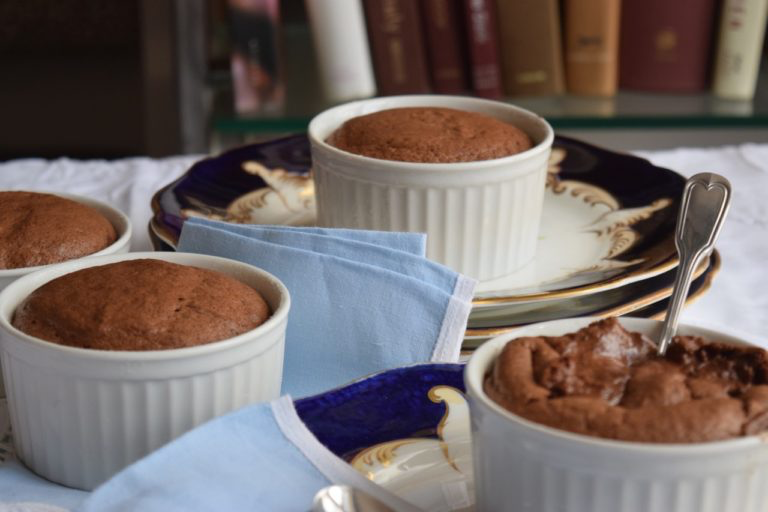 Valentine's day is made for…CHOCOLATE! We all love the love on Valentine's day, but let's get serious…what are you cooking?? This recipe is always my go-to Valentine's day indulgence. I have a family valentines day tradition. I buy each one of my kids' new socks and underwear (like a mummy-to-kid lingerie thing), write them each a card telling them how special and loved they are, and lastly, I make a valentines day dinner. Sometimes, it is just the family and sometimes I will make a small party with some close friends. It takes the pressure off the romantic-out-for-dinner thing, and also it brings together a group who may not otherwise get together on this particular day. Now let's get down to the most important topic of all…CHOCOLATE. These 3-ingredient individual chocolate soufflés are all that. They are super easy to make, as long as you don't mind separating eggs, they are make-ahead and even freezer friendly. You can double or triple the batch, put them in the freezer and pop them in the oven right before you want to serve them.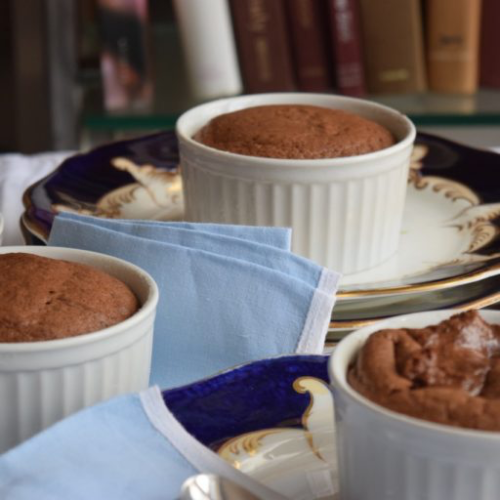 3-Ingredient Individual Chocolate Souffle​
Ingredients
75

grams

sugar or superfine sugar* (⅓ cup)

more for dusting

150

grams

fine dark chocolate (scant 1 cup)

4

large

eggs separated

room temperature

⅛

tsp

cream of tartar

A little unsalted butter for brushing on the ramekins
Instructions
Preheat the oven to 400ºF

Butter six 4-6-ounce ramekins and dust with sugar, tapping out excess.

Break the chocolate into small pieces if you are not using chips.  Melt the chocolate over a double boiler.  As soon as the chocolate begins to melt remove it from the heat; you don't need to stir it.

Whisk the egg yolks and sugar together in an electric mixer until they are pale and fluffy.  

Wash and dry the whisk very carefully.

Beat the egg whites in a separate bowl.  When the whites start to foam, add the cream of tartar.  Beat the whites until they are standing in stiff peaks.

Working quickly but gently, fold the melted chocolate into the egg yolks/sugar mixture.  Spoon a large spoonful of whites into the chocolate mixture, mix gently, fold in the remaining white.  Fold deeply and slowly to disperse the whites into the chocolate without losing the air.  Do not overmix; it will make for a flat soufflé.

Spoon the mixture into the prepared ramekins.  

If you want to bake the soufflés within the next 24 hours, refrigerate.  If you want you can freeze them for 2 weeks. 

To freeze:  Put the filled ramekins in the freezer on a baking tray for 20 minutes uncovered.  Then wrap each ramekin in plastic wrap.

To bake from the freezer:  Allow the soufflés to sit at room temperature for 20 minutes while the oven is pre-heating.  Bake on the baking sheet for 15-18 minutes.  Remove and serve immediately.  

If baking from the refrigerator, baking time is 15-17 minutes.  If baking straight away, bake for 14-15 minutes.

The tops should crack and rise above the ramekin.  They will collapse after several minutes of post-baking.
Notes
Serve warm and with ice cream.

 
Note: Use only the best dark chocolate, at least 70% cocoa powder, otherwise soufflé will be light in colour and will have no depth.

 
*Superfine sugar is simply granulated sugar ground more finely. It's called for in recipes where a faster dissolving granule is needed.  It's available in most supermarkets, but you can also make it at home.  Just place regular granulated sugar in a blender or food processor and grind it finer.