4 – Ingredient Cauliflower Fritters with Tomato, Cucumber And Chickpea Chop
I love cooking once and reaping the benefits all week. Lately, life has been so busy that having a grab-n-go lunch is the best way to keep me on track and fueling my body properly for what's to come.
I love anything cauliflower, but add a little sweetness from almond flour and crunch from a hot fry-pan, ummm delicious.
I made a simple side salad that keeps for a few days in the fridge. Putting it all together makes for a high protein and veg complete lunch or light dinner.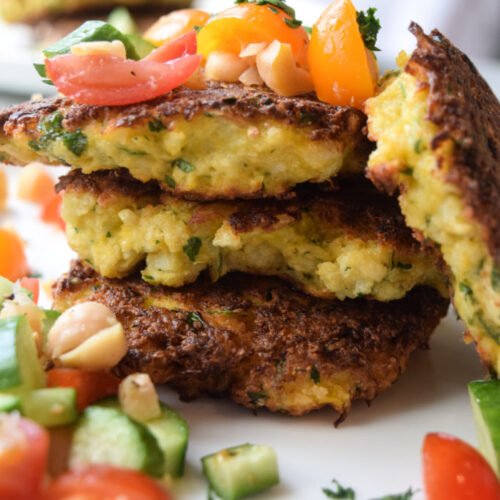 4 Ingredient Cauliflower Fritters with Tomato, Cucumber and Chickpea Chop
Ingredients
For the Cauliflower Fritters
6

cups

riced cauliflower, from a large cauliflower *

3

eggs, scrambled

2/3

cups

almond flour

1/2

cup

parsley, chopped

1 1/2

tsp

sea salt

Freshly ground pepper to taste

1/4

cup

avocado oil
For the Chickpea Chopped Salad
16

cherry tomatoes, quartered

4

baby cucumbers, diced

1

cup

 cooked (canned) chickpeas, drained and rinsed and roughly chopped

Sea salt and freshly ground pepper

4

tbsp

extra virgin olive oil

2

tbsp

apple cider vinegar
Instructions
To Make the Cauliflower Fritters:  Steam the cauliflower rice on the stovetop for 8 minutes or in the microwave for 5 minutes.  Let cool,  Place on a kitchen towel and wring the cauliflower out as much as possible, the drier the better.  Let cool.

In a large mixing bowl, mix the cauliflower with the eggs, almond flour, parsley, salt, and pepper.

Heat a large fry pan over medium heat, add the oil.

Using your hands, scoop and handful of cauliflower batter (you will have enough for 8 patties) and gently place it into the hot pan and then press to form a thick patty.  Repeat until you have filled the pan with 5 or so patties.  Cook for 1 minute, cover the pan (so the egg cooks) for 4-5 minutes, then uncover and let cook until the edges have browned, flip and repeat on the other side.  Remove the fritters from the pan and place on a paper towel lined plate.  Repeat with the remaining batter.

To Make the Chickpea Chopped Salad:  Mix all the salad ingredients together.

Pack the fritters and the salad into lunch size containers for an easy grab-n-go lunch.