5 Minute Vegan No-Nut Pesto
Pesto is amazing and so versatile to keep on hand in your fridge or freezer. I will always have a jar of pesto going in my fridge. I very rarely use it for pasta and very often use it to flavour other dishes.
Here are some ways I use pesto…
A flavour enhancer in turkey or chicken burgers or meatballs.
A topping for baked fish or chicken – add it before baking the fish or chicken.
As a pizza topping.
Use a tablespoon or two to a frittata.
This particular pesto is especially good for you because it is a vitamin B powerhouse. As Dr. Jodi Larry says…The B-complex vitamins in pumpkin seeds work as co-factors in the body to help reduce cholesterol and enhance GABA activity. GABA helps the system calm down when in high states of stress and/or anxiety. Pumpkin seeds also contain anti-inflammatory properties which provide benefit for those that suffer from chronic inflammation. They are also filled with zinc, an important mineral needed through the winter to keep our immune system strong.
Nutritional yeast is a source of B vitamins, including thiamine, folate, B-6, and niacin. It is deactivated yeast and has a strong nutty and cheesy flavour and makes this pesto creamy as well. It is a great vegan substitute for parmesan cheese.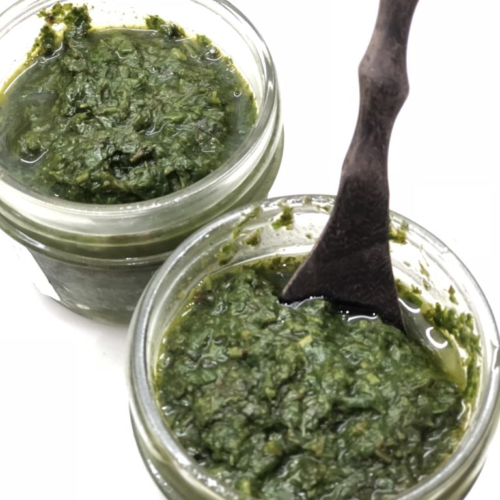 5-Minute Vegan No-Nut Pesto
Ingredients
2

cups

packed fresh basil leaves

¼

cup

pumpkin seeds

3

large

cloves garlic

peeled

2

tbsp

lemon juice

2-3

tbsp

nutritional yeast

¼

tsp

sea salt, plus more to taste

2-3

tbsp

extra virgin olive oil

3

tbsp

water

more if you want it thinner
Instructions
In a blender or food processor, blend the basil, pumping seeds, garlic, lemon juice, nutritional yeast, and salt.

With the motor running slowly add the oil through the feed tube.  Add the water the same way.  Add more water if you want it thinner.
Notes
I freeze this in 1/4 cup batches.