6-Ingredient Spaghetti and Meatballs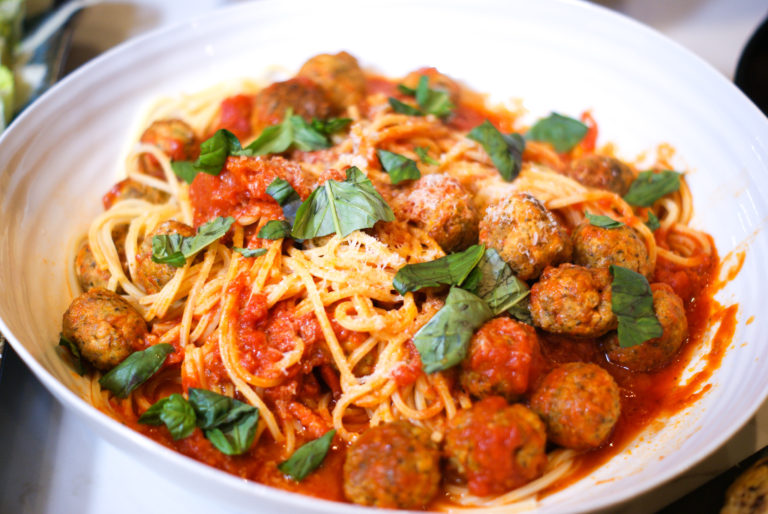 I LOVE spaghetti and meatballs. The problem is that a really good meatball takes a long time to cook. Meatballs need to slowly cook to develop the right flavours. Don't you ever come home after a day of work and just want a good bowl of spaghetti and meatballs NOW? That happens to me and I don't always plan ahead. That's the truth! This recipe is the perfect solution for those days when you are hungry and you want a comforting meal in less than one hour. Adding pesto to the turkey is the flavour solution!
The pesto adds a quick and easy punch of flavour. You can use regular pesto or I use store-bought no-cheese no-nut pesto from my favourite local pasta shop. Try to get the "fresh" pesto from the refrigerated section rather than the pesto in the jar on the shelf, it is much better! This dinner comes together in well under 1-hour.
A disclaimer…6-ingredients does not include olive oil, salt, pepper, pasta, or any optional ingredients, that's on you 😉

6-Ingredient Spaghetti and Meatballs
Ingredients
For the Turkey Balls
1

pound

1 pound ground turkey*

⅔

cup

bread crumbs or quinoa flakes for GF

½

cup

store-bought pesto or homemade

1

tsp

kosher salt

Plenty of freshly ground pepper

4

tbsp

extra virgin olive oil
For the Sauce
2

large

cloves garlic

minced

1

28-ounce

can of San Marzano tomatoes

pureed

1

tsp

kosher salt

Plenty of freshly ground pepper

12

ounces

spaghetti noodles** Use GF if you like

6

basil leaves, shredded

optional

Grated parmesan Reggiano

optional

Red chili flakes

optional
Instructions
In a large mixing bowl, mix together the breadcrumbs, pesto, salt and pepper.  

Add the turkey and mix well.  

Prepare a parchment lined tray.  

Roll the mixture into 1-inch balls.  You should have about 25-30 balls.

Heat a large skillet over medium heat.  Add olive oil.  Brown the meatballs all over for about 8-10 minutes, transfer to a clean surface (I use a plate).

Add the garlic to the same pan, cook for 30 seconds, add the pureed tomatoes add the salt and pepper and let bubble over medium high heat for 5-8  minutes.  

Add the turkey balls back into the pan, cover, turn heat to low and cook for another 5-10 minutes.

In the meantime, bring a large pot of water to boil, add 1 Tbs. salt, and boil the noodles according to package direction, keeping them al-dente.  

Reserve 1-cup of pasta water and then drain the noodles, put the pasta back into the pasta pot and add the sauce to the pasta.  Add the pasta water a small amount at a time if needed to finish cooking the pasta or to thin the sauce (you may not need it).
Notes
*Don't use white meat turkey, use the regular ground turkey.
**12oz or 340gm is ¾rs of a bag of pasta.

 

I don't use the whole bag because the ratio of meatballs to pasta is perfect and 12 oz serves 4 perfectly!