Almond Crusted Baked Chicken Tenders with Honey Chipotle Mustard and Butter Leeks and Peas
I'm chicken finger obsessed. When I cant think of what to make for dinner, I grab some chicken cutlets or tenders and make baked chicken fingers. To me, they are comfort food, easy to eat and can be really healthy!
This recipe is:
Baked
Uses crunchy almonds and almond flour to get a crisp texture
Gluten free (if you care)
Fast and easy
Great cold the next day
If you are nut allergic, feel free to use a combo of panko and sesame seeds.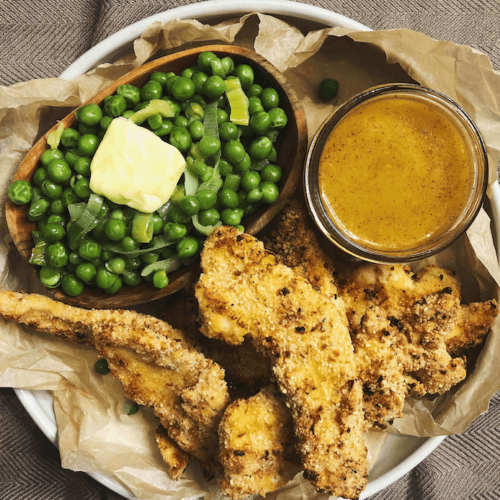 Almond Crusted Baked Chicken Tenders with Honey Chipotle Mustard and Buttery Leeks and Peas
Ingredients
2 pounds of chicken scaloppini or chicken tenders

1 cup rice flour

(or any flour)

Salt and pepper for the chicken

2 cups almond flour

or panko or tiger nut flour if nut allergic

½ cup medium finely chopped almonds

I do this in my food processor.  You want this to resemble very coarse sand.  Skip if nut allergic or use sesame seeds, hemp hearts, chopped sunflower seeds, or chopped pine nuts.

1 ½ tbsp. paprika

1 tbsp. kosher salt or 1½ tsp. sea salt

1 tbsp. granulated garlic

1 tsp.  granulated onion (or onion powder)

3-4 beaten eggs 

Cooking spray
Chipotle Honey Mustard
2 tbsp. dijon mustard

2 tbs honey

2 tbs olive oil

Small squeeze of lemon

Big pinch of chipotle pwder
Buttery Leeks and Peas
1-2 tsp. olive oil

1 leek, whites and light green parts only, sliced thinly

1/2 tsp kosher salt

2-3 cups frozen peas

Pepper to taste

1-2 tbsp. unsalted butter, cut into pats
Instructions
If you are using chicken scaloppini, cut the chicken into fingers.  If using tenders, leave them as is.  

Preheat the oven to 400˚F.  Line a baking tray with parchment paper and generously spray with oil.

Prepare a large piece of parchment paper as a work surface. Put chicken on one side, then the rice flour, a shallow bowl of beaten eggs in the centre. 

In a bowl, mix together the almond flour, chopped almonds, paprika, salt, garlic, and onion. Pour this mixture onto the parchment (one side).  Making an assembly line. 

Season chicken with a little salt and pepper. Dredge lightly in the rice flour and shake off, then into beaten eggs, then dip and press in almond flour mixture. 

Lay a piece of prepared chicken fingers on the oiled sheet and spray the tops with oil spray. 

Bake for 10 minutes, flip and repeat.
Chipotle Honey Mustard
Mix the mustard with the honey, oil, lemon and chipotle powder.
Buttery Leeks and Peas
On a small pot or pan, heat oil.

Add leeks and salt and saute for 2-3 minutes.

Add frozen peas, saute until defrosted, hot, and softened, about 6-7 minutes. Season with pepper, toss.

Remove to a serving dish and top with butter.