Apple Pie Tahini Oats with Chia and Walnuts
The other day it went form Summer to Fall overnight and I was not happy. Don't get me wrong – I love all the seasons. Obviously I crave Summer weather and can't get enough of that heat. And in the Winter I love to ski and snowshoe, so I'm happy. But, frankly, the Fall makes me a little anxious, mostly because it means that we are a long way away from next Summer. So, to help with the transition, I try to switch gears in my cooking and, of course, my footwear ;).
I nest a little and get into the comfort foods.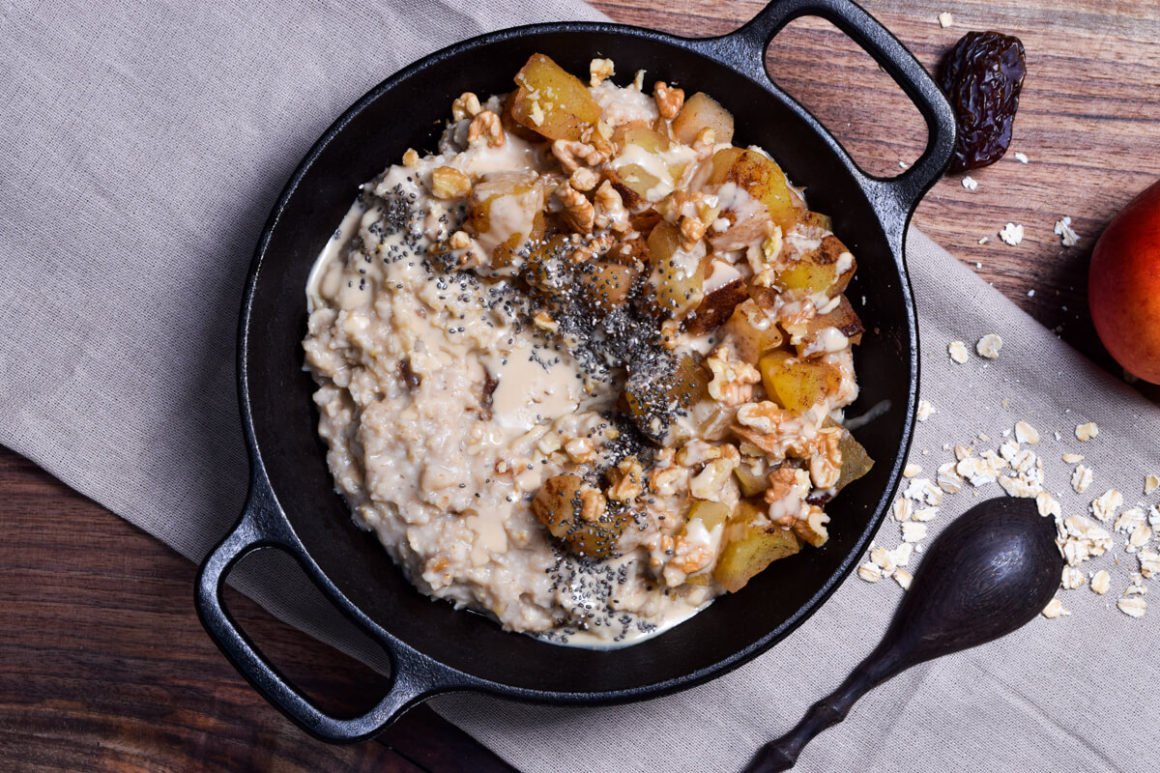 This apple pie oatmeal celebrates the Fall and eases my Fall ambivalence. This whole recipe comes together in 20 minutes. You make the apple compote while the oats are cooking. The tahini adds the "wow" factor and plays with the earth tones of the warming spices in the apples. And, as an added bonus, oats are a great source of B vitamins, magnesium and fibre and are know to help with mood and digestion. It's the perfect Fall comfort dish!!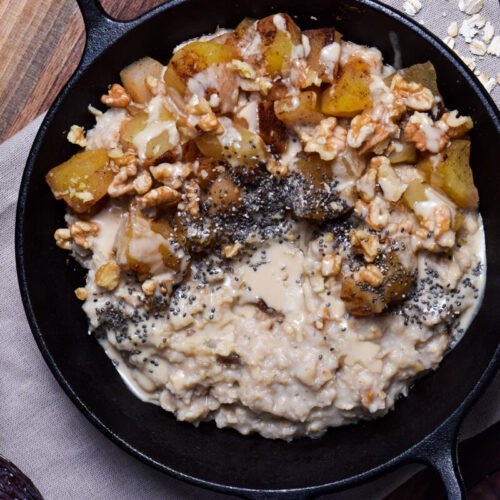 Apple Pie Tahini Oats with Chia and Walnuts
Ingredients
For the Apple Compote
 2 apples, peeled and diced

1 tsp. honey

¼ tsp. cinnamon 

Pinch of kosher salt or sea salt

Pinch of ground nutmeg

Pinch of ground ginger

Pinch of ground cardamom
For the Oats
1 cup large flake or old fashion oats

1 ¼  cup almond milk or any milk alternative or dairy milk

1 cup water

1 tsp. kosher salt or 1/2 tsp sea salt

¼  tsp. cinnamon 

⅓ cup unsweetened apple sauce*

4 dates, chopped or 1 tbsp. maple syrup or date silan)
To Serve
2-4 tbsp. tahini

2 tbsp. chia seeds

2-4 tbsp. walnut or pecan halves, chopped
Instructions
Tear off a piece of parchment paper about 15-18 inches long.

Place the diced apples on the lower half of the parchment.  Sprinkle with the honey and spices. 

Fold the parchment over the apples and starting at one corner, make overlapping folds or pleats all the way around.  Staple the folds together so that you have an airtight pocket.  Place on a baking tray and bake for 20 minutes.

In the meantime, Make the Oats:  Place the oats, milk, water, salt, cinnamon, apple sauce and chopped dates in a pot.  Bring to a boil then turn the heat to low. Cook, stirring occasionally for about 10 minutes or until most of the liquid has absorbed and the oats are creamy.

Divide the oats over 3-4 serving bowls.  Top with a portion of the apple compote per bowl.  Sprinkle with chopped walnuts or pecans, chia seeds and drizzle with tahini.
Notes
Leftovers can be refrigerated for 4-5 days and reheated in the microwave or a pot.

 

Add a little more milk when reheating.
Note: I buy snack size unsweetened apple sauce.

 

You will need one serving, it is ⅓ cup.