Truth be told, I hate doughnuts (and cupcakes). Don't get me wrong, its not like I avoid unhealthy food – it's just that I really I do not like doughnuts. (I love cookies though, but that's for another time). That being said, until now I have never had a fresh out of the fryer, dripping with Nutella homemade doughnut. And so I have been converted. You must try these. I am using my favourite challah dough for this recipe, but if you have another favourite yeasted dough, go for it, make it yours.
Traditionally, sufganiyot, the iconic Hanukkah treat, is jam filled (another thing that I am not a fan of). So, I have combined an Italian Bombolini, which is a Nutella filled mini doughnut, with a sufganiot made from challah dough, and stuffed it with Nutella and then rolled in cinnamon sugar or just sugar.
A few tips. If you have a 2-inch cookie cutter, use it to cut the dough balls. I do not, so I used the rim of one of my water glasses, which is 2 inches. If you have a piping tip, you can fit it into a zip lock bag (cut the corner off to make room for the tip) or use a pipping bag. Fill the bag with Nutella. My piping tips went missing this year, so I just used a squeeze bottle instead. I filled the bottle and cut the hole at the tip a little larger. Then I set the filled bottle in bowl of boiling water. This warmed the Nutella up and made squeezing it out of the tip a little easier. You can fill the sufganiot from the side or top, although I like them top-filled with lots of excess Nutella oozing out.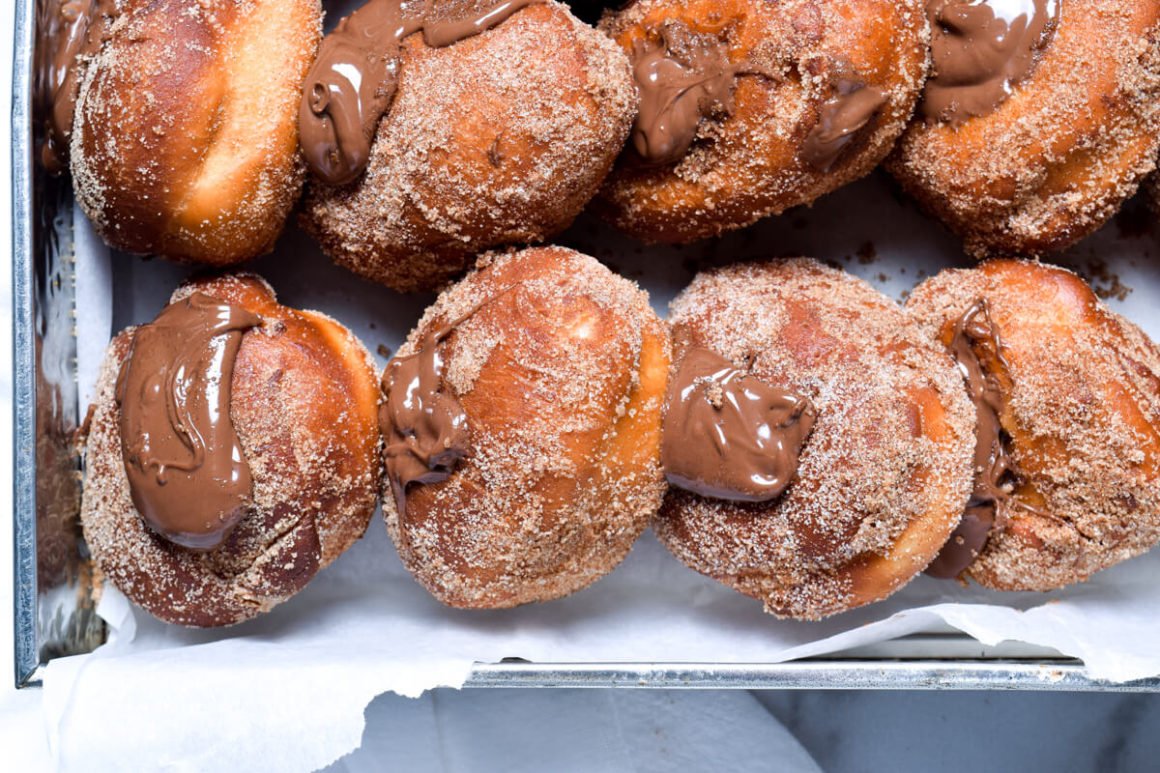 Make sure your oil is around 350˚F. You'll know it's hot enough when you drop a piece of bread into the oil and it browns perfectly.
Am I making you drool yet?
Happy Hanukkah!!

Babka Sufganiyot
This is what you get when two culinary cultures collide: sufganiyot with challah dough and Italian Nutella bombolini.  A new Hanukkah tradition!
Equipment
Pastry bag fitted with a piping tip or a squeeze bottle.

Slotted spoon.

2-inch cookie cutter or 2-inch rim of a glass
Ingredients
For the Dough
2 tsp quick-rise instant yeast

465 g/16¼ oz  (3¼ cups) all-purpose flour

¼ cup warm water (120ºF)

¼ cup vegetable oil 

3 large eggs, room temperature

¼ cup honey

1½ tsp salt
For Frying and Assembly
1 cup sugar

2 tbsp cinnamon

Enough vegetable oil to fill your pot 3 inches deep* 

1  375 ml jar of Nutella
Instructions
Make the Sponge
In a large bowl (I like clay), mix the yeast with ⅓ cup of the measured flour, add the warm water and whisk to mix. Cover with a towel or plastic wrap and let this mixture rest for about 10-15 minutes.  It will puff up and become spongy looking.  This is called a sponge. 
Make the Dough
Add the oil, eggs, honey and salt to the Sponge. Stir until well combined; the sponge will remain lumpy.  I use a wooden spoon for this. Add the remaining flour and mix the dough in the bowl until the ingredients are combined; the dough will be very shaggy.
Knead the Dough
Turn the dough out onto your work surface; knead until the dough is very smooth, about 5-10 minutes.  Or you can do this in a standing mixer fitted with the dough hook on speed 3.Transfer the dough to a warm, clean, large bowl, cover the top with a towel and place in a warm cozy area of your kitchen.  (See note*) Let the dough rise until it has doubled in size. This will take about 1½-2 hours.

Line a baking sheet with parchment paper.

Punch the dough down and roll the dough out until it is ½-inch thick.  Using a 2-inch cookie cutter or the rim of a drinking class, cut the dough into circles and place on the parchment paper, spacing 1" apart. Re-roll the scraps once and cut out more rounds. Cover dough circles loosely with a towel and let rise until not quite doubled in size, 30-40 minutes.
Frying and Assembly
Place sugar and cinnamon in a medium bowl, mix.

Fit a large heavy saucepan with thermometer; pour in oil to come 3" up the sides and heat over medium-high until thermometer registers 350°F. 

Working in batches and adjusting the heat to maintain the oil temperature, fry doughnuts, turning once, until golden brown, about 2 minutes. As the doughnuts come out of the oil, drop them into the sugar-cinnamon mixture and toss, then transfer to a paper towel.  Repeat with all the doughnuts.  Let cool for a few minutes. 

Place the Nutella in a piping bag fitted with a 6 mm tip (I use a squeeze bottle with a 6 mm or so tip).  It helps to have the Nutella a little warm.  I do this by putting the whole jar in a bath of hot water, then I scoop it into the bag or squeeze bottle. 

Working one at a time, poke a small hole into the top of doughnuts and gently pipe in a generous amount of Nutella. Let cool or eat right away!
Notes
*I use a small pot to fry the doughnuts in so that I don't use up so much oil.

 

You need the oil deep, so the smaller the pot is in diameter, the less oil you will need to have it come 3-inches up the side of the pot.