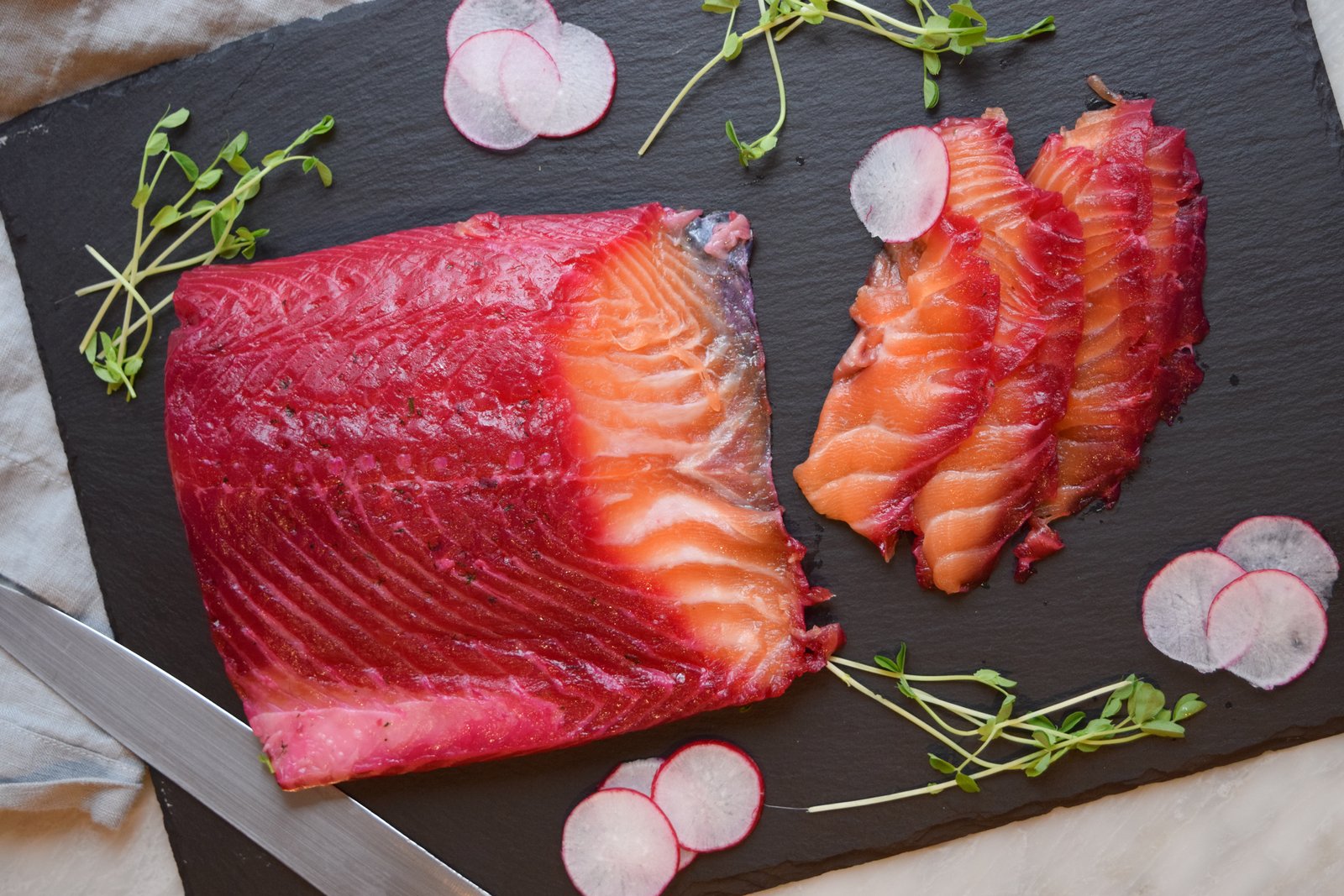 Gravlax is one of the most simple recipes to make, you only need a few ingredients, minimal prep time and a couple of days in the fridge. Making Beetroot gravlax only adds one more ingredient to the list and one extra step, but it is so worth it. The colour is beautiful and the beets add a delicious sweetness to the curred fish.
Gravlax is cured fish as opposed to smoked salmon, where the fish is smoked. The salt sugar solution draws the moisture from the fish and "cooks" the fish via osmosis. Cool eh!

Beet Root Gravlax
Ingredients
1½

pounds

piece of salmon

In one piece, skin on, try to get a centre cut

¾

cup

sugar

⅓

cup

kosher salt

Handful

of

peppercorns

2

tbsp

gin

1

bunch

dill

washed

2

raw beets

washed, roughly chopped
Instructions
Place the beets and the dill in the bowl of the food processor and pulse until chopped, add the sugar, salt, peppercorns and gin, pulse to mix.

Place the salmon on a piece of parchment that is more than double the size of the fish.  The parchment should be on a very large piece of plastic wrap, double the size of the parchment.  You will need two pieces of plastic wrap side by side.

Spread the beet mixture over the fish and pat it down.

Tightly wrap the parchment over the fish and then the plastic wrap and place in a glass dish. 

Place a heavy weight on top of the fish (I use a brick) and place in the fridge for 48 hours.

After 2 days, remove the weight and unwrap the fish and wash the fish clean.

Slice the fish on a diagonal into very thin wide slices.  Enjoy.