Billy's Crispy Oat Cookies
It was Billy's graduation from undergrad from Bachelors of Arts Honours in Political Science and Urban Studies and in honour of his graduation I am passing this recipe on to you. Most parents brought flowers to graduation and I brought cookies, typical.
When Billy was a little boy he loved cookies of all kinds, as most kids do. He loved chocolate chip, oatmeal and especially rice crispy treats. He asked me once to combine the three and these cookies were born!
I named them Billy's Crispy Oats of course.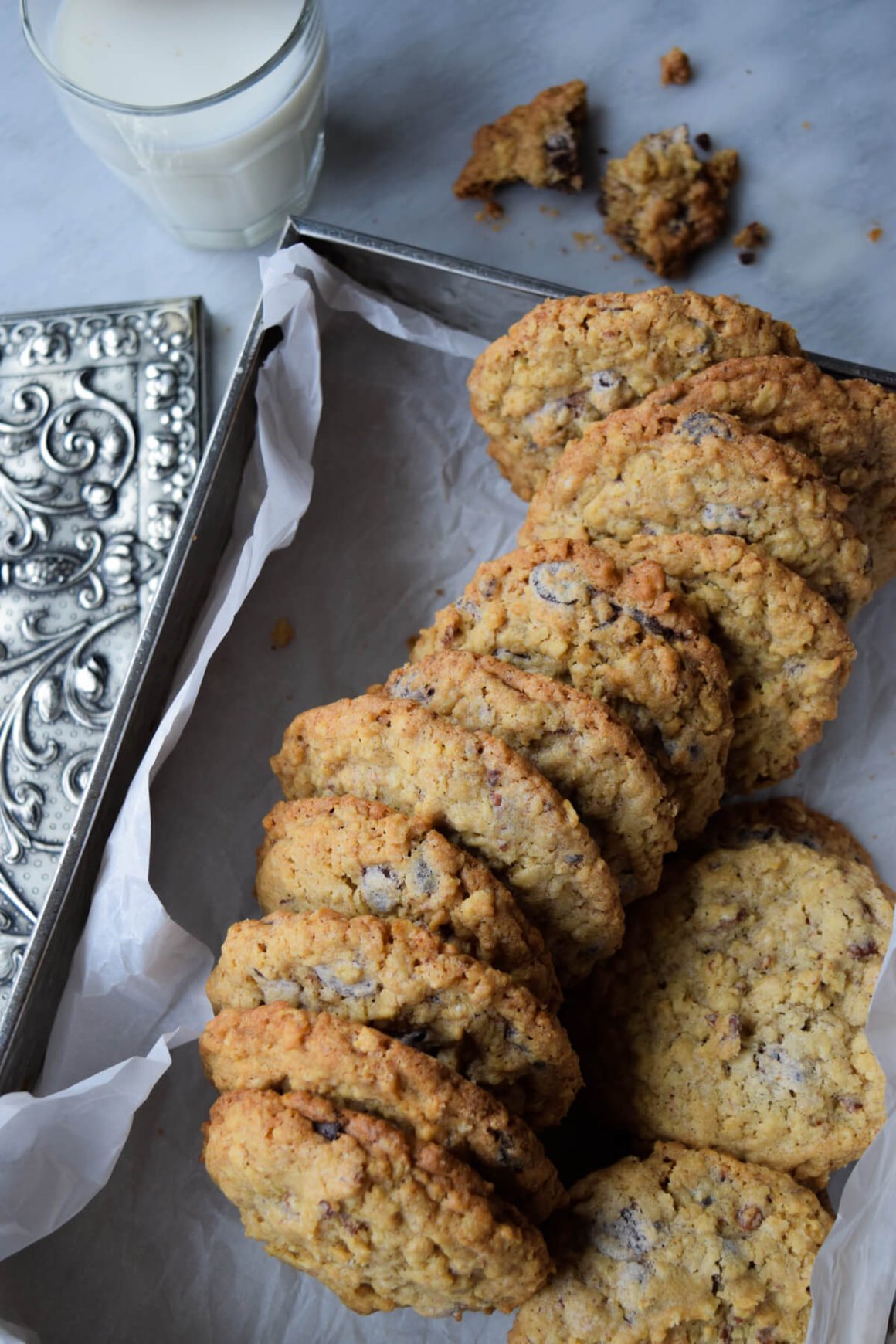 The cookies are delicious, crunchy, nutty and oaty in every bite. Sometimes I make large cookies, like the ones in the photos and sometimes small ones. I like to double the batch and freeze the raw cookie dough balls ready to bake. I just shape the balls as I would if I was putting them on a cookie sheet. But instead, I put them on a parchment-lined tray and flash freeze the balls right on the tray. When the dough balls are frozen, I drop them into a bag and fresh cookies are then only 12 minutes away!
Enjoy beauties!

Billy's Crispy Oats
Ingredients
¾

cup

unsalted butter

slightly cooler than room temperature (see notes)

½

cup

brown sugar

½

cup

white sugar

1

egg

½

tsp

vanilla

1

cup

flour

½

tsp

baking powder

½

tsp

baking soda

½

tsp

salt

1

cup

oats

1

cup

rice crispies

See brand in notes at the bottom (see notes)

¾

cup

semi-sweet chocolate chips

½-¾

cup

walnuts or pecans

optional
Instructions
Preheat oven to 350˚F, adjust the rack to the middle position

With an electric mixer, cream butter & sugars until light, 2-3 minutes, scraping down the sides when necessary.

Add egg and vanilla, mix well.

In a separate bowl, mix together flour, baking powder, baking soda, salt, oats and crispies.  Add to creamed butter mixture, mix until incorporated.

Add chocolate chips and nuts (optional), mix.

Drop by tablespoon onto a cookie sheet, about 12 cookies per sheet (see notes)
Notes
These rice crispies work the best in the cookies
When I want to bring my butter to room temperature, I slice it in chunks, lay the slices on a plate and wait about 20 minutes.

 

Test in by poking your finger in the butter.

 

You should be able to easily indent your finger, but is should still be slightly cold and not greasy looking.
If you are using one oven, put the unused batter in the fridge until ready to do the next sheet.
If you want to double the recipe or even not bake all the cookies at once, you can form the batter into balls, freeze the balls on the cookie sheet and then once frozen, toss the balls into a ziplock back and bake the balls from frozen when ready – same temperature but a little longer.
If you like thin crispy cookies allow the butter to become room temperature (not slightly colder) and don't refrigerate the unused batter while the some of the cookies are baking.

 

If you like thicker/higher cookies, keep the butter colder by not bringing it right to room temp. and refrigerating the unused batter.