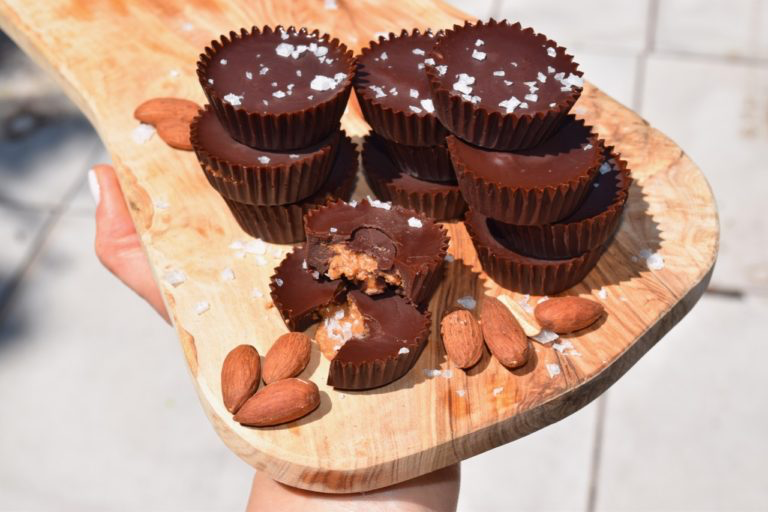 You can kill your chocolate craving right here!These little beauties are the perfect chocolate almond butter treat!
Cacao powder is a SUPERFOOD that should be a staple in your diet, especially for women. It is rich in magnesium – a mineral very important for so many functions (and is depleted by stress). Low magnesium is a huge culprit for PMS. Epicatechin, the main flavonoid in cacao, improves various aspects of cognition, preserves cognitive abilities during aging, and even puts you in a better mood!

Cacao Almond Butter Cups
Ingredients
3

-62 gram

bars of 100% Cacao chocolate

use Giddy Yo brand (this one), divided

3

tbsp

maple syrup

divided

3

tbsp

coconut oil

⅓

cup

natural almond butter

1

tsp

flaky sea salt

I like Marldon sea salt, optional
Instructions
Line a mini muffin tin with mini muffin tin liners.

Make a double boiler by heating a small pot filled halfway with water.  Place a glass or metal bowl on top of the pot, the bowl should be bigger than the pot.  

Place 2 bars of the cacao chocolate (broken in pieces), 2 tbsp. of maple syrup and 2 tbsp. of coconut oil in the bowl on top of the pot.  Turn the heat on the stove and melt the chocolate (it will melt as the water heats), stir to combine to make smooth and shiny, remove from the heat.  You can also do this in the microwave, start with 30 seconds, stir, add more time (20 seconds at a time) as needed.

Using a teaspoon (one you use for tea, not the actual teaspoon), spoon a small amount into the bottom of each lined cup.  If you run out of chocolate, you have put too much in each cup, you may not need it all, save it for the topping.  Place muffin tray in the freezer for about 10 minutes.

Remove tray from freezer, using a teaspoon again, dollop a very small amount of almond butter into each cup, try to not let it spread to the edges, freeze again for 10 minutes.

Add the remaining 1 bars, 1 tbsp. of maple syrup and 1 tbsp. of coconut oil to the bowl, place over the double boiler again and melt and stir the chocolate and maple syrup.  Remove the cups from the freezer, distribute the chocolate over each almond butter cup, spread it a little with the back of the spoon so that it covers the almond butter and reaches the edges so that it seals in the almond butter.  Freeze again for 5 minutes, sprinkle with flaky sea salt, freeze.

Enjoy right from the freezer.