Chocolate Babka Buns with Tahini Cream Cheese Frosting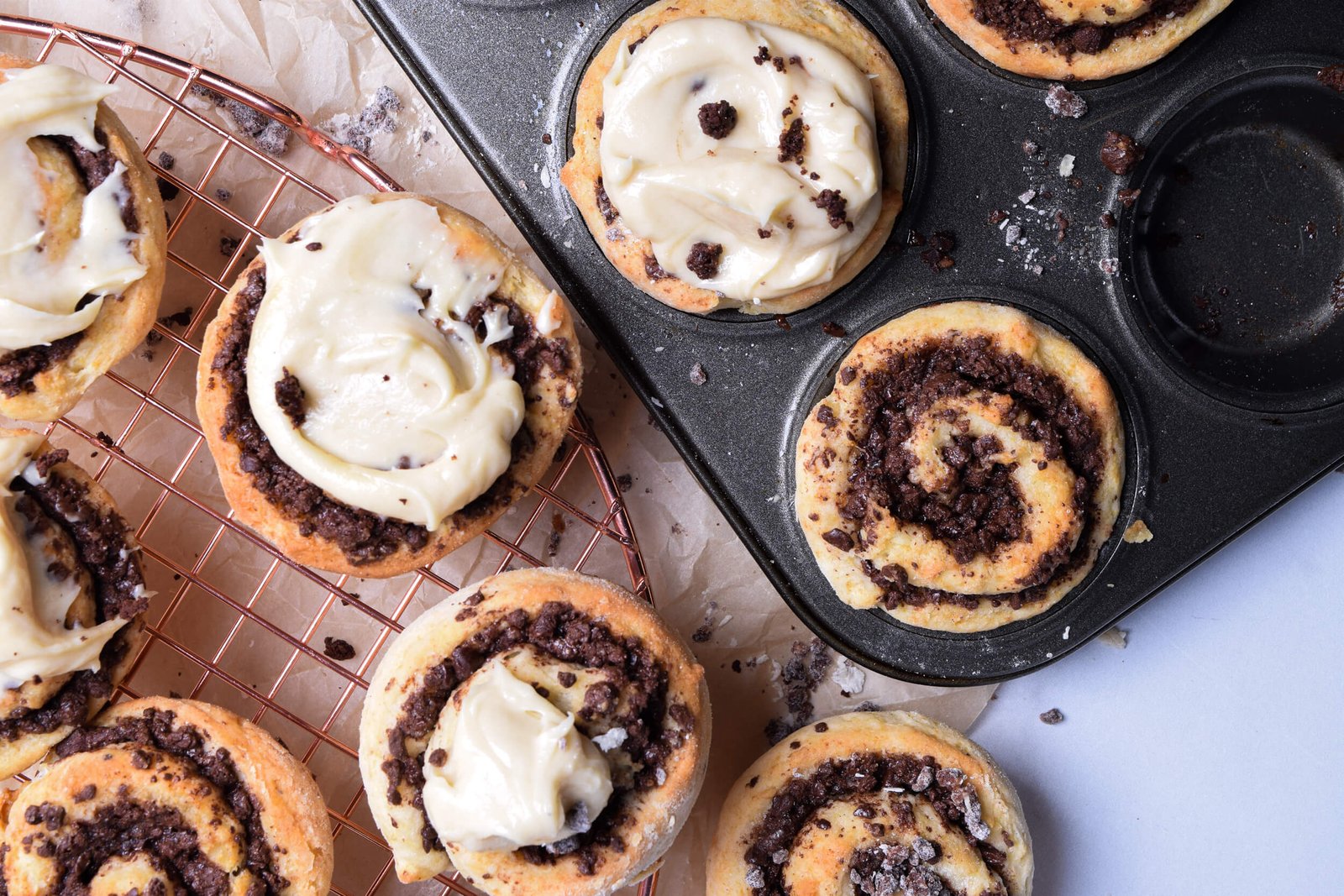 Who doesn't love a great babka? But have you ever tried making one? It's a project! This recipe has ALL the babka feels but without the work! All you need is a food processor and a muffin pan! And to top it all off (no pun intended) it's finished with a delicious tahini cream cheese frosting! This is a project totally worth taking on!!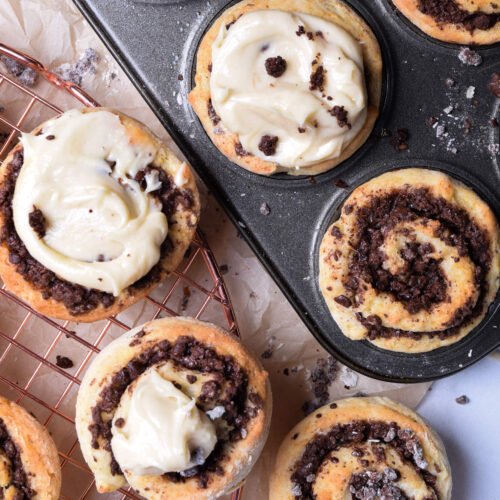 Chocolate Babka Buns with Tahini Cream Cheese Frosting
Ingredients
For the Dough
¾

cup

cottage cheese (4% milk fat)

⅓

cup

buttermilk (or 1⁄3 cup milk and 1 tsp lemon juice*)

¼

cup

/50g/1 3⁄4 oz granulated sugar

4

tbsp

/60g/2 oz unsalted butter, melted

1

tsp

pure vanilla extract

2

cups

/260g/9 oz unbleached all-purpose flour, plus more for rolling

1

tbsp

baking powder

½

tsp

table salt

¼

tsp

baking soda
For the Filling
1

cup

/225 g/8 oz semisweet chocolate

Pinch of salt

¼

cup

/50 g/1 3⁄4 oz granulated sugar

3

tbsp

/45 g/1 1⁄2 oz unsalted butter, room temperature
For the Frosting
¼

cup

67 g/2 oz unsalted butter (half a stick), room temperature

113 g/4 oz cream cheese (half a block), room temperature

¼

cup

/65 g 2 1⁄3 oz tahini

½

cup

/70 g/2½ oz icing sugar

Pinch of salt

1

tbsp

milk or buttermilk
Instructions
Heat oven to 350 ̊F and generously grease a 12-muffin tin.

Prepare the Filling first: If your chocolate is in large bars, roughly chop it. Then, you can let a food processor do the rest of the work, pulsing the chopped chocolate with the salt and sugar until the chocolate is very finely chopped with some parts almost powdery. Add butter and pulse until it is distributed throughout the chocolate. Set mixture aside.

Make the Dough: In the food processor, combine the cottage cheese, buttermilk, sugar, melted butter and vanilla. Process until smooth, about 10 seconds. Add the flour, baking powder, salt and baking soda. Pulse in short bursts just until the dough clumps together (don't over process). The dough will be soft and moist.

Scrape the dough out onto a lightly floured surface and knead it with floured hands 4 or 5 times until smooth. With a rolling pin, roll the dough into a 12×15-inch rectangle.

Sprinkle the filling mixture over the the dough and pat gently into the surface.

Starting at a long edge, roll up the dough jelly-roll style. Pinch the seam to seal and leave the ends open.

With a sharp serrated knife, gently saw the roll into 12 equal pieces (I like to cut it in half first and cut each half in half again and cut 3 slices for every quarter). Place each piece, cut side up, in the prepared muffin tin.

Bake until golden brown and firm to the touch, 20-25 minutes. Set the muffin tin on a wire rack to cool for 5 minutes. Run a spatula around the inside of each muffin cup to loosen any sticky bits and remove buns to a rack to finish cooling.

Make the Frosting while the babka buns are baking. In a clean bowl of the food processor, blend the butter, cream cheese, tahini, icing sugar, salt and milk or buttermilk. Blend for 1-2 minutes, scrape down the bottom and sides of the processor and blend again—it should be light and fluffy. Generously spread on the top of each cooled babka bun.