Chocolate Toffee Almond Brittle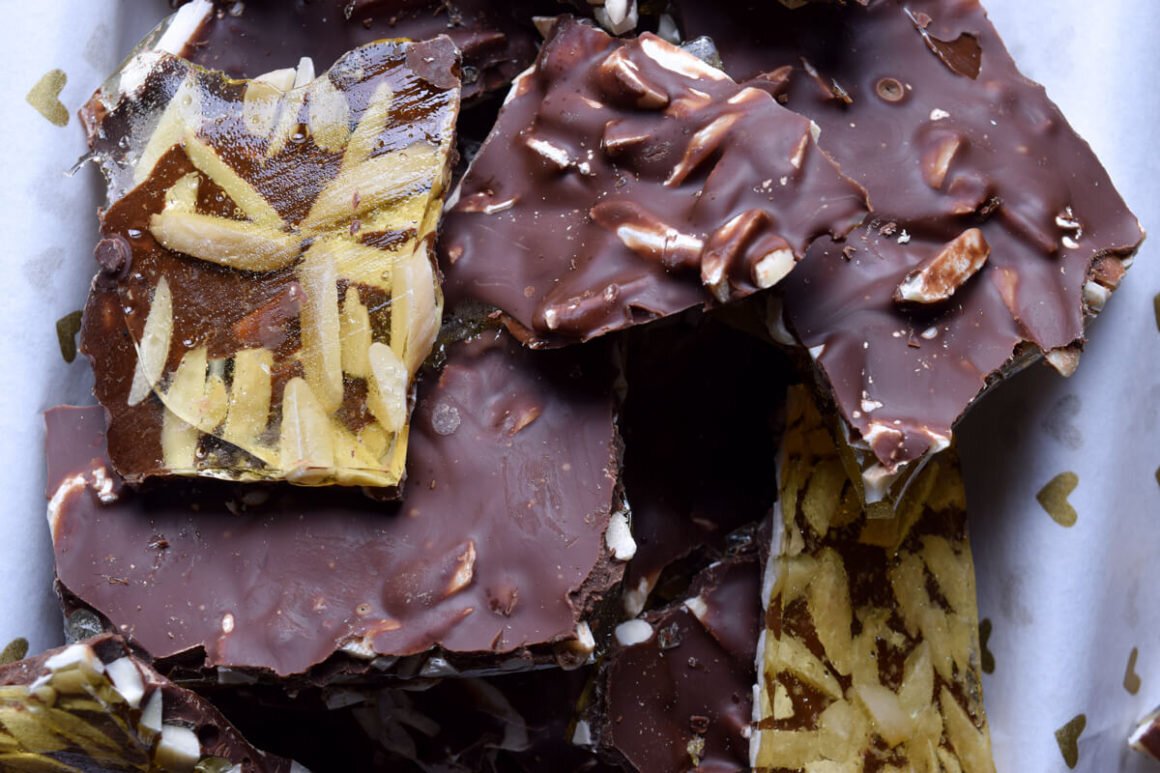 The holiday season makes me a little anxious. I feel that I should have an array of homemade candies and cookies on hand, entertain, do it seamlessly and make it look easy. It just does not happen that way, let's be honest! This recipe is so easy and requires no oven! I make a big batch of this and keep it in the freezer. Package it up all fancy, it makes the perfect holiday host gift!

Chocolate Toffee Almond Brittle
Makes 1545 grams or 3 pounds 6 ounces of brittle (enough for a few gift bags!)
Ingredients
3

cup

or 400 grams toasted slivered almonds*

3½

cups

or 700 grams sugar

⅔

cup

water

454

grams

or 1 pound dark chocolate

I use 4½ bars of 70% Lindt chocolate
Instructions
Line a large cookie sheet with parchment.Place the sugar and water in a small pot and cook (without stirring) over medium high heat for 15 minutes or until golden brown (not dark).

Remove from heat and immediately pour over parchment lined sheet.  Immediately sprinkle the almonds evenly over the caramel.

Using a spatula (I like an offset spatula), quickly but gently guide the caramel around the almonds so that it is evenly distributed.

Leave on the counter and let the caramel harden and set (it takes about 20 minutes).

Melt the chocolate in the microwave and pour over the caramel-nut crunch, place in the fridge to harden.

Break into pieces and enjoy!I keep the remainder in the freezer.
Notes
Makes 1545 grams or 3 pounds 6 ounces of brittle (enough for a few gift bags!)