Coconut Curry Shrimp with Ginger and Lemongrass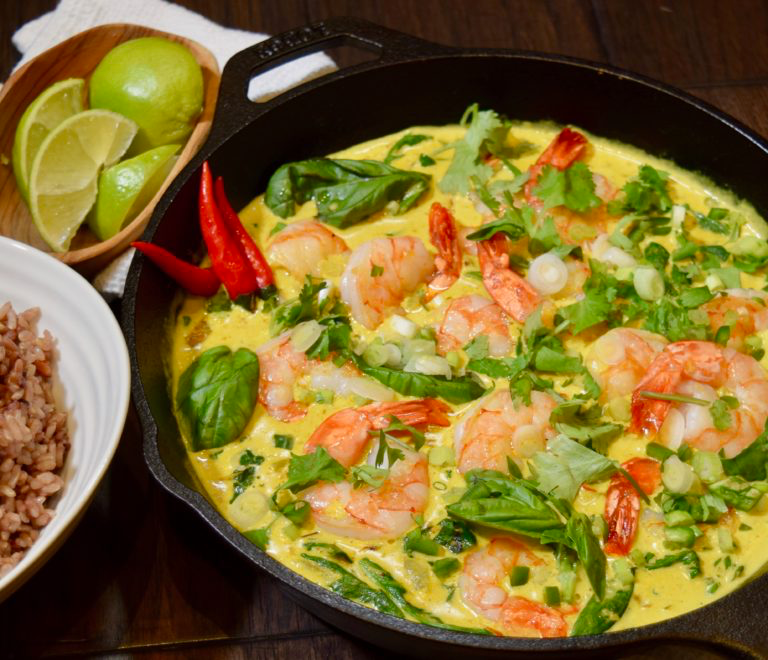 I made this dish on Christmas Eve and it would be a great dish to make for a New Year's gathering as well. I had a big crew for dinner at the cottage and in keeping with the tradition of Jewish people eating Chinese (or Asian) food on Christmas Eve, it was a perfect party theme, an entire Thai inspired menu. Now, of course, I realize that Thai is NOT Chinese and never shall the two be compared but, my Thai recipes and expertise are much more developed than my Chinese food ones. Needless to say, it was a great menu and everyone at my table thoroughly enjoyed their Yiddish Yuletide dinner.
I will eventually post all the recipes but in the meantime, this was the menu:
Pas Seared Hoisin Tofu in Lettuce Cups
Spicy Corn Fritters with Homemade Sweet Chili Sauce
Chicken/Beef/Tofu Satays with Tahini "Peanut" Sauce
Traditional Vegetarian Pad Thai
Tangy Green Mango Salad with Apple
Cashew Chicken, seriously good
Coconut Curry Shrimp with Ginger and Lemongrass
Coconut Black Sticky Rice Pudding with Mango
….and I will be teaching a class with this menu, except for the Coconut Curry Shrimp and the Hoisin Tofu dish on Feb 6, 2018, check it out. If you love Thai and need a full rounded menu, come and take the class.
This Thai inspired curry shrimp recipe is perfect for those cold winter days when you need something that will warm you from the inside out! It is incredibly easy to make and you can do about 90% of it the day before. My dinner party had a ton of cooking involved and I was doing it all on my own so I prepped a lot in advance. For this dish, I made the Coconut Curry sauce up until the end of step three where you add the greens and the shrimp. I left the cooked curry sauce in the pan and put the entire pan in the fridge. I defrosted the shrimp during the day of the party and threw them in the curry sauce about 15 minutes before eating, which as it turned out was about 90 minutes after everyone had arrived. We ate too many appetizers (is it ever too much?) had some great "sort of" margaritas, lots of laughs and just great catching up.
You are probably wondering what these "sort of" margaritas are? My longtime friend, Naomi makes these all the time when she has a crowd. You peel 1 lemon (take out the seeds), one lime and one orange, place it in the blender with 6 ounces of tequila and 2 ounces of triple sec and lots of ice. I made a honey syrup with equal parts of honey and boiling water and added that to taste. I doubled it and of course, it was not enough!
Ok, back to the shrimp...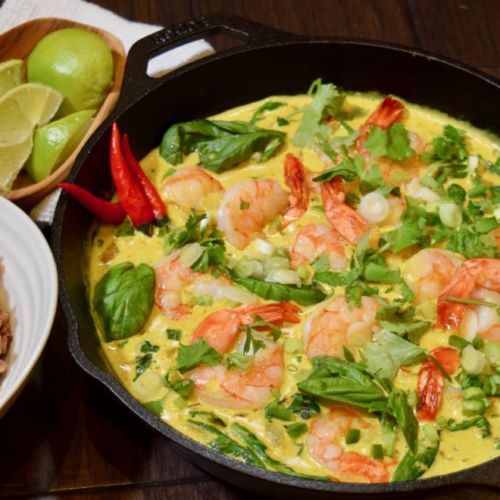 Coconut Curry Shrimp with Ginger and Lemongrass
Ingredients
2

pounds

large (16-20 size) shrimp

peeled, deveined and defrosted if frozen

3-4

tbsp

of a neutral oil

I like sunflower or grapeseed

1

yellow onion

diced small

3

cloves

garlic

smash and chopped

A

1-inch

piece of fresh ginger

peeled and minced

1

stalk

of lemongrass

see note on lemongrass at the bottom

2

tbsp

curry powder

1

can

of full-fat coconut milk

¼

cup

water

Juice

of

1 lime

½-1

tsp

kosher salt

or to taste

½

tsp

dried chili flakes or 1 whole long red chili or 1 Thai bird chili

sliced in rounds, optional

1

bunch

of Thai basil or regular basil

leaves only

2

handfuls

of fresh baby spinach
To Serve
1

jalapeno

finely chopped

Handful

cilantro leaves

roughly chopped
Instructions
Heat a heavy-duty fry pan or cast iron pan over med-high heat.  Add the onion and sauté until translucent and golden, about 5-7 minutes.  Add the garlic, ginger and lemongrass, sauté for another minute or two.  Add the curry powder, mix into the onion mixture, cook for another minute.

Add the coconut milk.  And the water to the empty can of coconut milk, swish it around the can and dump that water into the pan with the coconut milk, let it boil, add the lime juice, salt, and chilis.  Let the sauce boil and reduce for about 6-7 minutes.  Taste the sauce, add more salt, chilis or lime to taste.  At this point, you can refrigerate the sauce and heat it back up when you are ready to use it.

Add the shrimp to the pan, let cook for 10 minutes or so, they should be pink and opaque. 

Add the basil and spinach.  Let the sauce thicken so that it coats the back of a spoon, about 3-4 minutes.

Transfer it all to a serving dish (or serve right from the pan) and garnish with chopped jalapeno, cilantro, green onion.

Serve with the cooked rice and lime wedges.
Notes
LEMONGRASS
Cut the root end off the lemongrass and then cut the lemongrass where the white part meets the greener part (you only use the white part), discard the root end and the darker part.  Slice the piece of lemongrass in half in the length and remove the outside two layers of the lemongrass, this part is too tough, discard.  Then chop the white part very finely, alternatively, you can slice the lemongrass into julienned slivers and people will pick them out as they eat.  You can freeze any unused stalks of lemongrass, chopped or left whole.