Double Chocolate Salted Tahini Skillet Brownie Cookie
Have you ever had halvah? Or even better, chocolate halvah? The name for this very popular Middle Eastern dessert is derived from the Arabic word "sweet". Halvah is made from the perfect blend of sesame seeds and sugar and I love it!
This brownie recipe does not actually have halvah in it but it combines tahini with confectioners' sugar, making a halvah-like topping that is gooey and delicious and very halvah-like.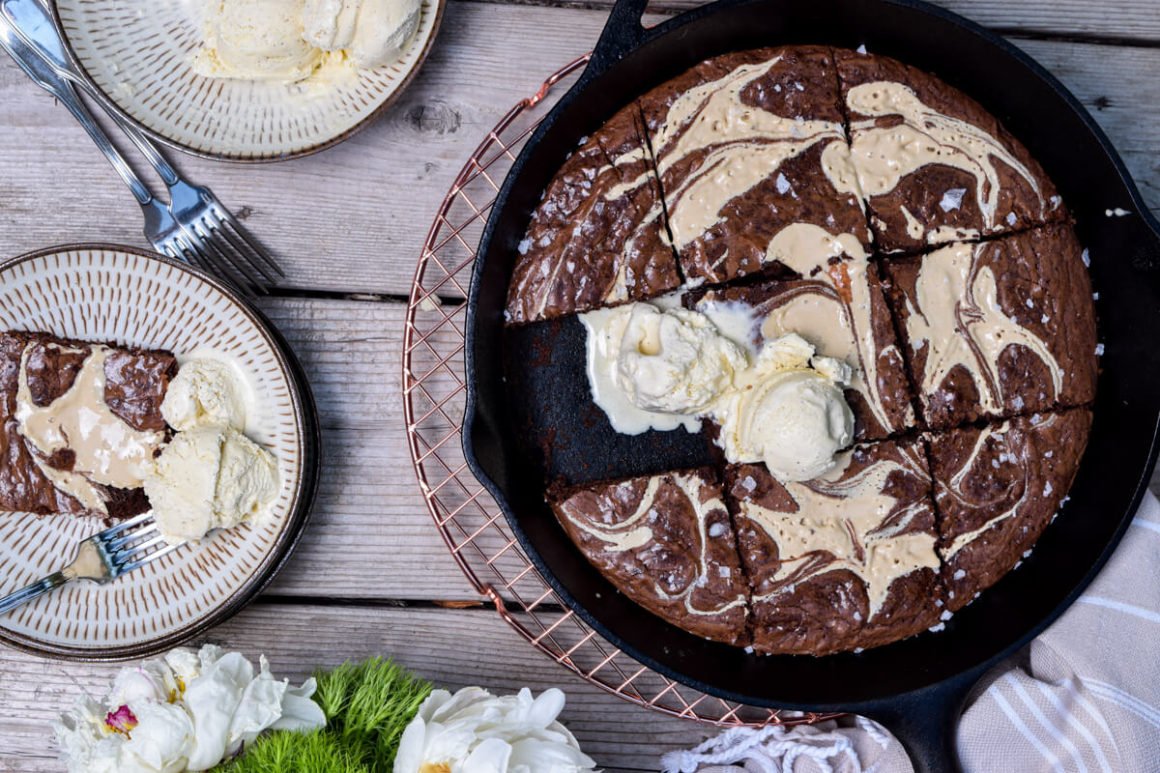 Make sure you use a high quality raw or lightly toasted tahini. Don't use one that comes from roasted sesame seeds, or else the flavour would be too overpowering and you'll lose all the chocolatey, halva-like goodness.

Double Chocolate Salted Tahini Skillet Brownie Cookie
Equipment
10-12-inch cast iron skillet. If you don't have a cast-iron skillet, you can use an 8*8-inch or 9*9-inch square pan, greased and lined with parchment paper.
Ingredients
95 grams/3¼ ounces/⅓ cup tahini 

3 Tbs. confectioners' sugar

7 oz./200 grams semi-sweet chocolate chips (about 1 heaping cup)

1 stick unsalted butter, cut up

3 Tbs. unsweetened cocoa powder

3 eggs

1 cup sugar

2 tsp. vanilla

½ tsp. kosher salt

130 grams/4½ ounces/1 cup flour

½ tsp. Maldon Sea Salt or Fleur de Sel, for sprinkling on the finished brownie
Instructions
Position a rack in the centre of the oven and heat to 325°F.

In a small bowl, stir the tahini and confectioners' sugar until combined. Set aside.

In a large heatproof bowl, melt butter and chocolate in the microwave for about 2 minutes, stir using a whisk halfway through.  Whisk until smooth.

Whisk in cocoa, set aside.

In a separate and smaller bowl, whisk together eggs, sugar, vanilla and salt.  Whisk into the cocoa mixture in the larger bowl.

Using a spatula or wooden spoon, stir in the flour until just combined.

Transfer to the cast iron skillet, and smooth the top.

Dollop the tahini mixture on top of the brownie dough, and swirl together with the tip of a knife.  Bake until the tahini no longer looks wet and the top cracks a bit, 35 to 38 minutes. Let cool slightly before serving.  Sprinkle the salt once cooled for a few minutes.

Serve with vanilla ice cream, of course.