Extra Crunchy Smoked Paprika Sweet Potato Fries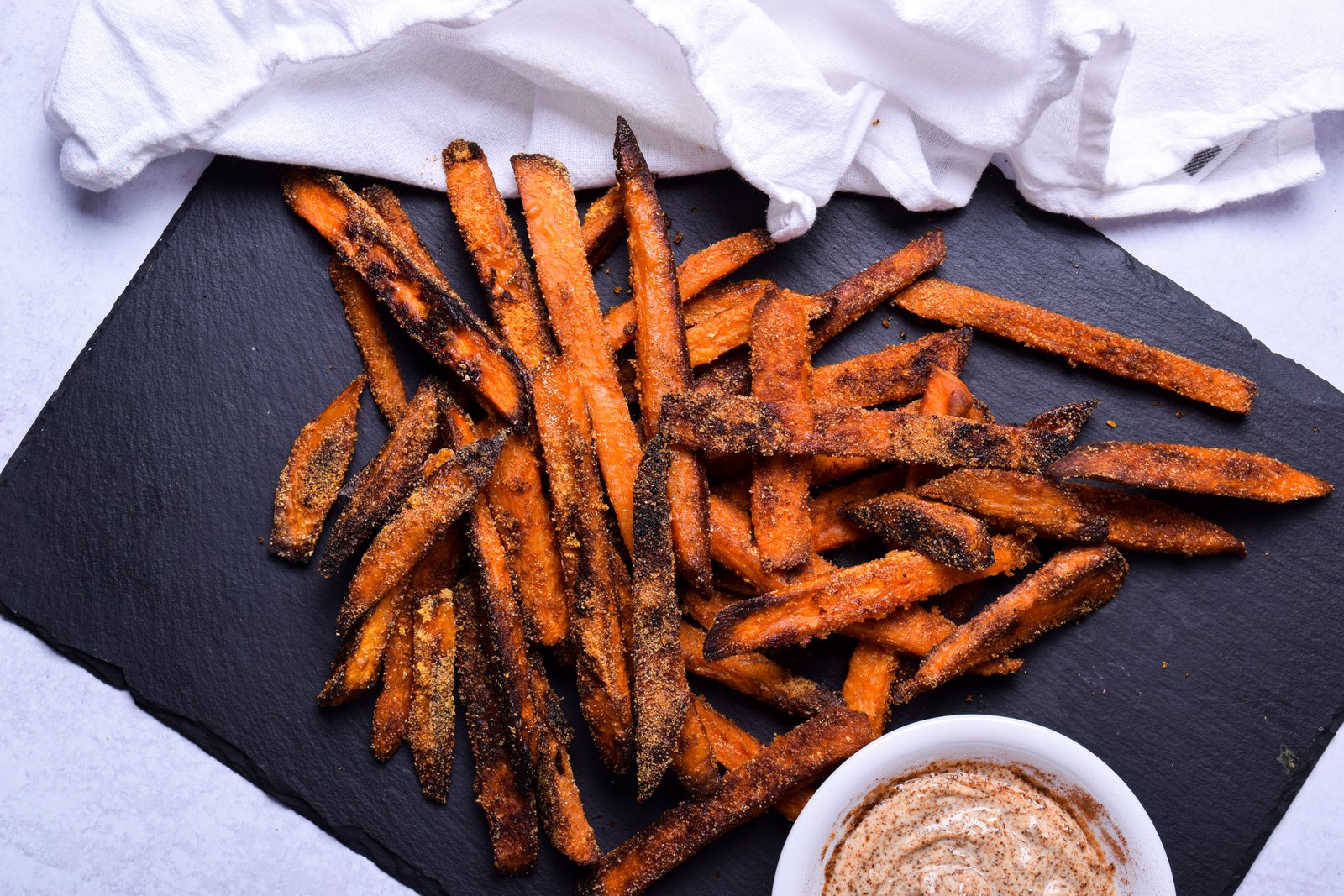 It's not so easy making extra crispy sweet potatoes. Because of the high sugar content, they tend not to crisp up so well. So, I've gone back to the science books and solved the problem a little. Firstly, par-boil them for 4-5 minutes. This will allow you to cook them lower and slower which will help to dry them out. Next, coat them in a starchy coating, like fine cornmeal so that some of the moisture is absorbed during the roasting. The cornmeal also adds that extra crunch-factor that we all love!
Now for the flavour. Unlike their whiter cousin, sweet potatoes prefer more pronounced flavours rather than herbaceous notes.
So, I load these up with garlic, paprika and sweet paprika which take these fries to a whole other level!
Don't rush these babies…. leave them in the oven for a good long time. And here's an added bonus: they don't need to be flipped so you can ignore them and vacuum the floors (or have a glass of wine).
Let me know what you think!!

Extra Crunchy Smoked Paprika Sweet Potato Fries
Making sweet potato fries to perfection is all about technique, otherwise they usually turn out pretty soggy. After much testing, I think these are made to perfection.
Ingredients
3

large

sweet potatoes, peeled and cut into 1⁄2 inch sticks

¼

cup

neutral oil (sunflower, grapeseed, avocado, canola)

½

tsp

smoked paprika

1

tsp

paprika

1

teaspoon

granualted garlic

2-3

tsp

fine cornmeal

Kosher salt
Instructions
Preheat oven to 375 ̇F convection.

Place a large pot with salted water over high heat to boil. Add the potatoes, boil for 5 minutes, remove carefully and let drain on a paper towel until dry. Place the sweet potato in the centre of 2 parchment lined cookie sheets (distribute evenly).

Evenly drizzle the potatoes with oil.

Evenly sprinkle with the paprikas, granulated oil and cornmeal.

Gently, toss the potatoes to coat with the oil and spices. Sprinkle with salt.

Roast for 30 minutes. Check them. If they look like they are cooking well, continue. You can raise the temp by 15 ̊F or leave it.

Roast for another 20-30 or until dark in spots and crispy.