French Beans with Olives and Cherry Tomatoes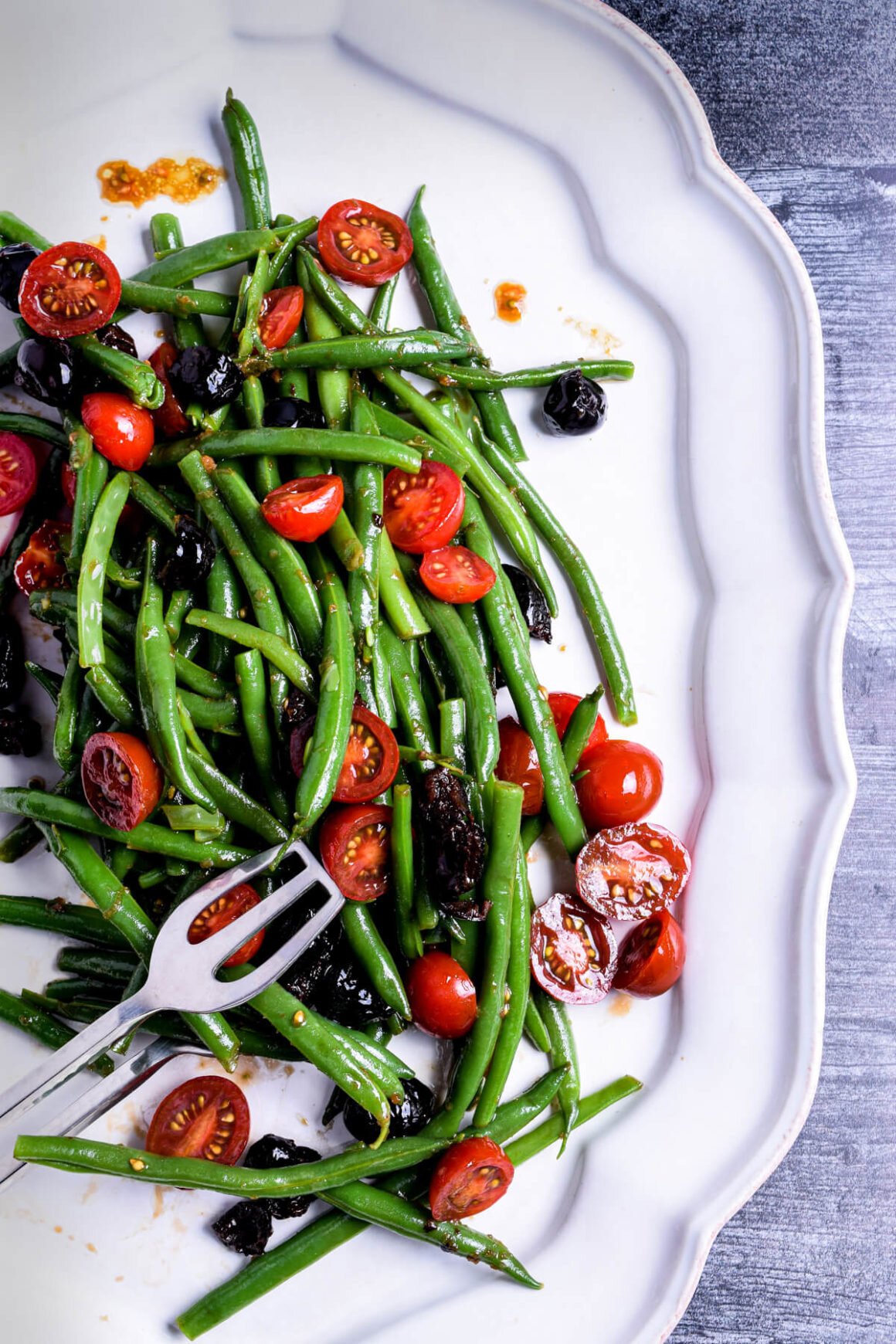 Summer cooking should be simple and light without compromising flavour. In order to achieve this, you need to start with the best, albeit minimal, ingredients – and ingredients that hold a lot of flavour. Now is the time to bring out that superb olive oil or your deep and delicious aged balsamic vinegar, the one you are saving for special occasions.
This French green bean salad is one of my summer go-to's. It is served room temperature and all of the components can be prepped ahead.
In order to keep those beans bright green after they are cooked, immediately plung them into an ice bath.
And here's a little balsamic hack… You can buy that cheaper balsamic vinegar and boil it on the stove top, letting it reduce to less than half the original volume and you will have made a faux aged balsamic vinegar.
As for olive oil, don't compromise. Use a green, fruity olive oil, the best one you can afford.
One last tip for this recipe: if you are making it ahead of your serving time, be sure to wait until last minute before dressing it.

French Beans with Olives and Cherry Tomatoes
Ingredients
1 lb. of French green beans (use regular green beans if French ones are not available)

1 small box of cherry or grape tomatoes

1 small container (about ¾ cup) pitted small black olives, I like the sun dried ones
Vinaigrette
¼ cup olive oil

2 Tbs. best quality aged balsamic vinegar

1-2 garlic cloves, minced

Salt and pepper to taste
Instructions
Bring a large pot of water to boil, boil beans for approximately 5 minutes or until tender, DO NOT OVERCOOK.  After they are cooked, run them under cold water to stop the cooking and to cool the beans or plung them into an ice bath.

Make the vinaigrette right in the serving bowl.

Place the beans in a serving bowl with the vinaigrette.

Add the olives and tomatoes to the beans, toss to coat completely.
Notes
Feel free to add about 1 cup cooked white kidney beans to this.