Salsa goes way beyond the classic taco. Salsa is the exact condiment you need when you want to take that mundane grilled chicken breast of fish fillet to the next level.
This tomatillo salsa is extremely versatile. I use it as one would a traditional salsa, with chips, as a taco topping or as a topper for grilled fish or chicken. But try it mixed into mash avocado for a perfect (and interesting) guacamole or lightly dolloped over raw fish making it into a ceviche.
This salsa is uncooked but feel free to place the tomatillos, Serrano peppers and onion on the grill or a cast iron pan to char and then blend. You can use canned tomatillos in a pinch.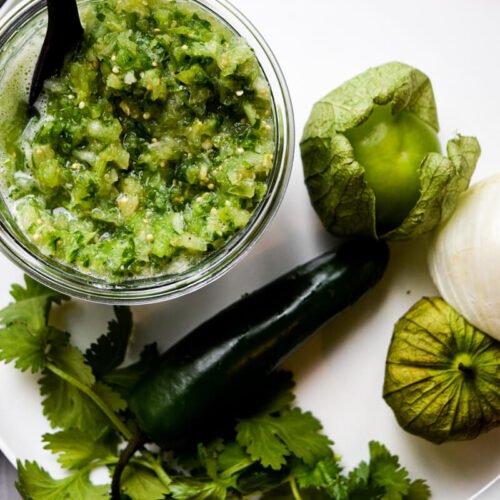 Fresh Tomatillo Salsa
Ingredients
5-6 fresh tomatillos

2 Serrano peppers, use jalapeño in a pinch

¼ of a white onion

½ cup cilantro leaves and small stems

1 clove garlic

1 tbsp. olive oil

½ tsp. kosher salt
Instructions
Heat a fry pan over medium heat, add oil.  Add the clove of garlic and cook until golden all over. Place in a blender.

Add the remainder of the ingredients to the blender and blend to desired consistency, I like a chunky salsa.

This will keep for a week in your fridge.