Gluten-Free Sweet Potato Breakfast Muffins
I'm always craving sweet baked treats as we come into fall and the weather gets colder. These muffins or muffin tops are the perfect warming and cozy feeling snack or breakfast. They are naturally sweet, full of fibre and really satisfying. There is no refined sugar, they are dairy free and gluten free! There is no need for a lot of additional sweetener, as the natural sweetness from the sweet potato and dates make these muffin plenty sweet. I added a little maple syrup but you can leave it out. If you like to eat breakfast on the run, they are perfect for that. I love these in the afternoon with a cup of tea.You can make these in a regular muffin tin but I like making them in a muffin-top pan. When you make them in a muffin-top pan the whole muffin gets slightly dryer and crispier, just the way I like it!If you want, you can replace the banana with unsweetenedapple-sauce, and of course adding a few pecans to the batter would give these little beauties a fabulous crunch!Baking with almond flour can sometimes be a little tricky, it actually gets wetter before it dries out. Depending on the texture of your sweet potato puree, you may need some additional baking time. When I make these with freshly cooked sweet potato, the baking time is pretty accurate but when I use sweet potato puree from the can, I need to add an additional 7-10 minutes onto the total baking time.Enjoy this recipe my beauties and let me know how you like it!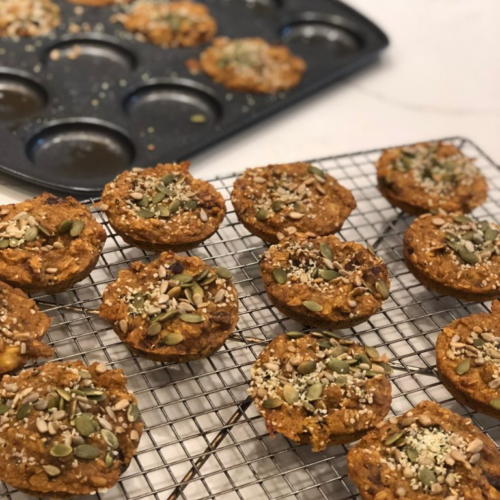 Gluten-Free Sweet Potato Breakfast Muffin
Ingredients
Dry Ingredients
½

cup

brown rice flour

½

cup

almond flour

2

tsp

baking powder

½

tsp

½ tsp. baking soda

2

tsp

cinnamon

¼

tsp

sea salt

1

cup

rolled oats
Wet Ingredients
¼

cup

¼ cup coconut oil, melted

2

ripe bananas, mashed

or about 3/4 cup of unsweetened apple sauce

1

1 cup mashed cooked sweet potato*

(from one large potato) or from the can, I like this brand

3

tbsp

maple syrup

2

tsp

vanilla extract

¾

cup

plant milk

I use almond

200

grams/

7 ounces or 12 dates

pitted and chopped**

¼

cup

mixed seeds to sprinkle on the top (sunflower, pumkin, hemp, sesame)
Instructions
Preheat oven to 375˚F.  Lightly grease a 12-cup muffin tin with coconut oil spray or line with parchment muffin liners.

In a large bowl, whisk together the rice flour, almond flour, baking powder, baking soda, cinnamon, and salt.  Add the oats, stir again.

In another bowl or food processor, mash the bananas, add the sweet potato, maple syrup, vanilla, and plant milk.  Add to the dry ingredients, stir to combine.

Fold in the chopped dates.

Distribute evenly between the 12-cup muffin tin, sprinkle with the mixed seeds and bake for 30 minutes or until a toothpick inserted in the centre is dry and the tops are golden.
Notes
*To cook the sweet potato:

 

Preheat oven to 400˚F.

 

Pierce holes in the potato.

 

Place it on a baking sheet with foil and cook for 60-90 minutes or until fork-tender.

 

Prep Tip:

 

Make 6 potatoes at a time.

 

When cooked, peel and freeze in individual baggies in 1 cup measures (labeled).
**As I cut the dates I sprinkle them with some extra brown rice flour as I go, otherwise, you will be dealing with a sticky mess!