Gut Healing Bone Broth Chicken Soup with Ginger, Turmeric a​nd Soba
As told by the famous self-help series, "Chicken Soup for the Soul," chicken soup is not just great for your body, but it is a remedy for your mind as well. Whether to recover from a nasty cold, and emotional "moment", or simply a miserable winter day, there is no misery that a bowl of chicken soup can't fix, or at least make a little warmer. I was raised with a similar idea; that chicken soup is the 'Jewish penicillin.' I'm sure other cultures and their respective chicken soups have the same belief, and for a good reason.
Generally speaking, chicken soup is wonderful for you. The warm broth fills your stomach, healing sore throats along the way. Nutrient-rich ingredients such as poached chicken and veggies give you energy, while the savory flavour ignites your appetite. Some might say that this passed-down version of chicken soup is just perfect. While I don't completely disagree, there are a few additions that can elevate the healing properties of this classic dish. By making it with ginger, bone broth, turmeric, and mushrooms, chicken soup can become a truly powerful medicine for your gut and overall health.
The combination of these superfoods makes chicken soup an extremely effective medicine for the whole digestive tract. If you are suffering from inflammation in the gut, or simply need to keep an eye on symptoms, this recipe should be your go-to. Besides adding balanced flavour, ginger and turmeric contain many natural healing properties with a special affinity to heal inflammation in the gut.
Below are a few facts about the superfoods included in my extra-healthy version of classic chicken soup:
TURMERIC:
Curcumin is the main active ingredient in turmeric. It has powerful anti-inflammatory effects and is a very strong antioxidant.
…However, the curcumin content of turmeric is not that high, so it would be very difficult to reach these levels just using the turmeric spice in your foods.
Unfortunately, curcumin is poorly absorbed into the bloodstream. So, what do you do??
…To increase the bioavailability of the medicinal curcumin in turmeric:
Consume black pepper with it. This is because black pepper contains piperine which is a natural substance that enhances the absorption of curcumin by 2000%!!
Heat it. In other words, cook with it!
Eat it with a healthy fat.
Eat it with quercetin-rich foods. Quercetin is a flavonoid found in many plant foods such as onions, capers, and Serrano peppers, and is known to inhibit an enzyme that inactivates curcumin. Adding turmeric to quercetin-rich foods can increase the absorbability of turmeric in the body.
GINGER:
Ginger has a very long history of use in various forms of traditional/alternative medicine.
It has been used to help digestion, reduce nausea and help fight the flu and common cold.
BONE BROTH:
According to a recent study in the Journal of Oral and Facial Pain and Headache, bone broth has anti-inflammatory properties.
One of the most remarkable things about bone broth is its immune-boosting properties and its ability to reduce inflammation in the body. Traditionally made bone broths are believed to support healthy inflammatory response and normal immune system function. The medicinal benefits of this broth should be added to your diet weekly through the winter months it's also a source of protein.
My DeliciousDish Bone Broth used in this recipe is a great source of protein.  See the recipe after the chicken soup. And I make it in my Instant pot! Instant Pot Duo 7-in-1 Multi-Use Programmable Pressure Cooker, 8 Quart | 1200W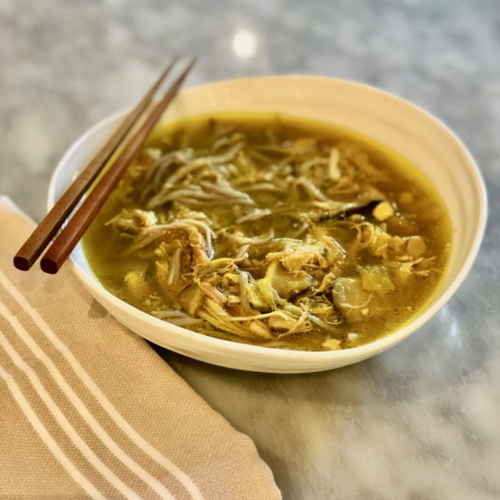 Gut Healing Bone Broth Chicken Soup with Ginger, Turmeric and Soba
Ingredients
12

dried shitake mushrooms (about ¾ oz.)

5

bone-in chicken thighs

skin and fat removed

2

tsp

grapeseed or avocado oil

1

large

leek (white and light green parts only)

sliced into half-moons and washed

3

tbsp

minced fresh ginger

1

tbsp

minced fresh turmeric

4

cups

Bone Broth, DeliciousDish, see recipe below

or packaged chicken stock

3

cups

water

2

tbsp

coconut aminos or light tamari

1

tbsp

apple cider vinegar

Sea salt and pepper to taste

1

250 gram

package of 100% soba noodles

I like King Soba brand

2

green onions

chopped into rounds (for garnish)
Instructions
Place the shitake mushrooms in 1½ cups of boiling water, let them soak while you prepare the rest of the ingredients.

Heat the oil in a medium-size soup pot over med-low heat.  When the oil is hot, add the chicken and cover the pot.  Cook for 10 minutes, turning once or twice.  The object is to steam the chicken not to brown it; you want to get rid of the pink colour.

In the meantime, strain the mushrooms, reserve the liquid and slice the mushrooms into thin slices (getting rid of the woody stems).

Stir in the leeks, ginger, turmeric and sliced mushrooms to the soup pot with the chicken.  Cover the pot and cook until the leeks begin to soften about 5 minutes.

Add the bone broth, water, mushroom liquid, coconut aminos, and apple cider vinegar.   Bring to a vigorous simmer over high heat.  Lower the heat, maintain a gentle simmer and cook uncovered for 45 minutes.  

The chicken should be very tender and falling off the bone.  Remove the chicken and set it aside.

In the meantime, bring a large pot of salted water to a boil and cook the noodles according to package directions, rinse in cold water, set aside.

Remove the chicken meat from the bones, chop it up and put it back in the pot with the soup. Taste for salt and pepper.

Stir the noodles into the soup.  

Serve in bowls with green onions sprinkled on top.
Notes
Can be frozen without the noodles or green onion.

Easy Bone Broth
I do this in a slow cooker overnight or in an Instant Pot for two hours.  If you are making bone broth on the stove top, use a heavy-duty pot (cast iron is best) and cook on low (covered) all day.
Ingredients
3-6

pounds

chicken or beef bones

better if they are cooked, so leftover bones are perfect 

water to cover by 2-inches

1-2

tbsp

apple cider vinegar 

any veggies you want, carrots, celery, garlic

(this is all flavour, you don't need any)
Instructions
SLOW COOKER
Place bones in a slow cooker, cover with water by 2-inches and cook on high for 12 hours.
INSTANT POT
Place bones in a slow cooker, fill to 1-inch below fill line.  Turn to manual pressure for 2 hours.  Let the pressure release naturally once finished.  You will need more like 3 hours of total time for this.

Let cool, place in the fridge overnight before freezing.