Ice Cream Sandwich Sliders
I used to make these little beauties in extra large size. But then I asked myself… why? They would be so much better in slider-size. Make sure you pinch off a small amount of dough, the size of a walnut and give it a good roll like a meatball. All the dough balls should be the same size and round so that they bake up to be perfectly even, little slider-size cookies.
I like using a simple ice cream for this one, like vanilla or chocolate chip. The cookies are sweet, so don't go crazy with a caramel ice cream or something with extra sweetness. Or do! (I'm not there, so I wont know).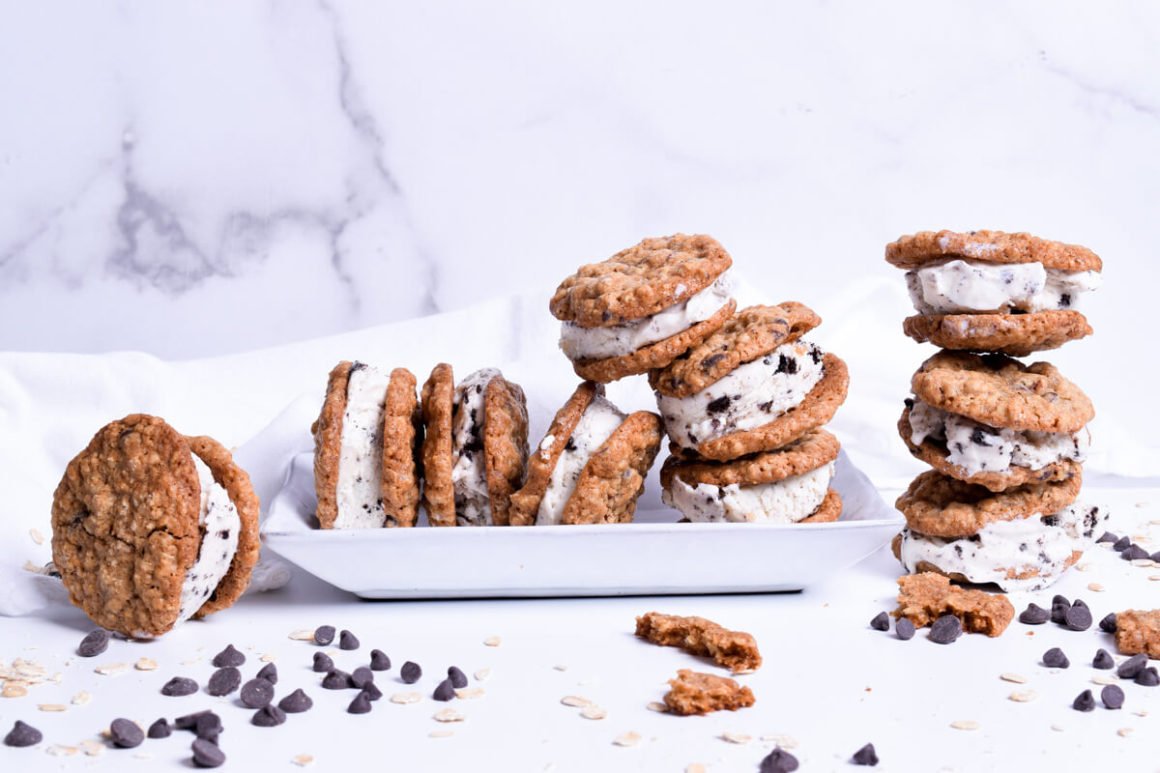 This recipe will make about 40 or so cookies, which comes out to about 20 sliders. The cookies are chewy and are the perfect bookends for a slab of ice cream. Make sure the cookies have completely cooled before sandwiching them. Keep the sliders in the freezer so that you always have an impromptu dessert that will be a huge hit with everyone. I promise!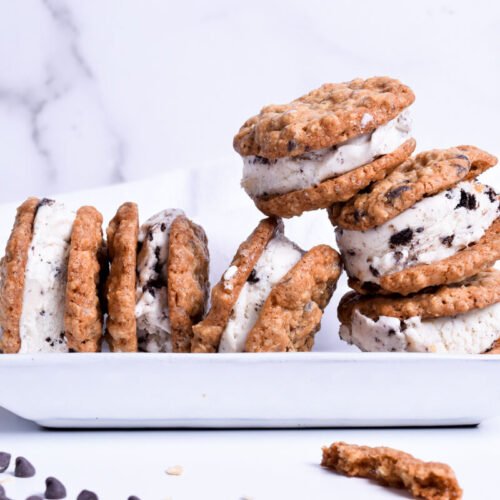 Ice Cream Sandwich Sliders
Ingredients
6 ¾ ounces (1 ½ cups) all-purpose flour

1 tsp. baking soda

½ tsp. salt

½ tsp. ground cinnamon

2½ cups old-fashioned oats

8 ounces (1 cup), 2 sticks unsalted butter, slightly softened

1 cup packed light brown sugar

½ cup granulated sugar

2 large eggs

1 Tbs. honey

2 tsp. pure vanilla extract

½ cup raisins or chocolate chips

½ cup chopped pecans, optional

1 big tub of ice-cream of your choice
Instructions
Cover 3 cookie sheets with parchment paper.

 In a medium bowl, mix the flour, baking soda, salt, and cinnamon; stir in the oats.  

With an electric mixer, beat the butter and both sugars until light and fluffy.  

Beat in the eggs, one at a time, and then scrape down the sides of the bowl; add the honey and vanilla and beat until blended.

Add the flour mixture in two additions, beating until well combined.  Stir in the raisins  or chocolate chips and pecans.

Using a tablespoon measure, scoop small amounts of dough and roll into a small ball, about the size of a walnut.  Place on a cookie sheet leaving a few inches for each one to spread.

Bake until the centres of the cookies are soft and no longer look wet, about 9-11 minutes.

Let cool on sheets about 5 minutes; transfer to a wire rack to cool completely.

Using a spoon, scoop a small amount of  ice-cream in the centre of a cookie and press down with a second cookie, freeze immediately.