Instant Pot Traditional Chicken Noodle Soup
I have to be honest. I was a real skeptic when it came to the instant pot in general but especially for cooking traditional recipes such as chicken soup.  I was sure it would never be as good as the slow cooked golden broth that my grandmother would make.  Her soup is a legacy in which we all take such pride.  Our attempts to emulate her perfection have resulted in many animated discussions, friendly competitions, comparisons, criticisms, and praise for our pots of liquid gold.  
If you don't need or want a huge batch of chicken soup, the instant pot is perfect for making smaller batches and makes it worth buying the pot for this alone!  There are a few rules you need to follow, so don't play around too much with the recipe.
This is my Instant Pot and I love it! Instant Pot Duo 7-in-1 Multi-Use Programmable Pressure Cooker, 8 Quart | 1200W
Photo credit www.joannawojewoda.com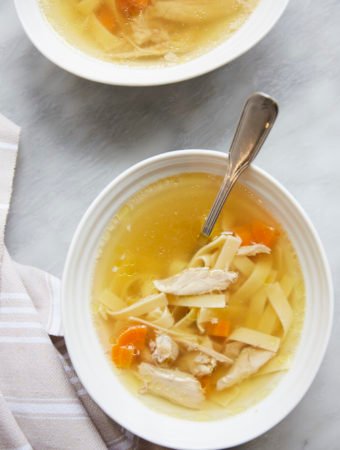 Instant Pot Traditional Chicken Noodle Soup
Equipment
 8 quart Instant Pot (if you have 6 quart, you will just have less soup)
Ingredients
2

whole chicken legs (thigh and drumstick attached)

skin on but trimmed of excess fat

1½

pounds

whole chicken wings

(not split)

1

cooking onion

peeled and roughly chopped

1

leek

white and green part only, cut in half in the length and cleaned

3

carrots

medium sized, peeled and roughly chopped

2

parsnips

medium sized, peeled and roughly chopped

½

bunch

parsley

cleaned

1

small bunch

dill

cleaned

2

stalks

of celery or the interior heart of the celery with leaves

roughly chopped

Neck of a butternut squash

or about a 3-inch piece or less than 1 cup chopped (shown here is a large chunk (not the neck).

1

zucchini

roughly chopped

1

tbsp

kosher salt

less if you are using kosher chicken

about 20

peppercorns or white peppercorns

Water to fill to the max fill line after all the veggies and chicken are in the pot

Additional kosher salt and ground white pepper.
Instructions
Place all veggies, chicken, salt and pepper in the stainless steel liner* of the instant pot, fill with water to the MAX fill line.

Place the liner in the instant pot, close the lid, turn the valve to SEALING (I have forgotten to do this).

Place on PRESSURE COOK for 27 minutes.  It will take a while for the pot to come to pressure, once the pot is pressurized the counter will start counting down.

When the timer is done, NATURAL release for 5 minutes.  Then QUICK release until all the pressure has released.  It is quite messy so I drape a dish towel over the valve as it is releasing.

Once all the pressure has released, carefully open the lid and let the soup sit in the pot (or at least the liner) until cooled (it can take several hours).

Strain the soup and save the carrots, parsnips and chicken if you like to cut them up for serving the soup or for eating.

Taste the soup and add more salt and white pepper to taste.

You can freeze the soup in batches with the carrots, parsnips and chicken pieces right in the soup.

When ready to serve, boil up some noodles for each bowl.
Notes
Many people have several liners for their instant pot, especially if you use it a lot and need to start prepping for the next recipe before the first one is done or if you want your meal (or chicken soup in this case) to cool in the pot but need to carry on and use the instant pot again.  I also specify in Step 1 to place all the veggies in the liner (rather than the POT) because you need to bring the liner to the tap to fill it with water and you don't want to fill it with the line already in place, you could get water inside the pot itself.