Kick-the-Sugar 10-Minute No-Bake Clean Apple Crisp
Apple crisp is comfort food! This crisp truly showcases the sweet, warm flavours fall has to offer, but without all the usual guilt. I use an assortment of apples to achieve an array of flavours and textures, and a mixture of oats and nuts to achieve a healthier crisp.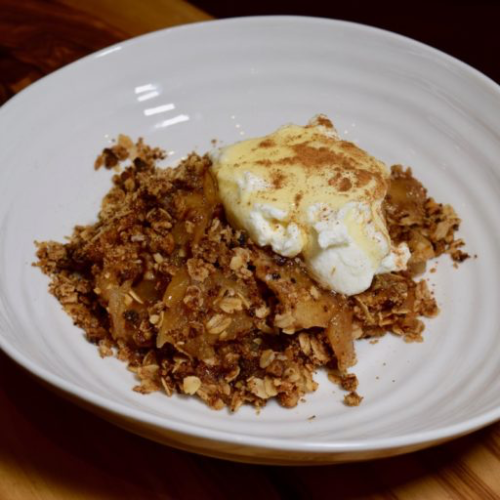 Kick-the-Sugar 10-Minute No-Bake Clean Apple Crisp
Ingredients
Topping
½

cup

large flake rolled oats

¼

cup

finely chopped pecans

¼

cup

almond flour

1

tbsp

coconut oil

room temp

1

tbsp

maple syrup
Filling
3

peeled apples

cut into small cubes, or thin slices

2

tbsp

coconut sugar

2

tbsp

water

Tiny pinch of sea salt
To Serve
4

doloops

of SKYR plain lactose free yogurt, Non-dairy plain yogurt, or any yogurt of your choice
Instructions
In a small fry pan, on medium heat, toast the chopped pecans for 2-3 minutes, add the oats and continue toasting for 2-3 minutes longer, transfer to a plate or bowl.  Place the pan back on the heat for step 2.

Add the coconut sugar (for the filling) and water to the pan and let warm for 2 minutes, add the chopped apples, turn the heat up a little and sauté the apples with the sugar for 2 minutes, turn the heat down to med low and cook for another 2-3 minutes or until the apples are fork tender but don't let the coconut sugar burn.  Remove from the heat and distribute the apples between the 4 ramekins.

Add the almond flour, coconut oil and maple syrup to the oat-pecan mixture and using your fingers, massage all the ingredients together so that everything is uniform.  

Top each apple filled ramekin with an even amount of oat mixture, enjoy warm!

Serve with a dollop of yogurt and a sprinkle of cinnamon.