Lemon, Ricotta, Raspberry Stuffed Fritters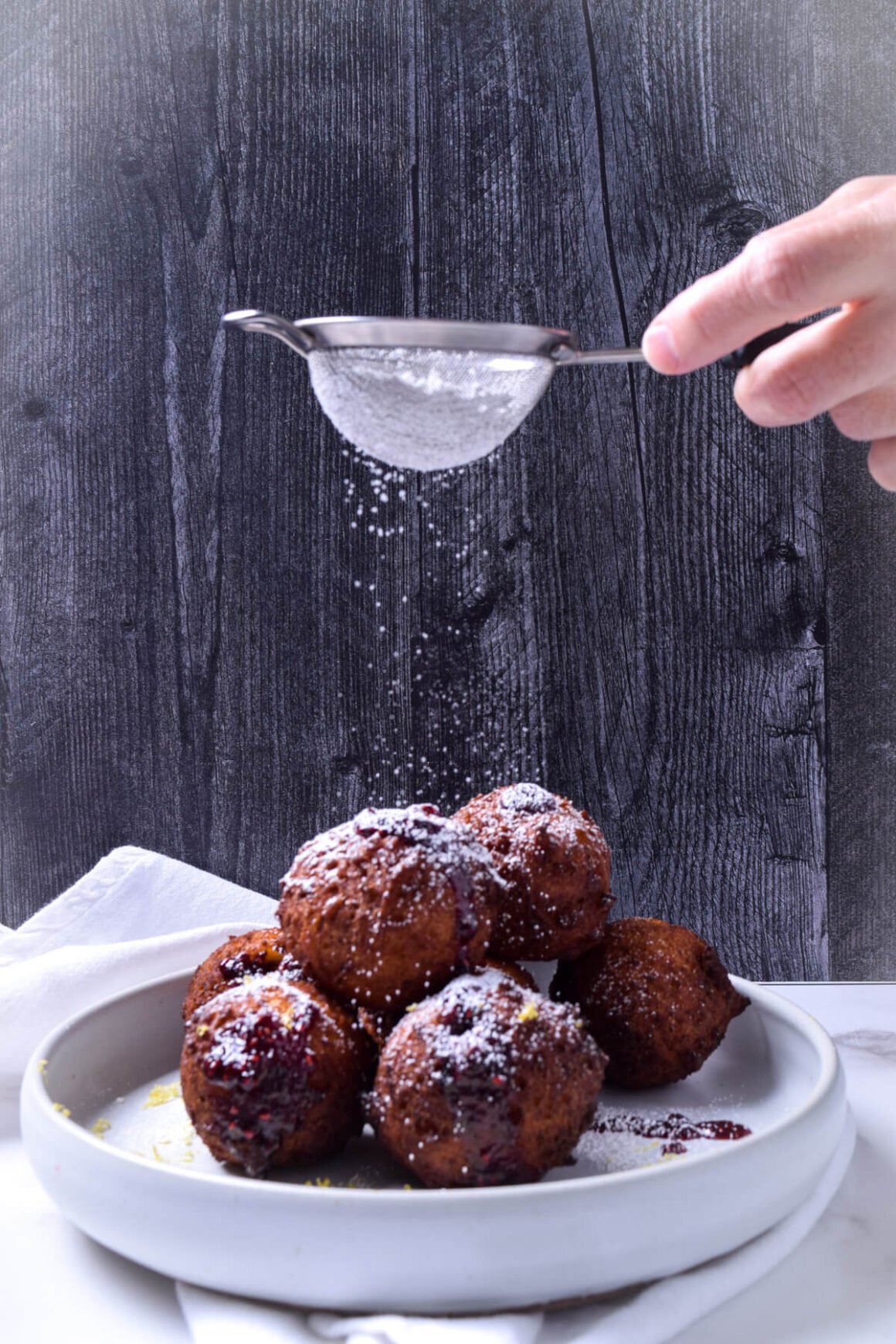 They are sweet, fried, round and sprinkled with powdered sugar. Can we call them sufganiyot? Make them on hanukkah and you sure can! Make them all year round and call them fritters. These delicious little fritters (totally inspired by The Nosher, btw) are the best things that ever happened to sufganiyot and hanukkah in general. They are so easy, don't require yeast or any wait time. They need few and super simple ingredients, and best of all, take 30 minutes from start to stomach. Also, if I may be opinionated, fritters are so much better than yeasted doughnuts.
If you are afraid you will eat the whole batch, feel free to half this recipe.

Lemon, Ricotta, Raspberry Stuffed Fritters
Ingredients
195 g or 1½ cups all purpose flour

½ tsp kosher salt

4 tsp baking powder

2 tsp freshly grated lemon zest

4 eggs

⅓ cup granulated sugar

2 cups full fat ricotta cheese

2½ tsp pure vanilla extract

2-3 cups sunflower oil, for frying
For the Sprinkle and Filling
¼ cup powdered sugar

Zest of 1 lemon

1 jar raspberry jam
Instructions
Heat the oil in a small pot on medium heat, until it reaches 365˚F.  I use a small pot so that I need less oil to make the oil deep.

At the same time, heat the jam in a small pan so that it is loose. And then, you can pour the jam into a piping bag fitted with a round tip or into a squeeze bottle with a ¼-inch tip opening (this is what I use). Set aside.

In the meantime, in a large bowl combine the eggs, ricotta, sugar, and vanilla extract. Whisk to thoroughly combine. 

In a medium bowl, combine the flour, salt, baking powder and lemon zest, whisk to thoroughly combine.

Pour the dry ingredients into the wet ingredients and whisk until the batter comes together, and there are no lumps of flour.

Using a large soup spoon (heaping full) or a 1½ oz/3 tbsp. disher (#24/2-inch diameter) carefully scoop the batter into the hot oil, without crowding the pan.  If you are using a small pot, do not make more than 3 at a time.

Cook for about 2-3 minutes per side, until deep golden brown.

Use a slotted spoon or metal spider to remove the fritters and transfer to a paper towel lined plate.  Repeat with more fritters. 

Working one at a time, poke a small hole into the top of doughnuts and gently pipe in a generous amount of jam.

Mix the powdered sugar and lemon zest together and dust the filled fritters.  If you don't eat them all (which I think you will) store them in a paper bag for a few days.