Lemony Ricotta Stuffed Zucchini Flowers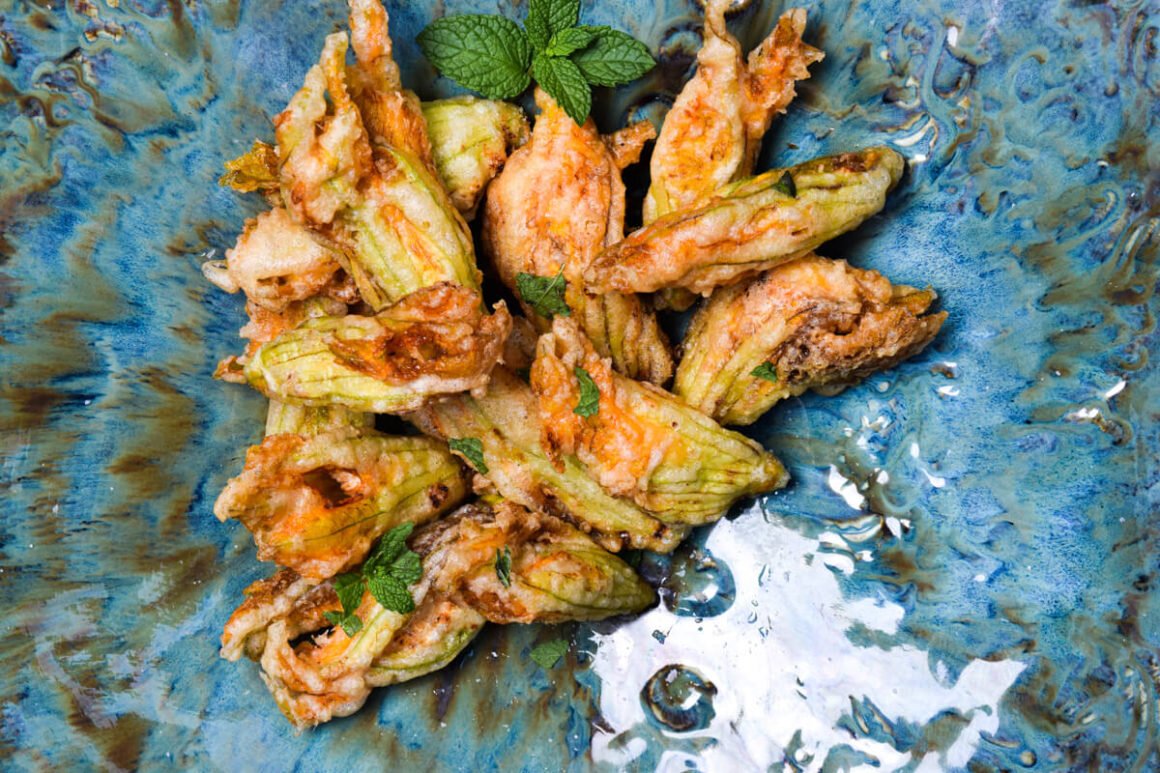 If you know, you know and if you don't, well, let's get to knowing!
Zucchini flowers or blossoms have a very short season and are a luxury. The flower is the sprout from the end of the zucchini plant and is the most luscious and delicious vegetable delicacy around.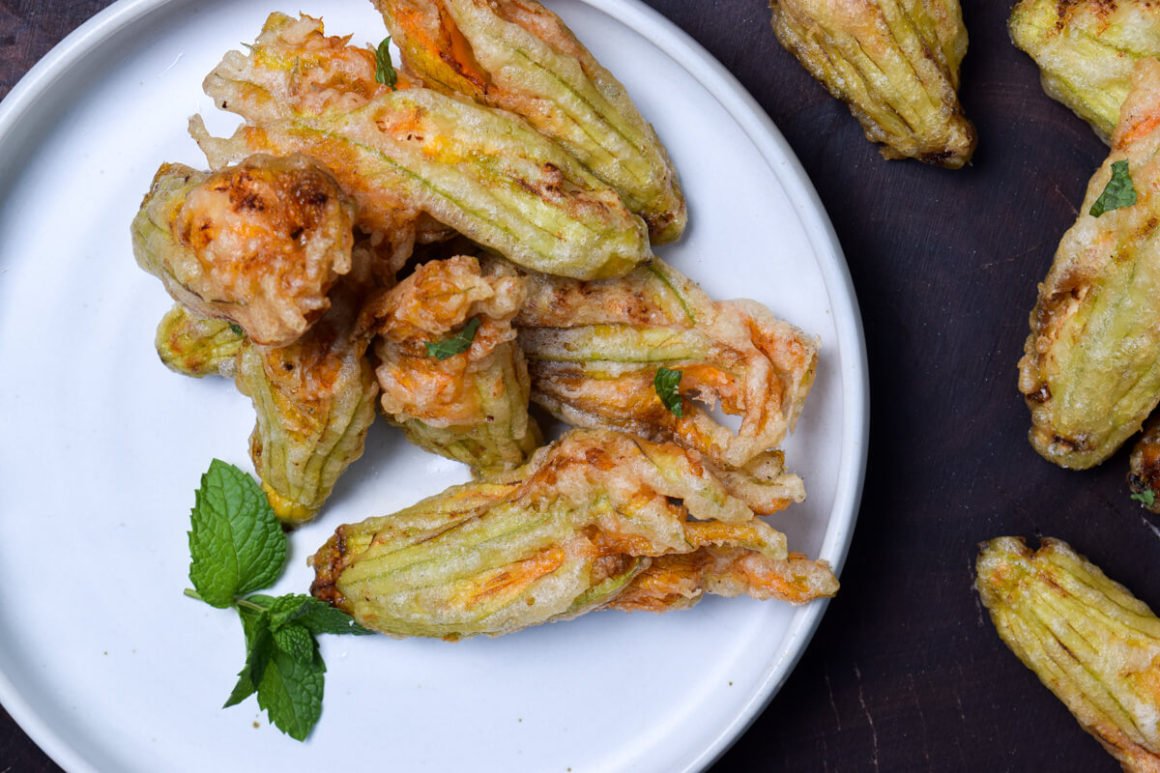 Traditionally, in Italian cuisine, they are stuffed with some sort of ricotta mixture and deep fried to develop an irresistible crunchy outer coating, which protects the light and velvety cheesy middle.
These are surprisingly easy to make. They take a little prep work – but really all you have to do is to remove the stamens. To do this, gently tear or slice open the flower and pull out the inner stamen, which is the little bud inside the flower. Now you are ready to stuff the flower with a little ricotta mixture. Once that's done, just close the flower back up and you're ready to go!
Let's get to work…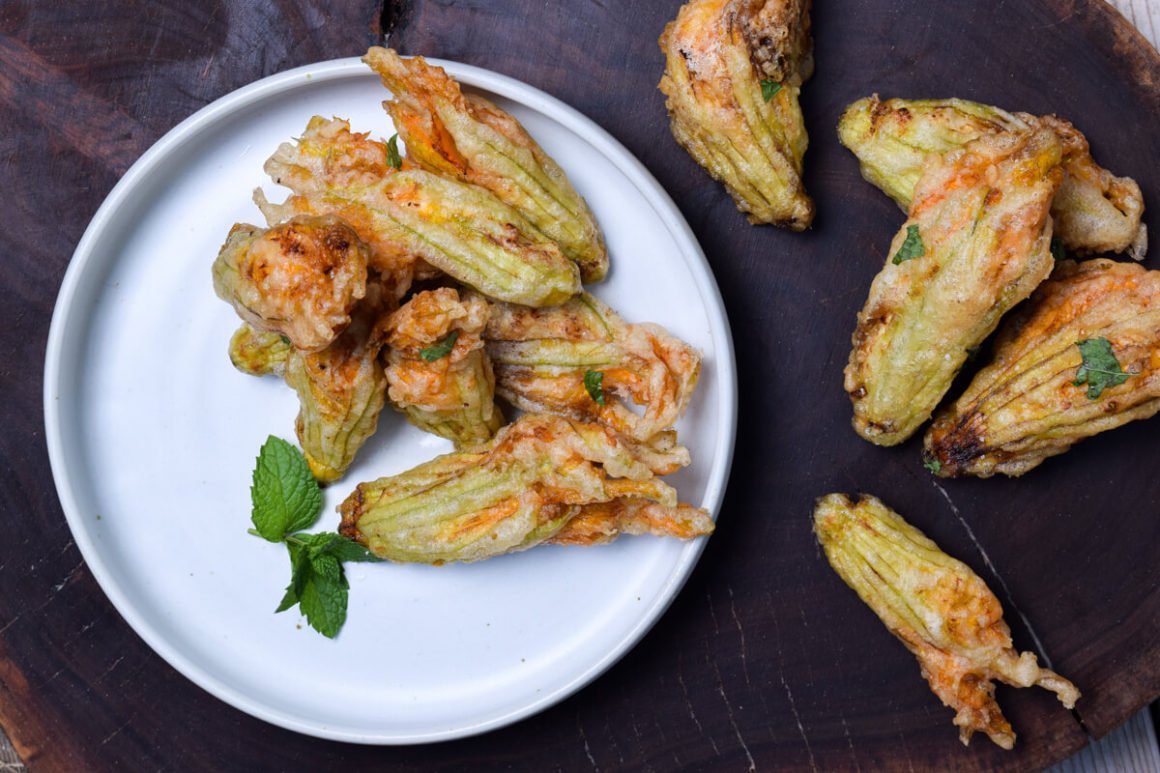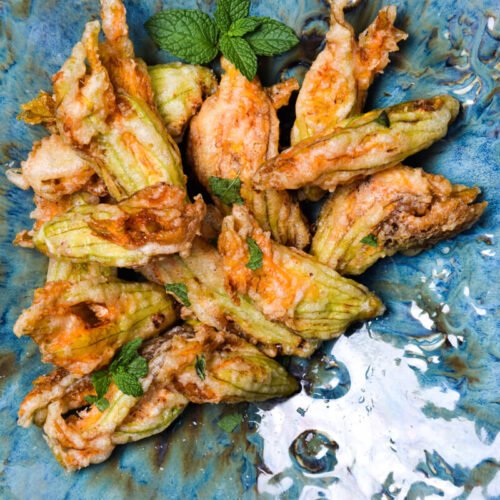 Lemony Ricotta Stuffed Zucchini Flowers
Ingredients
For the Coating
¾ cup flour

6 tbsp. cornstarch

1 tsp. baking powder

½ tsp. kosher salt

1 cup (250 ml) san pellegrino or perrier water
For the Filling
1½ cup full fat ricotta cheese

¾ cup (about 60 grams) finely grated parmesan cheese

1 tsp. lemon zest

1 ½ tbsp. freshly chopped mint leaves

1 tsp. minced serrano, jalapeño or long red chili pepper or 1 green onion, white and light green part only, minced

1 ½ tsp. cracked black pepper

½ tsp. kosher salt 

18 (depending on their size) zucchini flowers (stamens and pistils removed)

Sunflower oil, grapeseed or canola oil for frying

A few pinches of Maldon Sea Salt 
Option
You can add a little chopped anchovy into the ricotta mixture
Instructions
For the Coating
In a medium bowl, whisk together the flour, cornstarch, baking powder and salt. Pour in the sparking water and whisk until smooth.
For the Filling
In a separate bowl, whisk the ricotta , parmesan cheese, lemon zest, mint, chili pepper or green onion, pepper and salt until smooth.

Spoon about 1 tbsp. of filling into each flower and fold the petals around the filling to enclose the filling. Do not overfill. Repeat with all the flowers. Set aside.

Heat a deep saucepan with 4 inches of oil until 350˚F.

Working in batches, dip the stuffed flowers into the coating and gently place into the hot oil and fry until golden, about 5 minutes. Transfer to a paper towel to drain.

Arrange on a platter, sprinkle with maldon salt and serve immediately.