Maple Chili Delicata Squash Rings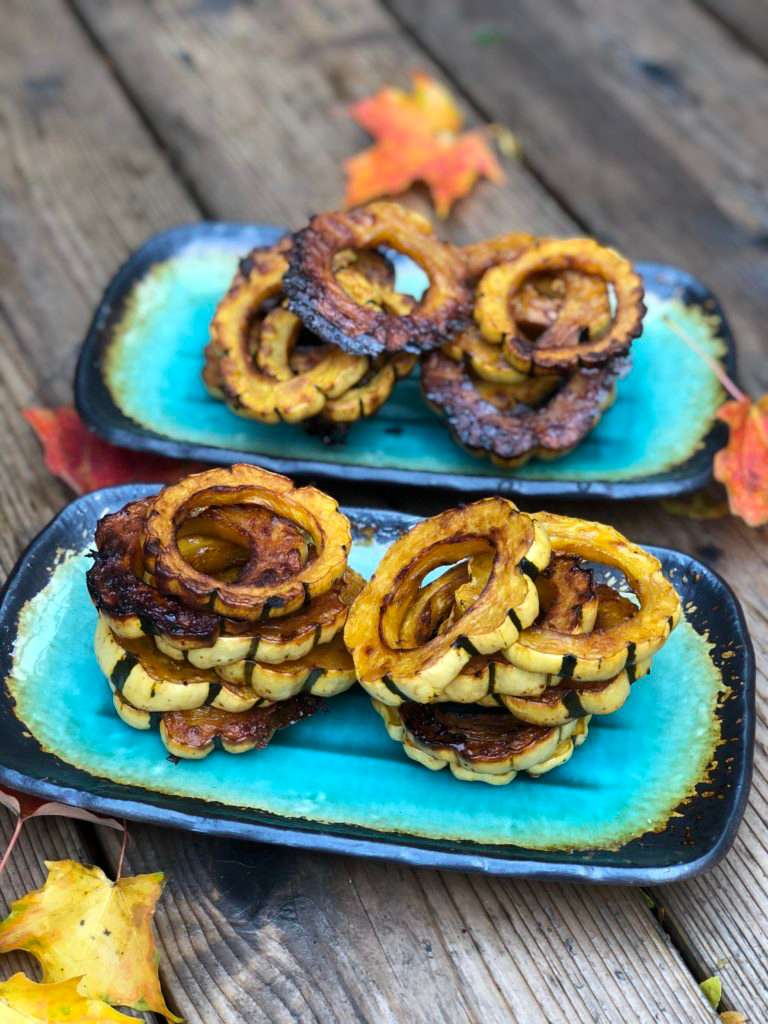 Delicata squash is my all time favourite fall harvest squash.
It's is totally UNlike its other fall squash cousins, the skin is soft and delicate and easy to cut into it. Peeling or slicing some of the other squash varieties is like a daily workout, not this one baby!
I slice the top of this beauty and then a quick scoop-out with a teaspoon will remove any seeds that the spoon can reach. Then I slice the de-seeded part of the squash into rounds and continue scooping the seeds as I make my way down the length of the squash.
Because the skin is so thin and delicate on the Delicata squash, there is no need to peel, just wash well and eat the whole thing! If you can't find Delicata squash, use acorn instead, wash well, no need to peel.

Maple Chili Delicata Squash Rings
Ingredients
2

delicata squash

2

tbsp

olive oil

2

tbsp

maple syrup

A

few

shakes or pinches of chili powder

Flaked sea salt to taste

I like Maldon
Instructions
Preheat oven to 425˚F.Line the cookie sheet with parchment paper.  

Slice the ends off the Delicata squash (do not peel), using a spoon, scoop out as many seeds as possible.  

Slice the squash into ½ inch rounds.  Get rid of any leftover seeds from the squash rings.  

Place on the parchment lined sheet, toss with the olive oil, maple syrup and chili powder and roast for about 30-40 minutes.  The rings should be golden brown.  

Remove from the oven, sprinkle with flaked sea salt, eat straight away or reheat later.