Marinated Crispy Tofu with Sriracha Tahini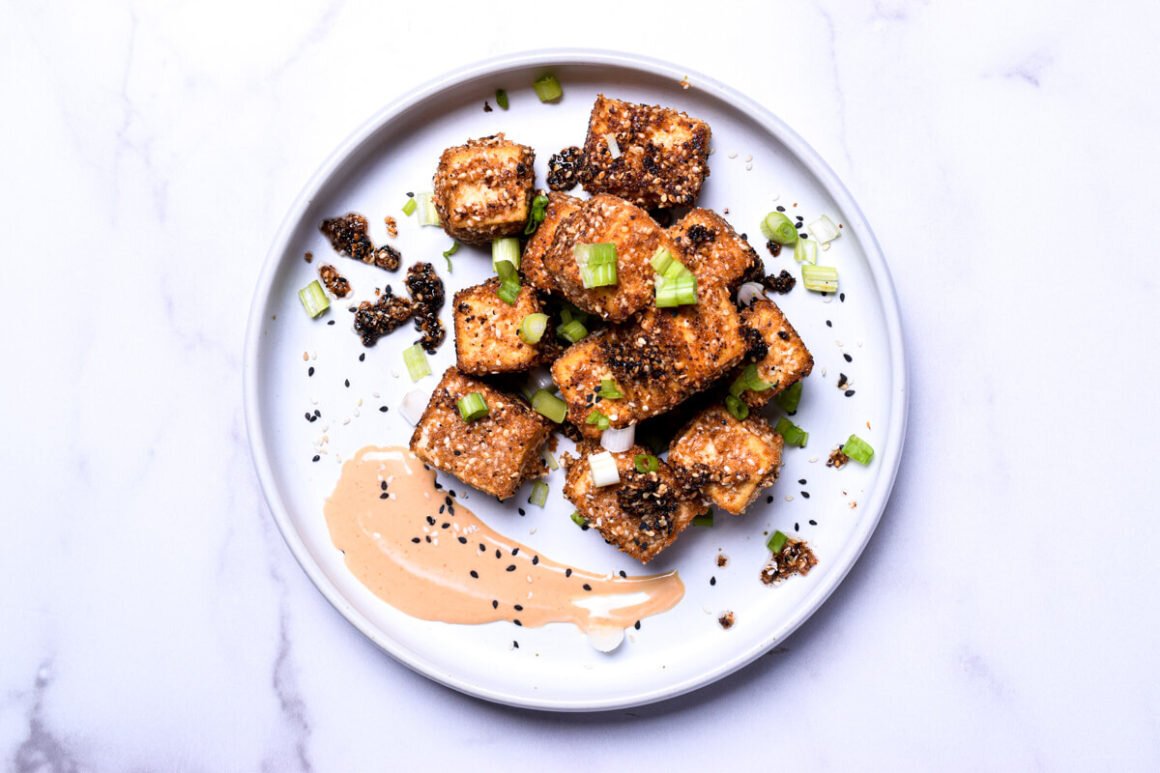 This is one of my favourite meal prep recipes. Make the dry coating mix, store it in the fridge or freezer and then forget about it until you need it!
The combination of toasted sesame seeds and wheat germ baked together makes for an addictive crunch and it's super healthy. The sesame seeds are an excellent source of calcium, iron and magnesium and wheat germ is a great source of vegetable proteins, fibre and healthy fats.
The sriracha tahini is an unexpected dip or drizzle. One that is packed with nutrients and flavour. The nuttiness if the sesame seed taste and spicyness from the sriracha is a perfect combination.
I would suggest using sprouted tofu – a healthier choice and a little easier to digest. One final tip: cut the tofu in cubes so that more sides are exposed to the hot pan, giving the tofu extra crispness. Enjoy!
If you like this recipe, take a virtual cooking class with Carolyn!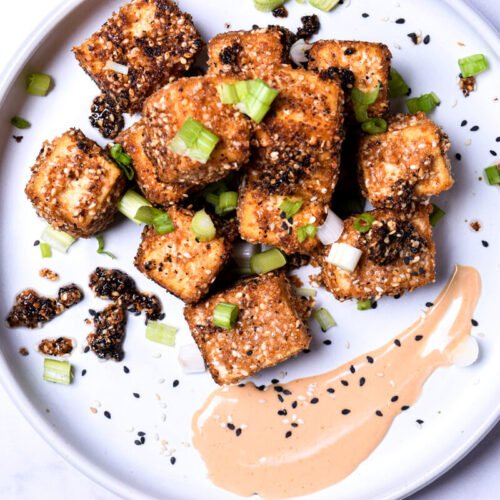 Marinated Crispy Tofu with Sriracha Tahini
Ingredients
1 block firm or extra firm tofu

2 Tbs. neutral oil

grapeseed or sunflower
Marinade
¼ cup low sodium soy sauce or tamari

1 cup water

2 tsp. garlic powder
Coating
¼ cup toasted sesame seeds

¼ cup wheat germ

½ tsp. garlic powder

½ tsp. kosher salt

Pinch of black pepper
Sriracha Tahini
2 tbsp. tahini paste

1 tbsp. lemon juice

1 tsp of sriracha, more to taste

Ice water to thin

Pinch or two of Kosher salt
Instructions
Cut the tofu into 1-2 inch cubes.

Combine tamari or soy, water and garlic powder in a flat dish.  Lay tofu cubes in dish, marinate (turning occasionally) for 10 minutes up to 6 hours.

Combine sesame seeds, wheat germ, garlic powder, salt and pepper in the bowl of a food processor.  Process until the seeds have broken down and a breadcrumb-like texture is formed.

Heat a large fry pan over med-high heat.  Add the oil.  Coat each piece of marinated tofu in sesame seed mixture.

When the oil is hot, pan fry tofu cubes until each side is golden brown (about 2 minutes each side).
In the meatime, make the Sriracha Tahini
In a medium size bowl and using a whisk, mix together the tahini, lemon juice, sriracha and 2 tbsp. ice water.  The consistency should be similar to ketchup (I know, poor comparison).  As you add the lemon and water, the tahini will thicken at first, thin it with water.  Taste for flavour, it should be spicy with a hint of lemon but not overpowering.  Add more water to achieve the desired consistency.  

Serve the tofu hot as is or over rice or noodles. Drizzle the Sriracha Tahini or use it as a dip
Notes
The dry mixture will last in the freezer for up to 6 months; just be sure to take out only what you need for the tofu so as not to contaminate all the coating.