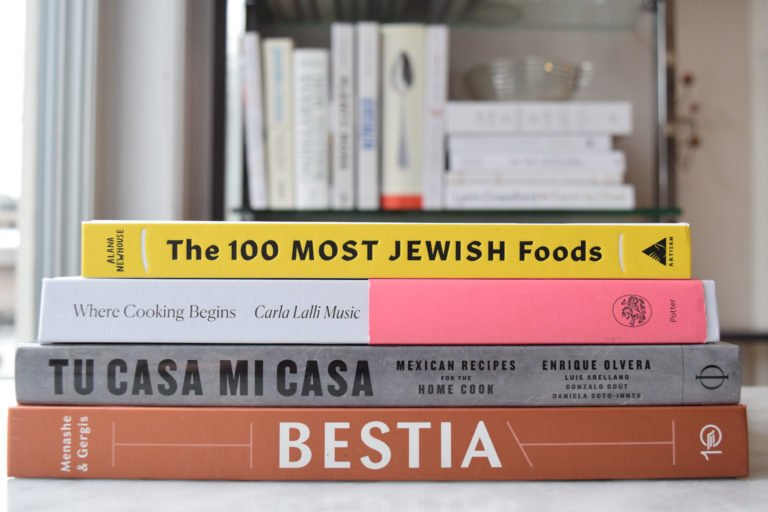 April was a good month for me as far as new cookbooks go. I added about 6 new books to my collection but I am reviewing only four today. The four that I have chosen are getting a lot of press right now and for that, I am jumping on the bandwagon, but it is well worth it. I am also in the process of reading a new non-fiction novel, which I will talk about next month. I am listening to several incredible podcasts, and the most time-consuming preoccupation is Game of Thrones, which my man is insisting we watch, all 7 seasons, so we can catch up as the 8th one runs, oh, and work, and kids, and life…oh my.
We will talk about Game of Thrones another time, I just can't, I am too immersed. Does Jon Snow die? Okay, forget it, don't tell me.
The book reviews…that's why we are here, right?
The 100 Most Jewish Foods
Alana Newhouse, Editor in Cheif of Tablet Magazine
I could almost hear the heated, boisterous and comical debates in choosing the final list of 100 Most Jewish Foods. If only I could have been a fly on the wall.
This book is not so much a cookbook as it is a comedic, yet serious, emotional culinary history of Jewish foods, culture and life. I love the cameos from some of my favourite chefs, authors, personalities and literary giants. I love this piece for it coffee-table-book feel, as a conversation starter, or somewhat of a table topic. My favourite chapter or Jewish Food in the book is Chinese Food, with Action Bronson kicking off the chapter and I quote "Chinese food is not a phase. This is forever, this is a lifestyle–a Jewish lifestyle". Hilarious. Or Daphne Merkin on horseradish, "Let the WASPs have their Worcestershire; leave it tot he Jews to turn suffering into a craving", love it.
A must have for anybody who likes quick whit, tradition, food and Jewish life. And…by the way, you don't have to be Jewish to enjoy this book!
Where the Cooking Begins
Carla Lalli Music
What can I say? I love this book. It is a must have for the new cook and the seasoned cook. I thought that it was going to be too simplistic for me, but an old dog can always learn some new tricks. I am that old dog, by the way. There is a little side note on each recipe that reads "spin it to win it", and it offers some great substitutions for the ingredients listed if you don't have what is required or want to change it up.
Music talks about how Saturdays, the farmers market day or a day off is the perfect day to start cooking. Shopping is part of the recipes and where the cooking begins. The beginning of the book is broken up into cooking methods or techniques using an array of different proteins and veg. This section is like the "coles notes" (I know, some of you don't know what that means, look it up)…of culinary school. The third section lays out beautiful and straightforward, yet very tantalising recipes. I love Musics way of cooking, plating and putting it all together, she nails it on every level. It is that boot, the one that triggers that let-get-cooking feeling. My praise.
Tu Casa Mi Casa, Mexican recipes for the home cook
Enrique Olvera
This book starts with the building blocks of Mexican cuisine, the basics from which you can build many recipes or the foundation of an incredible mezze party. Olvera, shares recipes inspired from his home cooking rather than restaurants. I love that because it means, they work at home, a simple concept but oh so accurate! I have to be honest, I have not made anything from the book yet, but we are coming off of a very long winter, and I have not been "in the mood" for grilling and summer fare. I'm on it, this week! Or next…
Bestia
Ori Menashe and Genevieve Gergis, with Lesley Suter
First off, let me praise Menashe and Gergis for coming right out and saying that neither of them is trained chefs. Instead, they are both "self-taught unknowns" and built the restaurant out of nothing. Unbelievable. Cudos to them. I love that because I can relate. This book is truly a restaurant cookbook, one that screams chef, culinary school and experience. To me, it does not feel like a "home-cook" cookbook. Not that there is anything wrong with that. It is very much the opposite to Where the Cooking Begins, which is written by a trained chef, ironically. The reason why I say that is the same reason why the food at home rarely tastes as it does in a restaurant. In a restaurant, a good one, there are multiple mise en place containers stacked with different flavour builders, pickled things, vinaigrettes, stocks, sauces, pastes. You need these "basics" as a foundation for a beautiful and complex flavoured recipe. The result may look simple on the plate with just a few visible ingredients, but it started with 4-8 "little gems" which made up the foundation for which to build the "simple" and uncomplicated dish. This book is all that. The authors have laid out wonderful recipes for which to use these building blocks. The recipes on the pages that follow are simple and uncomplicated, but you need the building blocks. Kind of like makeup that makes you look like you aren't wearing any. But yet, you are still wearing a lot of makeup to get you to that un-made-up look. Not every home cook wants to do that or more importantly cooks enough to warrant ten little mise en place containers of complex flavour builders. On a happier note, the book is stunning, the photography is remarkable, and I am thrilled to add it to my very eclectic collection of cookbooks, and I will most certainly try the restaurant the next time I am in LA.
Happy reading friends and I will see you next month!
xoC