Pantry Coconut Miso Broth with Sesame Tofu Katsu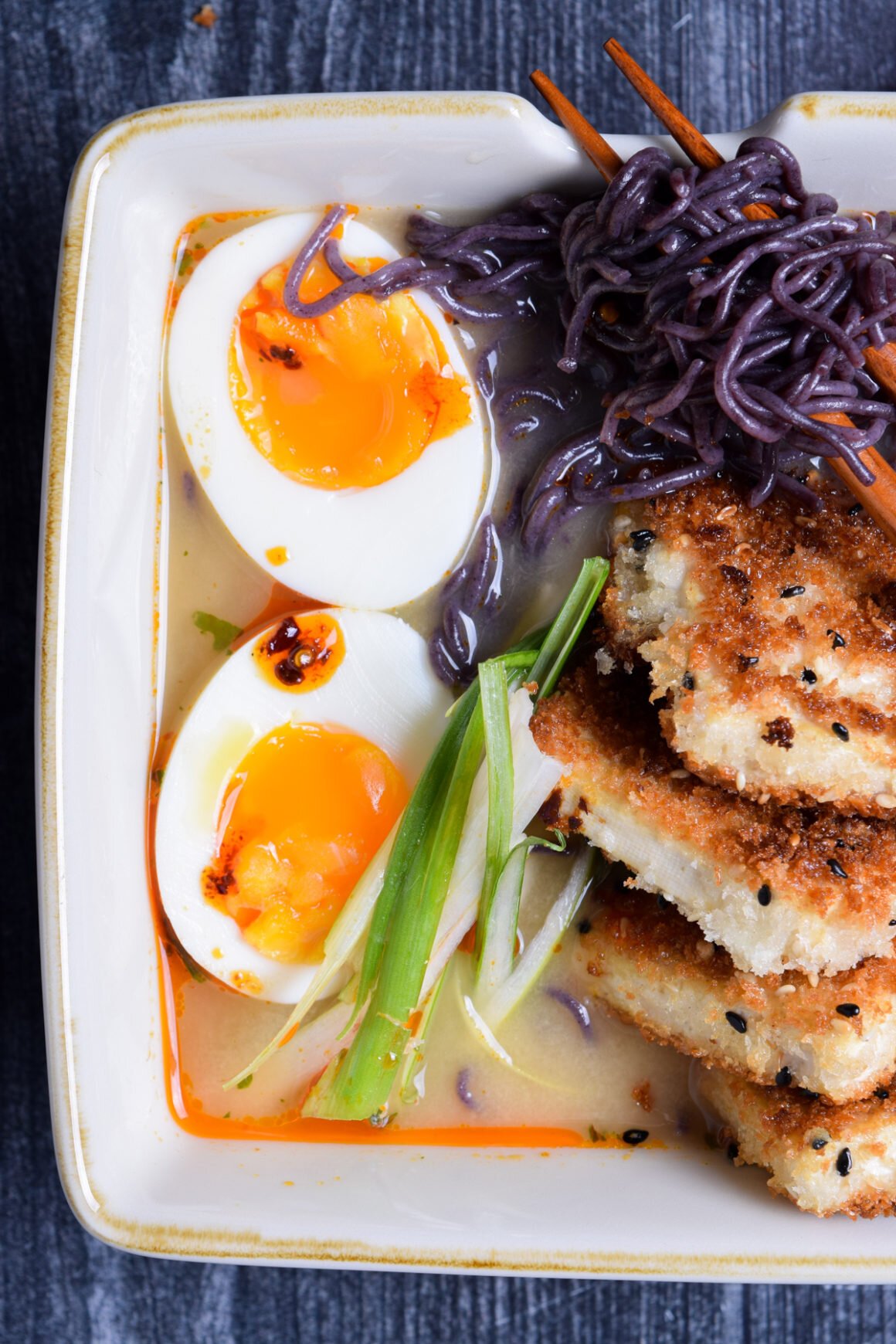 I love a good steamy, spicy broth with noodles. It is so comforting and inviting, especially on cold, winter days. This one bowl meal is a perfect weeknight recipe. I'm using tofu here but feel free to switch it up with chicken.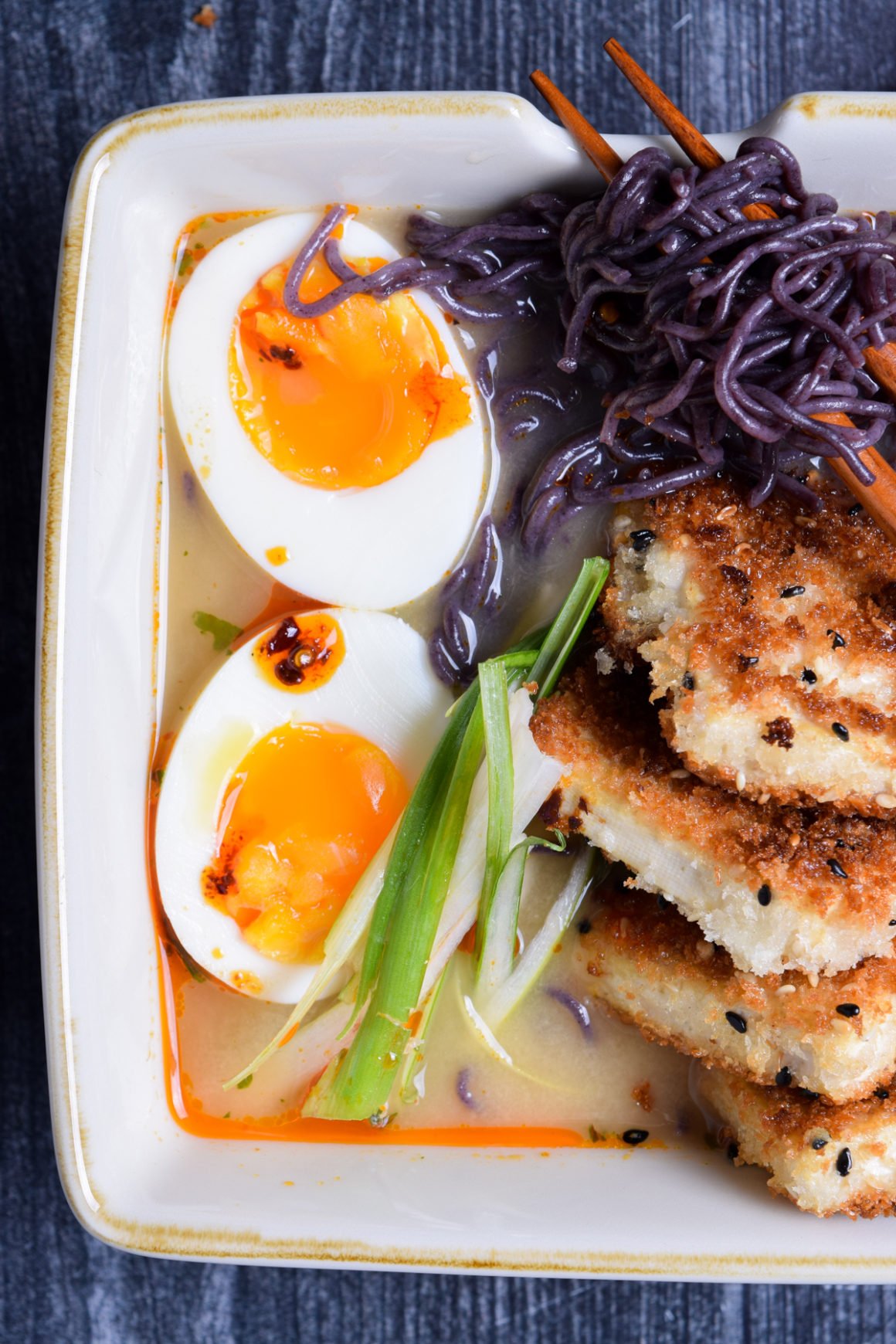 You can find miso in most health food stores. Choose a light miso so that the flavour is more delicate. Any ramen noodles will do but I am using Black Rice Ramen by Lotus Foods.
Enjoy this recipe and let me know if you make it!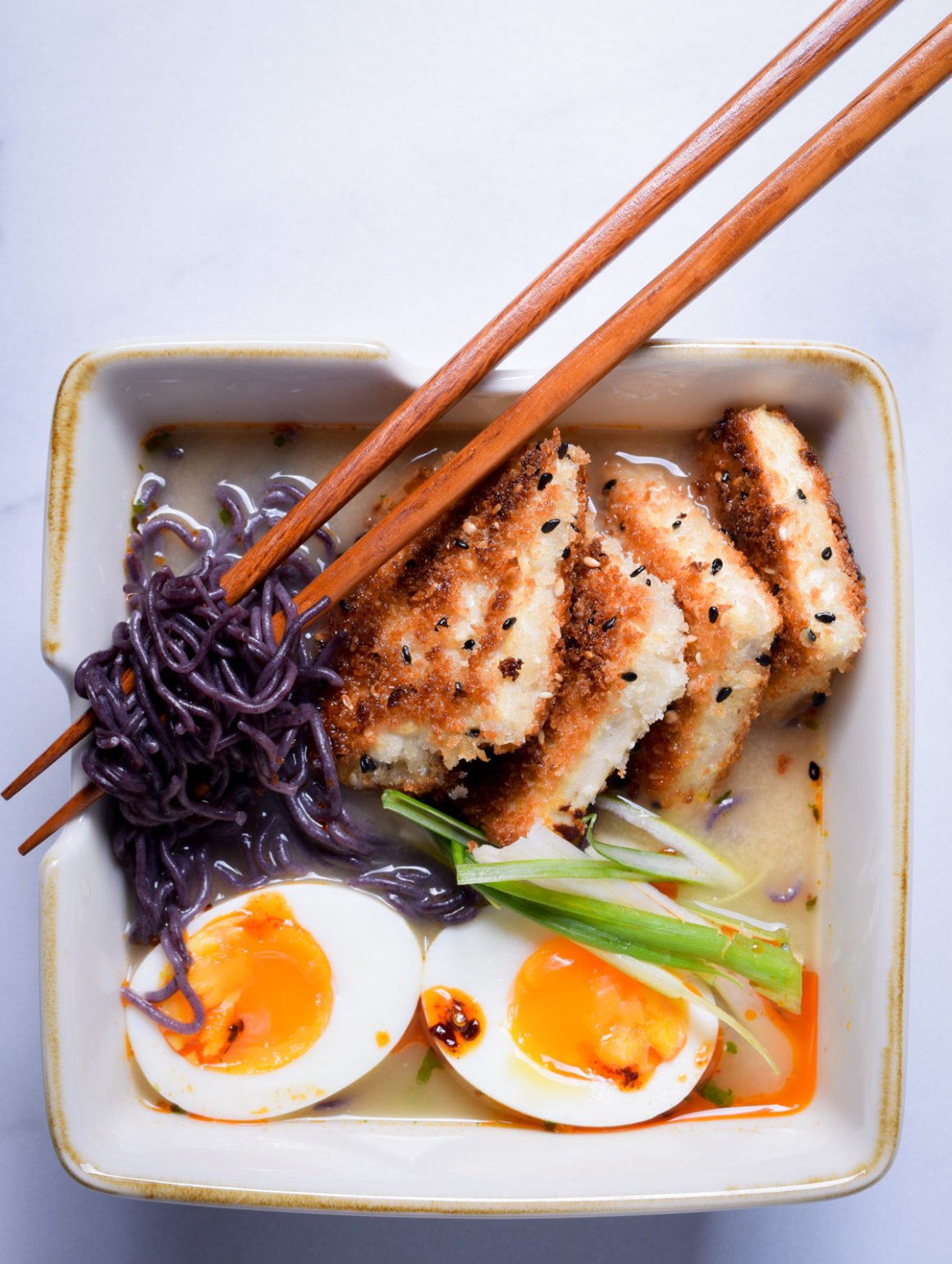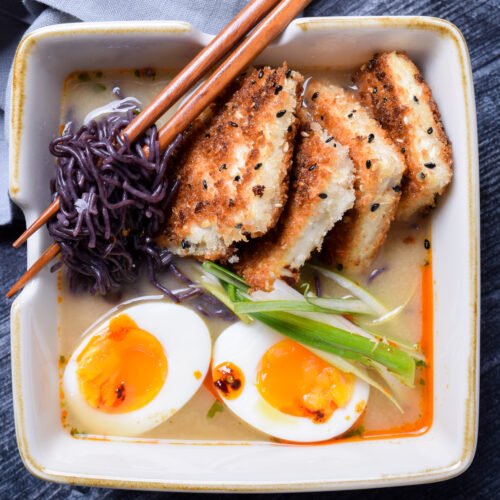 Pantry Coconut Miso Broth with Sesame Tofu Katsu
Ingredients
For the Coconut Miso Broth
4 cups chicken or vegetable broth

2 cups water 

1½ cups frozen spinach (measured frozen)

½ cup frozen edamame beans

½ cup canned coconut milk (light or regular)

2 tbsp low-sodium soy sauce or tamari or coconut aminos

¼ cup light miso paste

2 tsp hot chili paste
For the Tofu
2 egg whites

1 400-500 g block of tofu, cut into ½-inch square slabs and patted dry

1 cup panko

3 tbsp sesame seeds (preferably a mix of black and white)

1½ tsp kosher salt

3-4 tbsp sunflower oil
For the Bowls
2 green onions, sliced in 4-inch segments and then julienned or in rounds

4 8-Minute Jammy Eggs

See footnote

320 g ramen (80 g per bowl); I use Black Rice Ramen, Lotus Foods. You can use soba, rice noodles or wheat ramen, cooked according to package

Drizzle of sesame oil on each bowl
Instructions
Cook the noodles according to the package directions.In a medium-size pot, bring the stock, water and frozen vegetables to a boil.  Add the coconut milk and tamari.  Transfer a small portion of the broth to a small bowl and whisk the miso paste into this portion until it loosens up.  Pour this mixture back into the pot of broth.  Add the chili paste and stir.  Keep on low to keep warm but not boil.On a plate, beat the egg whites until they are loose and foamy.On a second plate, mix together the panko, sesame seeds and salt.Dip each piece of tofu in the egg white, let the excess drip off and then coat and press the panko mixture on the tofu.Heat a fry pan to medium heat, add oil and fry the tofu on each side for 2-4 minutes.  Remove and set aside.Divide the broth over 4 bowls, add the noodles.  Divide the tofu over the bowls.  Slice the eggs in half and distribute over the bowl along with the green onion.Drizzle with sesame oil and serve immediately.
Notes
For the 8-Minute Jammy Eggs
Bring a pot with water (enough to cover the eggs) to a boil.

 

As soon as the water boils, carefully lower the eggs into the pot and boil for exactly 8 minutes.

 

In the meantime, prepare an ice bath.

 

When the eggs are done cooking, lift them out of the water and place them into the ice bath to stop the cooking.

 

Let them cool in the ice bath and then peel.

 

For best peeling, crack the egg all over and then peel.