Pappardelle with Mushroom and White Bean Ragu
This weather calls for comfort food. Last week I put together this delicious mushroom ragu that I tossed with fresh pappardelle pasta. It was so delicious and we enjoyed every bite, but I had more than half of it left over. One 454 gram bag of pasta goes a very long way! The photo above was taken right as it finished cooking.
After I cleaned my freezer last week, I had loads of new space… so I decided to use it! I put all the leftover pasta into a medium sized pyrex dish, sprinkled the top with about 300 grams of shredded mozzarella cheese and then a good amount of grated parmesan cheese. I had a few people over for an impromptu backyard dinner. I defrosted the old/new pasta on the counter during the daytime and then, in the evening, put the overflowing pyrex in a 350˚F oven for 40 minutes covered and then uncovered it for another 30 minutes. Out came a ooey, gooey yummy melted cheesy mushroom pasta bake that everyone loved!
Moral of this story is that you should make this entire recipe even if you are only 2-3 people – then add a whole load of cheese to the top of the leftovers, freeze it and, voila, you have a new and improved leftover party! Add a salad and dinner is made!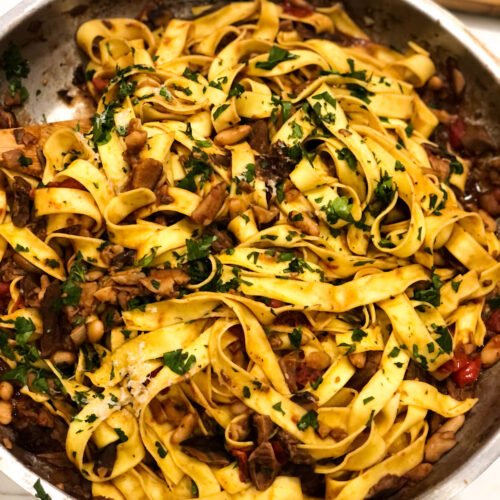 Pappardelle with Mushroom and White Bean Ragu
Ingredients
1 oz or 30 g of dried porcini mushrooms

3 tbsp extra virgin olive oil or a mix of unsalted butter and olive oil

1 onion or 2 large shallots, halved and sliced thinly 

4 cloves garlic, chopped

1½ lbs assorted mushrooms (oyster, chanterelle, shitake, portobello), stems removed and discarded (about 6 cups chopped)

1 cup cooked (canned) white beans, drained and rinsed

1 cup dry full-bodied red wine or marsala

1 cup low-sodium vegetable broth

1 bag (1 lb /500 g) pappardelle pasta or any noodle of your choice

½ tsp cinnamon or ½ tsp espresso powder

1 14-oz/400 ml can crushed or cherry tomatoes

Handful of chopped parsley, optional

Kosher salt and black pepper

Grated Parmesan cheese for serving
Instructions
Soak the dried mushrooms in ½ cup boiling water.

In a large skillet, heat butter and oil over medium heat.  Add the onion or shallots and a big pinch of kosher salt and cook until translucent, about 5 minutes. Add the garlic and cook for another minute or so. 

Add the chopped mushrooms and a pinch of kosher salt, turn the heat to medium-high and cook until the mushrooms have shrunken and started to brown—about 5 minutes. Remove the dried mushrooms from the liquid by lifting the mushrooms out  (do not drain the liquid). Reserve the liquid. Add the rehydrated mushrooms to the skillet, cook for another minute.

Add the white beans and cook, smashing the beans a little. This step should take about 3-4 minutes.

Add the wine and reduce and allow to evaporate for about 5 minutes. Add the broth and cinnamon or espresso powder. Carefully tip the mushroom-soaking liquid into the pan, leaving any sediment behind. Simmer for 5 minutes. Add the tomatoes, reduce the heat to medium-low, cook for 5 minutes. Turn off the heat and keep covered.

In the meantime: Cook the pasta in salted (about 2 tbsp salt) water for 2 minutes less than the suggested time on the package. Before draining the pasta, save 1 cup of the pasta cooking water.

Add the pasta to the pan with the mushroom ragu along with ½ cup pasta cooking water and stir gently. Stir and cook until the pasta is sufficiently cooked, you may need to add more pasta water slowly.

Add more salt or pepper to taste, sprinkle with chopped parsley and grated Parmesan cheese.