Perfect Scramble with Mixed Fried Rice, Roasted Chickpeas and Pickled Cucumbers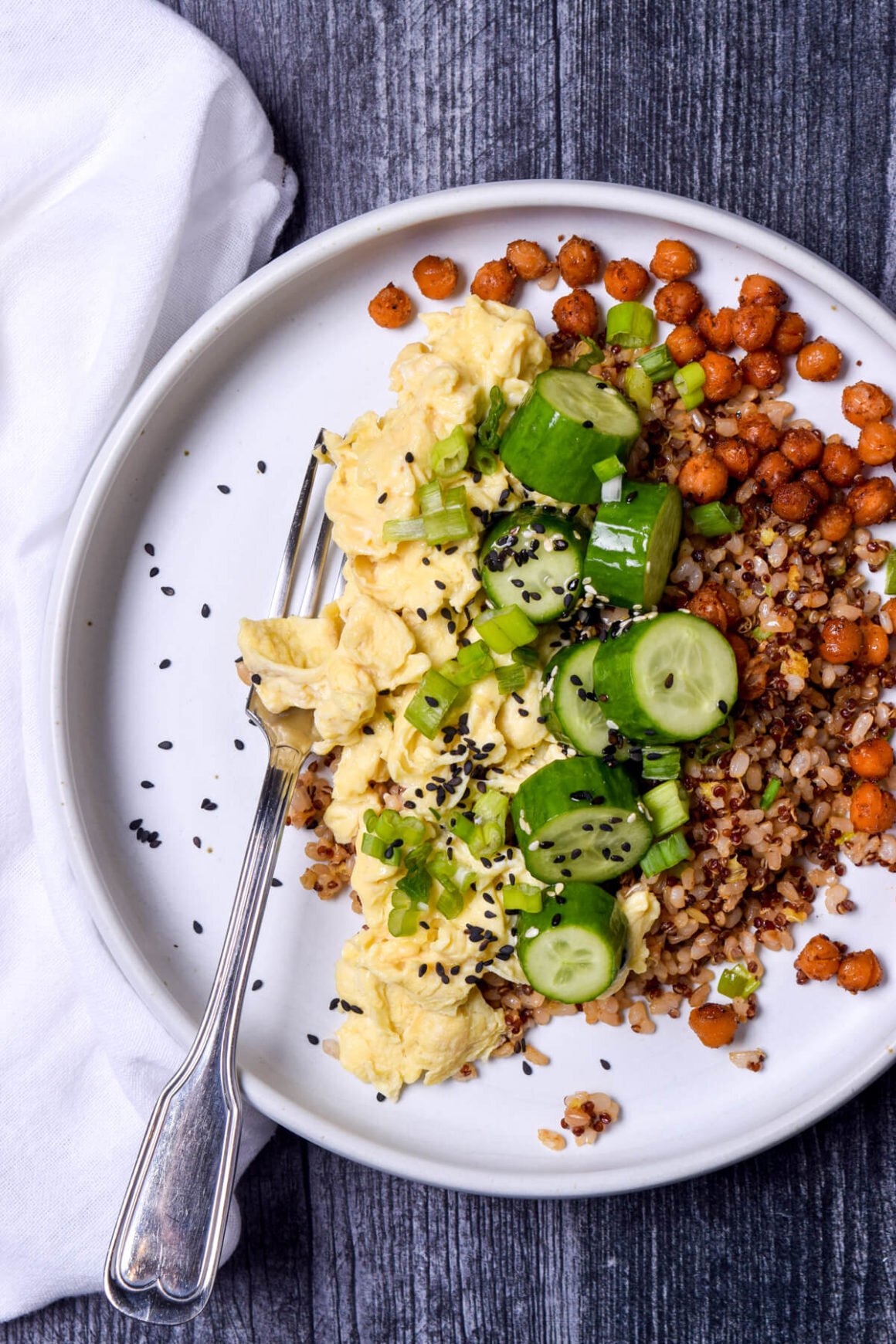 You don't have to convince me to eggs for dinner. If I wasn't making dinner for my family every night, I would have eggs for dinner twice a week for sure. The combination of softly scrambled eggs, flavoured and set to perfection, and warm rice or a mix of quinoa and rice, topped with some lightly pickled but still crisp cucumbers that are dusted with toasted sesame seeds brings me lots of joy. It's a simple, delicious, feel good meal – with very little clean up! Oh.. and if you want to add a little yummy texture, you can add a few roasted chickpeas too.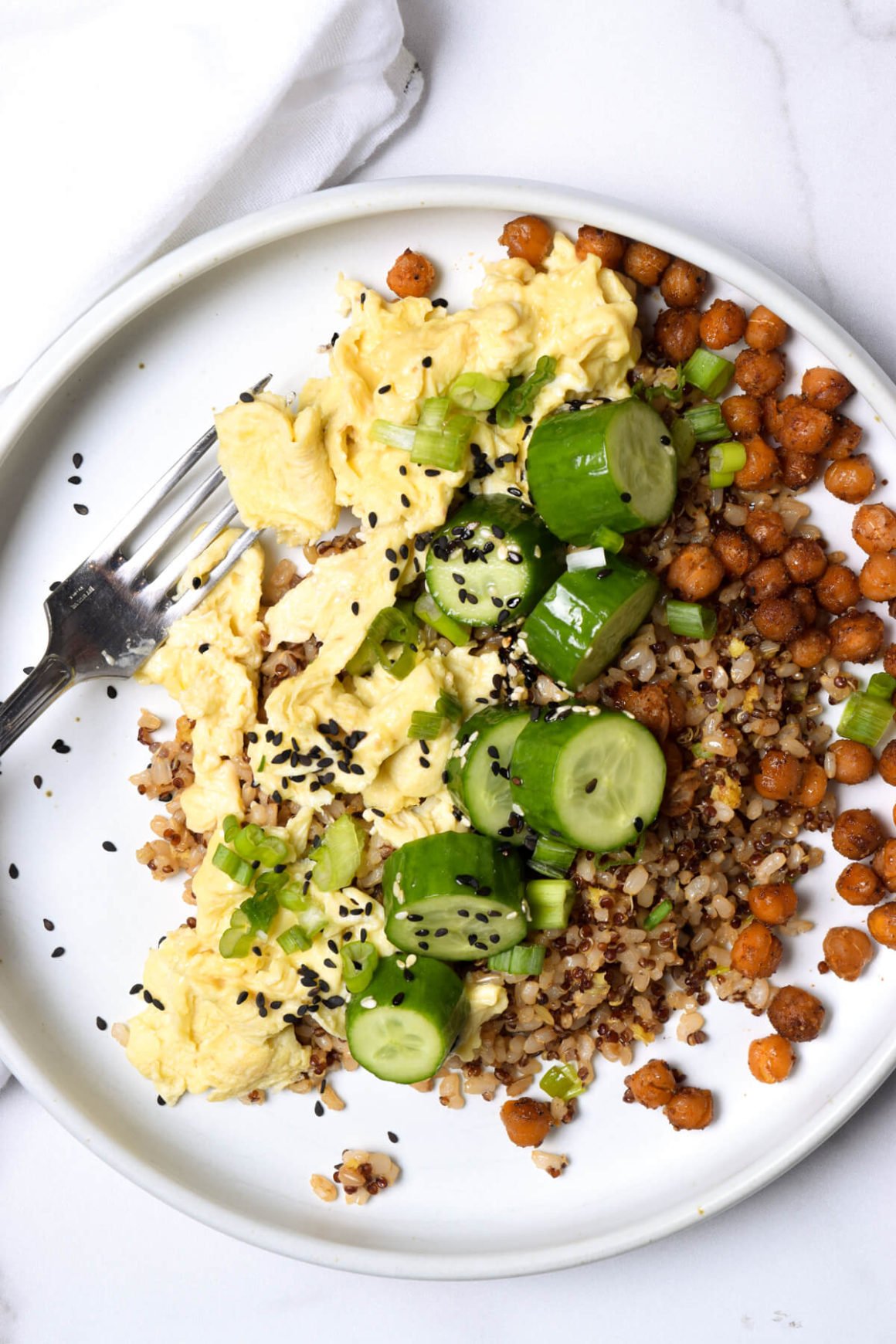 This week, to spice things up a bit, I added a little ginger and green onion and made the rice into fried rice because I like to use day old or previously frozen rice. When I make a pot of rice (I usually use my rice cooker) I make double or triple what I need, portion it out and freeze it. When I need it again for this simple meal, the tedious part of the job is done and is already waiting in the freezer for me to turn into a delicious, easy side dish to my simply perfect eggs.
And, voila! A meal in minutes!

Perfect Scramble with Mixed Fried Rice, Roasted Chickpeas and Pickled Cucumbers
Ingredients
For the Simple Roasted Chickpeas
1

can

chickpeas

drained and rinsed

1

tbsp

grape seed oil or avocado oil

½

tsp

sea salt
For the Pickled Cucumbers
2

cucumbers

persian

2

tbsp.

apple cider vinegar

1

tsp.

honey

½

tsp.

sesame oil

Pinch

salt

½

tbsp

toasted sesame seeds

optional
For the Rice (this will make twice what you need for 2 people, freeze half for next time)
1½

cups

brown rice

½

cup

quinoa

I like red but not necessary

2

tbs.

neutral oil

grapeseed, sunflower or canola

1

green onion

chopped in small rounds, keep whites and green parts separate

2

tsp.

minced ginger

1-2

tsp.

low sodium soy sauce or tamari
For the Eggs
4

eggs

2

tsp.

mirin

1

tsp.

low sodium tamari or soy sauce

1-2

tsp

butter or olive oil
Instructions
For the Simple Roasted Chickpeas
Preheat oven to 400˚F.  Line a cookie sheet with parchment and then lay a double layer of paper towel on top of the parchment. Place the drained chickpeas on a paper towel lined parchment and shake the tray around a little, the chickpeas will dry off.   Slip the paper towel from under the chickpeas and discard it. Sprinkle the oil over the chickpeas and toss them around to coat (I use clean hands for this).  Spread them out on the sheet. Roast chickpeas in the oven (on middle rack) for 30 minutes.  Check them after 20 minutes and shake them around a little. Shut the oven off and let the chickpeas continue cooking until the oven is cool and the chickpeas have dried out.
For the Pickled Cucumbers
Slice cucumbers into ½ inch rounds.  Place slices in a small size mixing bowl.  Drizzle the vinegar, honey and oil over the cucumbers, sprinkle with the salt, mix and toss together very well.  Sprinkle with sesame seeds, toss.  Let marinate at room temp while you prepare everything else.
For the Rice (this will make twice what you need for 2 people, freeze half for next time)
Rice Cooker Method: Cook brown rice and red quinoa in the rice cooker at the same time on the white rice setting and water measurement line.  Stovetop Method:  In a saucepan.  Bring 4 cups water and a large pinch of salt to a boil. Add the rice, lower the heat, and cover the pan. Simmer for 20 minutes (it will not be tender).  Tip the quinoa into the rice, re-cover the pan, and continue cooking for 20 minutes, or until the rice and quinoa are both tender. Total simmering time is 40 minutes. This step can be done the day before, using cold rice is a great idea!

In a medium saute pan, add the oil. Add the minced whites of the green onion and minced ginger. Saute for 1 minute. Add the ONLY 2 cups of the cooked rice (you will have left over, freeze it for next time) and saute until mixed through and hot, about 3-4 minutes. Add the tamari or soy sauce. Set aside.
For the Eggs
Add butter or olive oil to a medium size skillet, allow it to melt (if using butter). Whisk eggs, mirin and tamari or say sauce in a medium bowl until eggs are smooth. Add to skillet and cook, stirring with a rubber spatula, until large wavy curds form and no wet egg remains, about 2 minutes. Taste and season with salt.
Put it together
Distribute the rice over two plates, top with some cucumbers, chickepeas and eggs. Top with the green parts of the green onion, enjoy!