Potato, Chard Spanish​ Tortilla
Jump to Recipe
I often get asked what makes a great recipe. Can we discuss?
If you're like most people, you go on-line, read books and beg, borrow and steal recipes from friends and family. Have you ever made a recipe from some unreliable source and it just doesn't work? Are you totally aggravated and frustrated that you just spent your limited free time on something that was a total flop and most likely not the result of your bad cooking skills?
So… what makes a good recipe?
When I write a recipe it needs to work for everyone, not just the experienced cook, but every cook in any home. The recipe should explain what you need to do in each step along the way. It should also go beyond the recipe itself, for instance, by touching on shopping and storing. It should anticipate hurdles or struggles the home cook may have, and perhaps even answer predictable questions (which, by the way, is a GREAT reason to take a cooking class: you get all your questions answered!!). And of course, as I've said, the recipe needs to work at home. A delicious dish (no pun intended) that you may have eaten in a restaurant will likely not translate at home. Restaurant recipes are written for restaurants, with weight measure and huge volume and this will not translate back to cup and teaspoons. A home cook recipe MUST originate with the home cook in mind.
The moral of the story is to know your source, read it ahead of time and make sure it actually makes sense. And one last thing…the final product should make you feel good about the time you spent in the kitchen, encourage you to brag to others about your accomplishment, perhaps inspire you to take a photo and of course, inspire you to want to cook at home again. Gospel!!!
So, a Tortilla is the Spanish cousin of the Frittata, except that the humble potato has found its way into the core of this beautiful egg meal. It is hearty, flavourful and a perfect meal. Enjoy.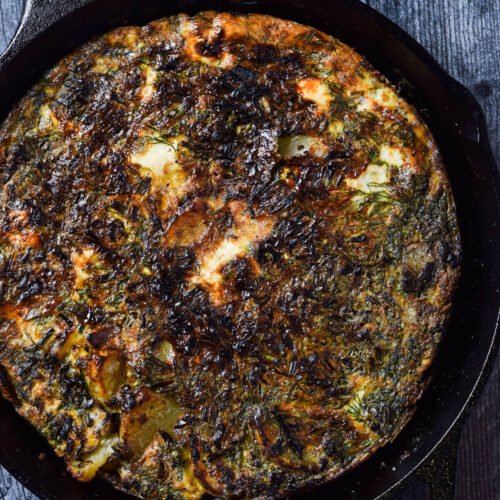 Potato, Chard Spanish​ Tortilla
Ingredients
6

tbs

olive oil for the fry pan

divided

12

large eggs

1

large

leek

white and light green parts, sliced thin

2

yukon potatoes

peeled and sliced into ¼-inch slices

½

cup

chopped herbs

I use dill and chives

10

swiss chard leaves

julienne

1 ½

tsp

kosher salt

divided

pepper
Instructions
Beat eggs in a large bowl, set aside.

In a large fry pan (cast iron is preferable), add some of the oil, add leeks and chard, sprinkle with some of the salt, sauté until wilted, remove from pan, let cook and drain excess water (don't squeeze out).

Add more oil to pan, add the potatoes, they will not all fit in one layer. Sprinkle with a little more salt, cook on med-low until golden, shuffle the potatoes around so that other pieces are now touching the surface of the pan, continue cooking until the potatoes are mostly cooked through. 

Add the chard and leeks back to the pan.

Add herbs to the eggs.  Add additional salt and pepper.

Pour eggs over the vegetables in the pan, shake the pan to distribute.  Cook on medium-high for about 5-7 minutes so that a bottom crust is formed, then drop the temp to med-low for about 20 minutes.  Trace a spatula around the perimeter of the pan a few times during the cooking process to make sure the sides don't stick.  When the tortilla lookes like it is about 75% done, turn the oven to broiler and adjust the rack to the second from the top position.  Broil the tortilla for about 5 minutes or until the top and center is cooked through.