Quinoa Cakes with Green Destiny Dip
These patties are so great with any type of dip. Tahini is great as is a spicy tomato-based dip, but I love the freshness of the cilantro-ginger based Green Destiny Dip.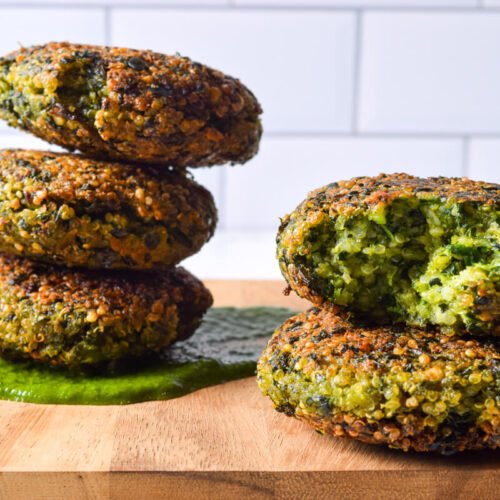 Quinoa Cakes with Green Destiny Dip
Ingredients
1

cup

dry quinoa

any color

3

eggs

beaten

½

kosher salt

1

cup

finely chopped kale (any type)

⅓

cup

chopped chives

⅓

cup

chopped dill

1

cooking onion

chopped finely

2

cloves

garlic

minced

½

tsp

cumin

1

tsp

baking powder

1

cup

of panko bread crumbs or any other type you like

½

cup

crumbled Greek feta

optional

Olive oil brushing
For the Green Destiny Dip
2

small

bunches cilantro (1½ large) 

leaves only, chopped (about  1¼ cup finely chopped)

¼

cup

¼ cup rice vinegar 

¼

cup

¼ cup water 

2

cloves

2 cloves garlic 

2

tsp

2 tsp. minced ginger 

2

tbsp

2 Tbs. canola or sunflower oil 

2

tbsp

2 Tbs. honey
Instructions
To Cook the Quinoa
Rinse quinoa in a strainer, put into a small sauce pan with 1½  cups water and 1 tsp. salt, and bring to a boil.  Reduce the heat and simmer covered for 15 minutes, fluff with a fork and let cool with lid off
For the Quinoa Cakes
In a medium size mixing bowl, combine quinoa with eggs and salt, mix well.  Add kale, chives, dill, onion, garlic, and cumin mix well.  Add baking powder and bread crumbs.  Let sit for 10 minutes to absorb moisture.  Test the mixture after 10 minutes, you should be able to form a patty that is a little moist and holds together.  You can add more crumbs or a little water if necessary.Add feta (if using), gently stir.

Form into patties the size of a small burger, place on a platter.

Heat the oil in a large, heavy skillet over medium-low heat, add 6 patties, if they'll fit with some room between each, cover, and cook for 7 to 10 minutes, until the bottoms are deeply browned. Turn up the heat if there is no browning after 10 minutes and continue to cook until the patties are browned. Carefully flip the patties with a spatula and cook the second sides for 7 minutes, or until golden. Remove from the skillet and cool on a wire rack while you cook the remaining patties. Serve hot or warm with Green Destiny Dip.
For the Green Destiny Dip
In a blender, puree the cilantro, vinegar, water, garlic and ginger until smooth.

Add oil and honey.  Puree until liquifies (about 2-3 minutes).

Transfer to glass jar, this will keep in the fridge for about 5 days.