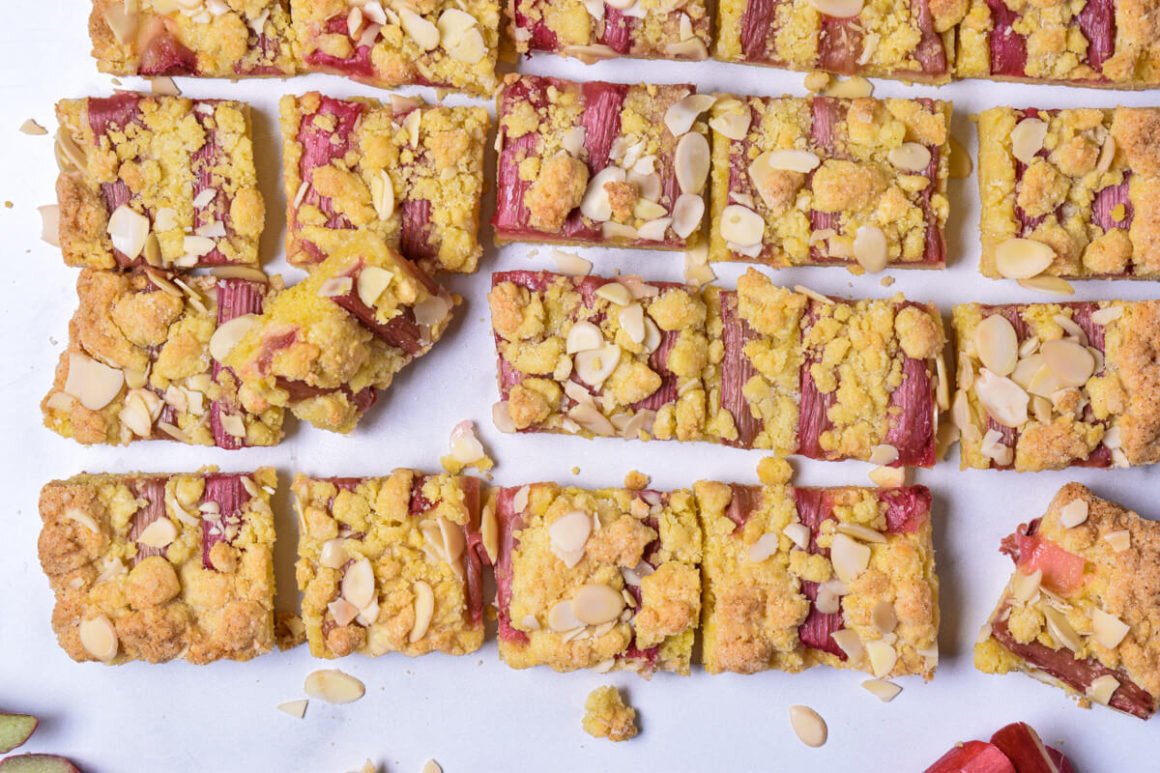 Did you know that it's rhubarb season? My favourite season. I love rhubarb. Is it just me or did it seem like our change of seasons stood still for a bit. It could be because of the general lack of excitement as winter left, and then spring came slowly and the excitement for summer has, well, changed. But I don't ever want to be negative, so let's not go there! Instead, let's talk rhubarb. The colour is stunning, the taste is tart and sweet and it quietly reminds us that there is beauty in our world – at least that's how it feels to me. It's pink and green on the same stalk, two beautiful colours melding into one another. You can cook it into something sweet and delicious or keep it savoury and make it into a salsa for grilled chicken Or how about making a puree and mixing it with ice and vodka – best spring cocktail ever!!
When working with rhubarb, make sure you pick the thinner, pinker stalks – they are better, less stringy and, if you are using them in a dessert, they look nicer. Always store rhubarb in the fridge in a semi opened plastic bag, I leave them in the bag I brought them home in, unwashed. Or, when they are in full season, you can buy lots and then wash and cut them up and freeze the pieces for about 6 months.
It is super tart and is the perfect centrepiece for a sweet dessert. It practically melts when cooked and so remember that you will need more than you think to get the maximum flavour from this beautiful pink stalk.
In this recipe, I have incorporated into a riff on an Italian crostada, which traditionally is a pie filled with jam.
Oh – and by the way – rhubarb is a vegetable, not a fruit. You learn something new every day!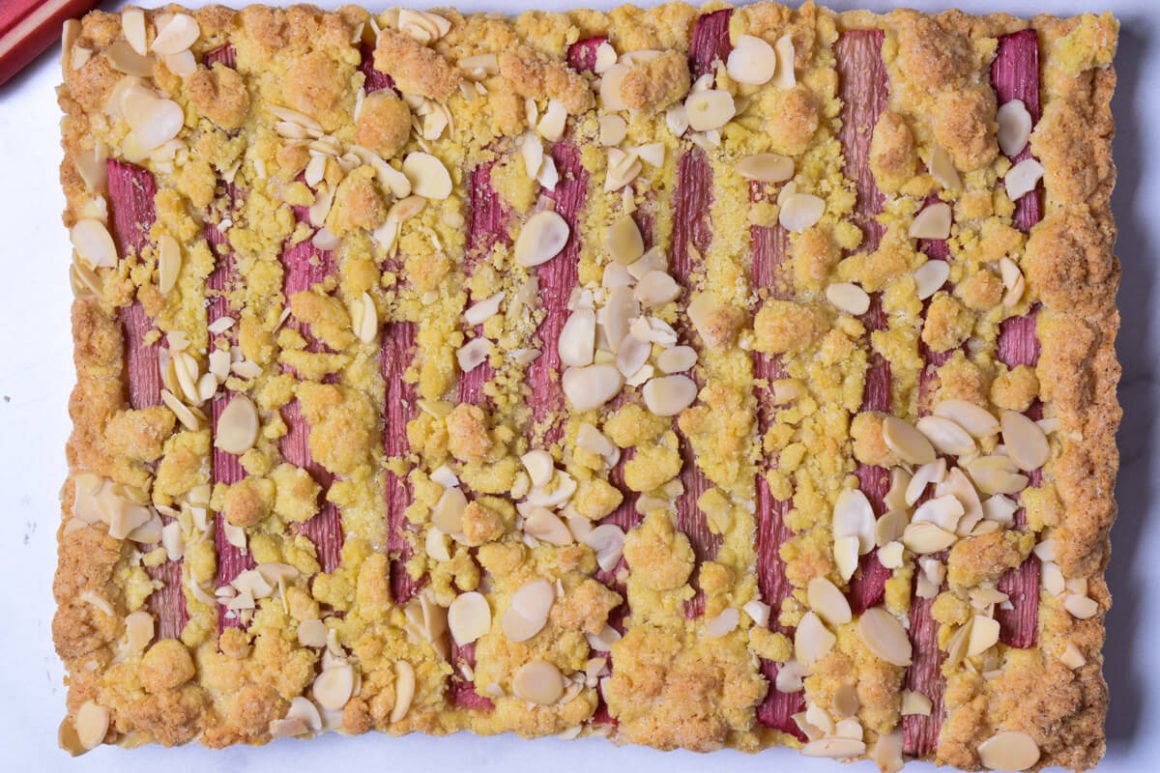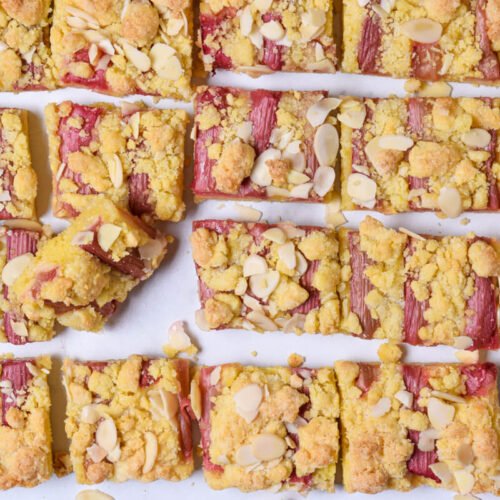 Rhubarb Crostada
Ingredients
About 8 stalks of rhubarb, you will need about 8 oz/250 gms of "perfect" pieces.

2 cups (9 oz./255 g) all purpose flour

1 cup (7½ oz./215 g) granulated sugar 

2 tsp. baking powder

¼ tsp. salt

2 eggs

¼ tsp. almond extract (or 1 tsp. vanilla extract)

⅓ cup/80 mL melted butter 

⅓ cup sliced or slivered almonds, with or without skins
Instructions
Trim the rhubarb so that they are the length of your baking dish.  In this photo, I trimmed them so they fit the width of the tart pan. If you are using a round pan, make them any length or size you see decorative.

Preheat oven to 325˚F. Lightly butter an 8-inch (or 9-inch) round, rectangle  or square cake pan or tart pan with a removable bottom.  I used a rectangular removable bottom tart pan.  If you are using a pan where the sides don't release form the bottom of the pan, line the bottom with parchment paper.

In a large mixing bowl, whisk together the flour, sugar, baking powder and salt.

 In a separate bowl, whisk together the eggs and extract and THEN stir egg mixture and melted butter into flour mixture until well mixed.  THE DOUGH WILL BE VERY STIFF almost like a crumble.

Spread or press about two-third of the batter mixture over the bottom of the pan (reserve the last one-third for the topping).  NOTE – I use an inverted spatula or my fingers to do this spreading.

Top with the rhubarb pieces.

Top the rhubarb pieces with remainder of dough (you will need your fingers to break the dough up and flatten out the pieces on the top (like a cobbler); some of the rhubarb should stick out.  Sprinkle the sliced almonds on top.

Bake for 55-65 minutes; when a toothpick is inserted in the centre of the cake it should come out clean. and the top and sides have a slight golden colour. Cool on a rack, remove from pan by lifting the parchment out with the cake or separating the sides form the pan.