Rhubarb Strawberry Galette
It finally feels like spring outside and spring means asparagus, fava beans and rhubarb! I love making a galette in general because it is a free-form non-perfectionist pie. It may not look as pretty as a perfectly manicured pie but this rustic beauty sure tastes incredible and there is something so relaxed, casual and unintimidating about serving a galette.
The dough recipe makes enough for 2 galettes. If you are serving more than 10 people you may want to make them both or you can freeze the second dough and use it whenever you want. I like to make 6-10 doughs before the summer and when I need a quick dessert, I defrost the dough (in the fridge overnight preferably) and all I have to do is cut up 6 cups of fruit and dessert is made! I use what is in season unless I'm desperate, then I use a mix of fresh and frozen. Add a wee bit more flour to the fruit is you are using frozen.
Enjoy!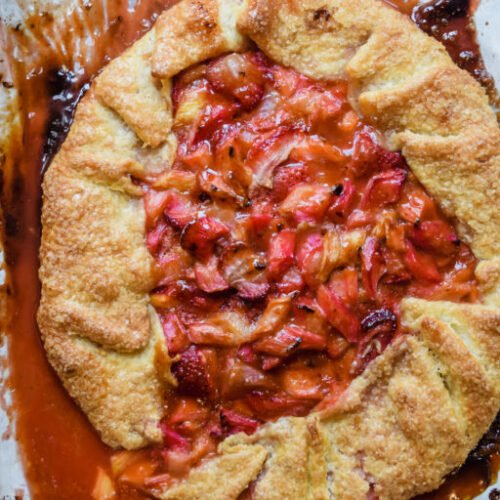 Rhubarb Strawberry Galette
Ingredients
For the Sweet Pastry Dough
2

cups

(11¼ oz.) all-purpose flour

2

tbs

sugar

1/2

tsp

salt

8

oz

(16 Tbs./ 2 sticks) unsalted butter, cut into small pieces and chilled

5

oz

(about ⅔ cup) ice water or half-half with cold vodka
For the Rustic Fruit Galette
1

disk

Sweet Pastry Dough (½ a recipe)

2

lbs

 ripe fruit, pitted/cored and sliced thinly (about ¼-inch slices), about 4-5 cups – I used rhubarb here

1

cup

another fresh or dried fruit – I used strawberries here

Zest of one lemon

1/2-1

tsp

cinnamon

3

tbs

flour

1/4-3/4

cup

sugar, depending on the sweetness of the fruit (taste)

1

oz

(about ¼ cup) crushed amaretti or almond biscotti (use a food processor to do this – or put them in a zip-top bag and crush them with the bottom of a jar or can until they're the texture of coarse sand OR use ground nuts, optional

1/4

cup

heavy cream (you can also use melted butter in a pinch)

Coarse sugar for sprinkling (about 2-3 Tbs.)
Instructions
For the Sweet Pastry Dough: In the bowl of a food processor (using steel blade) mix together the flour, sugar and salt.  Add the chilled butter and pulse until the butter is evenly distributed but still in large chunks.  Add the water/vodka all at once.  Mix until the mixture starts to come together.  DO NOT OVER-MIX.

Empty contents onto a floured work surface.  Gather the dough together with your hands and form into two even size disks. 

Wrap the disks individually in plastic and refrigerate for at least 1 hour or up to 2 days OR freeze for 6 months (if you are using the dough from frozen, leave in the fridge overnight before you want to use it). Yield – enough dough for 2 galettes (about 11-inches in diameter)

For the Rustic Fruit Galette: Adjust the rack to the center position.  Preheat oven to 400˚F, cover a cookie sheet (preferable without sides) with parchment paper.

Working Quickly – On a lightly floured surface begin rolling out chilled dough, turning ¼ turn each roll (roll from the center), lifting the dough (re-flouring the surface) and flipping it until the dough is about ⅛-inch thick and it is about 15-inches in diameter, transfer to a parchment lined cookie sheet (I do this by flipping half of it over the rolling pin and lifting it onto the sheet) place in fridge.

In a large bowl, toss the sliced fruit with the other cup of fruit, lemon zest, cinnamon, flour and sugar.

Remove dough (on the sheet) from the fridge, sprinkle bottom of dough with crumbs (if using) – leaving about a 2-inch border without crumbs.  Mound the fruit mixture on top of the crumbs.

Lift the edges of the dough and fold them inwards over the filling, pleating as you go, to create a folded-over border.  Lightly press everything together.

Brush the edges with cream and sprinkle with coarse sugar.

Bake until the crust is golden brown and the fruit is bubbling a little – between 40-55 minutes.  Cool on a rack (wait about 20 minutes before slicing).