Salad | endive | treviso | date vinaigrette | ricotta salata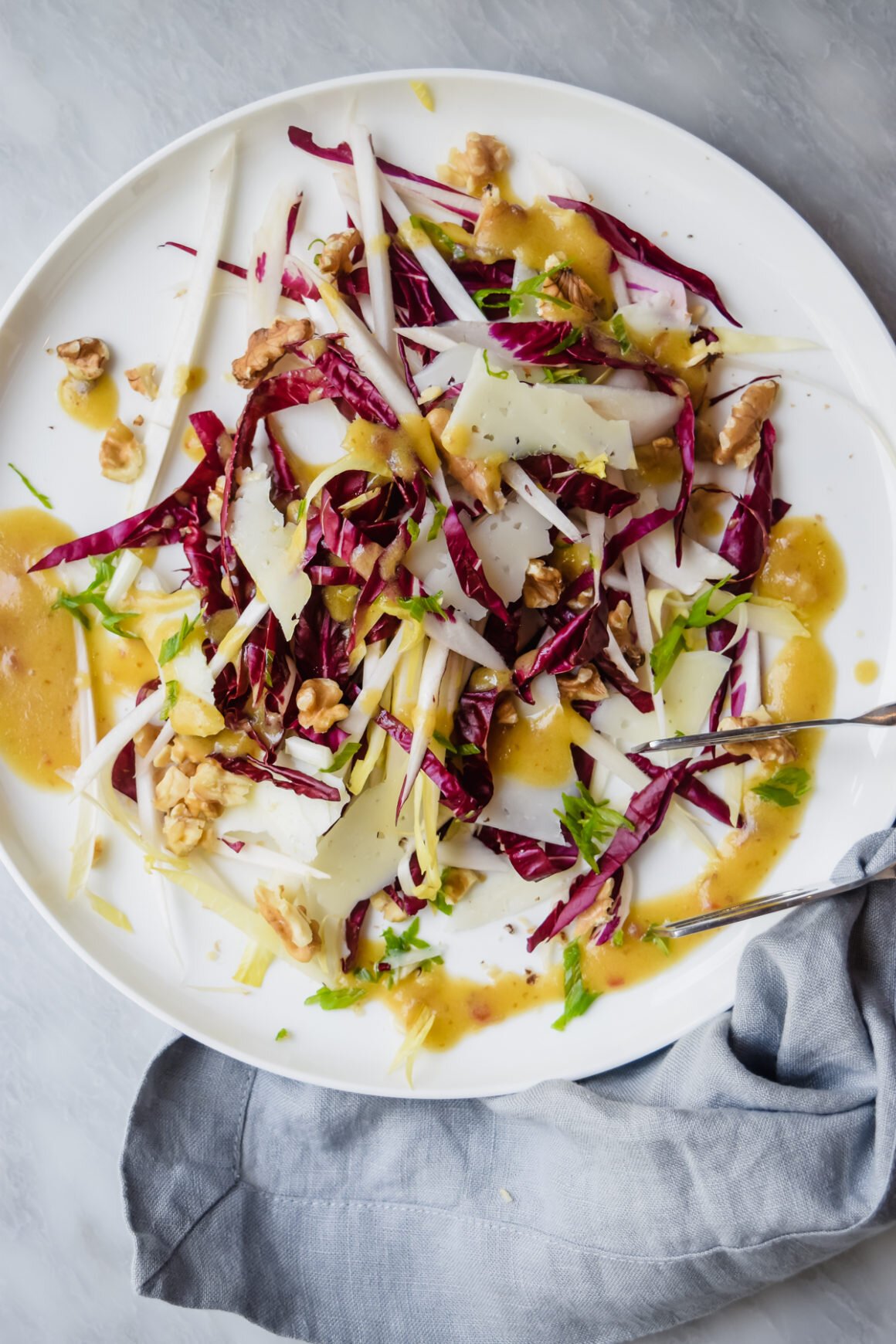 A winter salad and an easy one at that!
Have you ever bought traviso? It looks like radicchio in colour but is shaped like an endive.  It is bitter and fabulous when paired with fruity olive oil, honey and a sharp cheese…which just happen to be all of the ingredients in this salad!  You can sliver up your leaves or keep them large – either way, trust me, you will love it.  Especially next to a cast iron, seared to perfection, steak.  Enjoy!!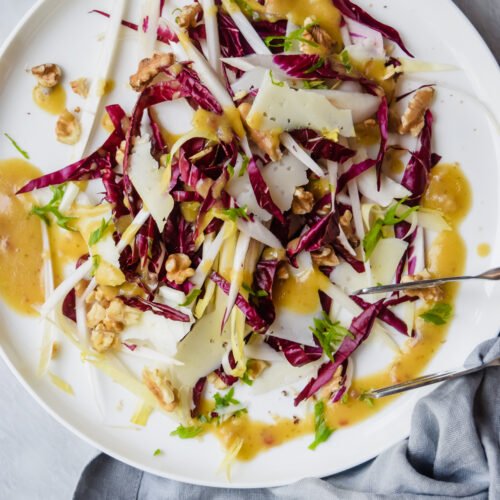 Salad | endive | treviso | date vinaigrette | ricotta salata
Ingredients
1 treviso

2 Belgium endives

¼ cup or less shaved ricotta salata (I do this with a vegetable peeler)

Handful walnuts, roughly chopped

1 tbsp. olive oil

2 tbsp. honey
For the Vinaigrette
2 medjool dates

Boiling water to soak the dates

1-3 tbsp. date soaking water

1-2 anchovies packed in oil in the jar

Zest of half a lemon

1 tbsp. lemon juice

1½ tbsp. red wine vinegar

4 tbsp. olive oil

Freshly ground pepper

Flaked Sea Salt (Maldon)

Handful of micro greens, optional
Instructions
Place the dates in a small bowl and cover with boiling water, let soak for 15 minutes.

In the meantime, heat a small fry pan over medium heat, add the chopped walnuts and olive oil, toast for 5-8 minutes.  Add the honey, toss and cook for another 5 minutes, remove from the heat and set aside.

In the meantime, slice the core end off the treviso and the endive, remove the outer leaves, discard and start peeling off all the remaining inner leaves, cutting away the bottoms of the treviso and endive so that the leaves can fall away easily. 

Remove the dates from the water, reserve this water, remove the pits (discard) and place the date flesh in a blender with 1-2 tbsp. date soaking liquid, the anchovies and the zest and juice of ½ a lemon.  Make a paste, and remove from the blender.  

Add the red wine vinegar and oil to the blender and blend just to "clean out" the blender (it does not really need to blend).  

Add the date paste to the bottom of a large mixing bowl, loosen up the paste by adding the liquid part of the dressing from the blender, you may not need all of it.

Add the treviso leaves and endive leaves to the bowl with the dressing, add the walnuts, toss.

Arrange the leaves on 1-4 plates, scattering the shaved ricotta salata throughout and on top.

Lightly spoon any remainder dressing over the treviso and endive and on the plate itself.  Sprinkle with a little flaked salt, plenty of freshly ground pepper and micro greens if using.