Sheet Pan Beet Salad with Caramelized Onion, Pear and Hazelnuts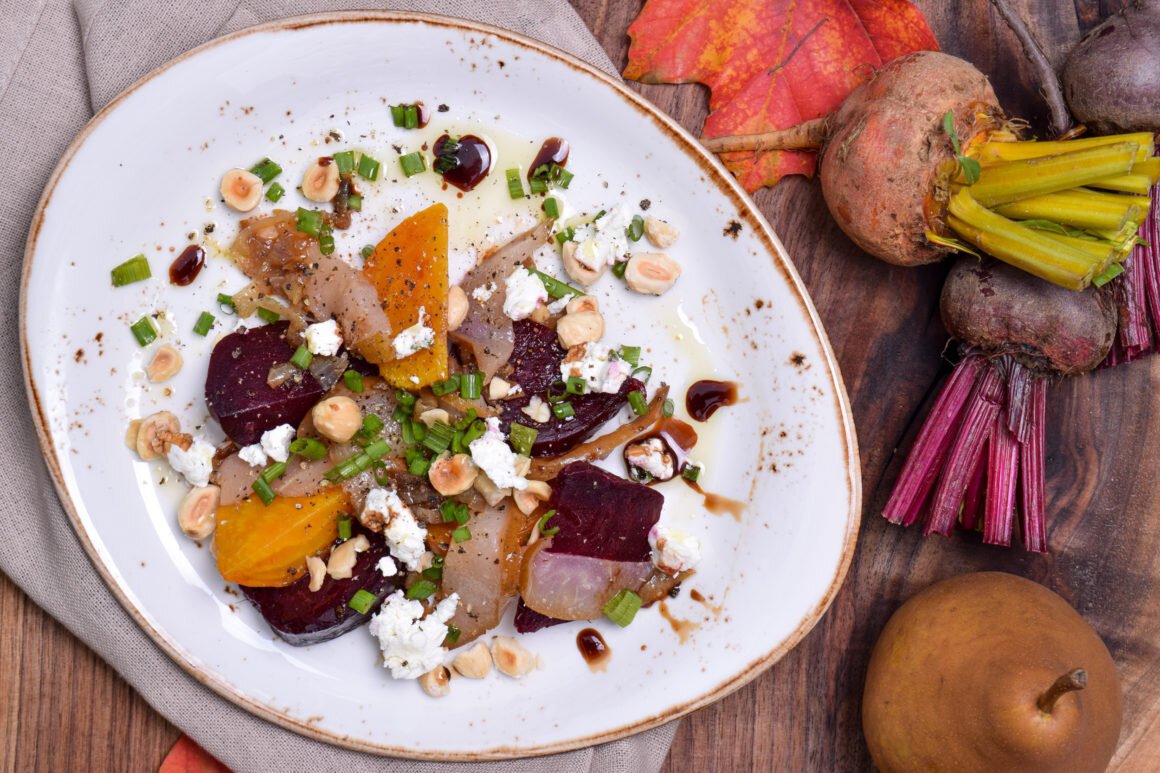 It is beet season my friends!
I'm giving you this simple beet salad because we all need one and this one is easy, you can make it today and it tasts delicious!
One thing…try to buy beets on the bunch. When the beet greens are attached, the beets are freshest and taste the best. There is nothing wrong with "loose beets', they are totally fine, but they don't taste nearly as good as a freshly picked bunch with the greens on.
It is best to cook beets in their skin and then peel them afterwards. Beets on the bunch, or the super fresh ones, peel much more easily than the "older" beets that you buy loose.
I like to cook beets in one of two ways. I either boil them or roast them. To boil, place the beets in a pot, fill it with COLD water and boil them till they are tender. Let cool and then peel. For roasting, place the whole beet on foil, drizzle with a little oil, wrap the foil up, place them in a 400˚F oven for about 1 hr. Open the foil, let cool and peel. In both cases the skins will slip right off just by giving them a little rub.
I call this a "sheet pan" recipe because all its parts are cooked together on one sheet pan. Making caramelized onions in foil, next to the beets, is probably the most genius thing ever! Caramelized onions take forever to make in a fry pan and you have to attend to them, stir them, be nice them, etc. When you throw them in foil in the oven, you can ignore them, just like the beets (and the pear too)!
Enjoy!

Sheet Pan Beet Salad with Caramelized Onion, Pear and Hazelnuts
Ingredients
1-1½ pounds of beets, about 4-6 beets, a mix of red and yellow or entirely one colour. 

1 onion, peeled and sliced in half-moons

1 pear, quartered, cored and thinly sliced in the length

1 tbsp. of extra virgin olive oil, divided between the foil pouches (see Step 2)

¼ cup roasted hazelnuts, roughly chopped

2 tbsp. minced chives

1½ tbsp. balsamic vinegar 

2½ tbsp. extra virgin olive oil

2 ounces goat's cheese

½ tsp.(2 grams) kosher salt or ¼ tsp. sea or table salt

Plenty of freshly ground pepper
Instructions
Remove any beet greens but do not peel the beets.

Place the yellow beets in the centre of a large piece of foil. Drizzle with a portion of the oil. Tightly seal the foil around the beets to make a packet. Repeat with red beets. Repeat with the sliced onions.  Repeat with the pear slices.  Place the packets on a rimmed baking sheet and roast for 1 hour  The pears and onions will be ready, remove from the oven and let cool in the packets.  Depending on the size of your beets, the beets may need additional time.  Carefully open the packages and pierce the beets with a knife, they should be tender.  If need be, roast for another 15-30 minutes.  Let the beets cool in the packets until you can handle them.

Unwrap the beets, onions and pears and let them cool slightly. Remove the skin of the beets by pinching and peeling it off with your fingers, or rubbing it with a paper towel.  Slice the beets into wedges, keeping the red and yellow separate.

Gently combine the sliced beets, pear and caramelized onion on a serving plate, bowl or individual plates (as shown in the photo).

Add the hazelnuts and chives.  Drizzle with balsamic vinegar and olive oil.  Distribute the goat's cheese over the salad and sprinkle with salt and pepper.

Serve warm or room temperature.
Notes
Sometimes I add a few handfuls of baby arugula to this salad.
Chef Tip: Beets that are on the bunch are fresher than loose beets and easier to peel once cooked.