Sheet Pan Cauliflower Kimchi Fried Rice with Sesame Salmon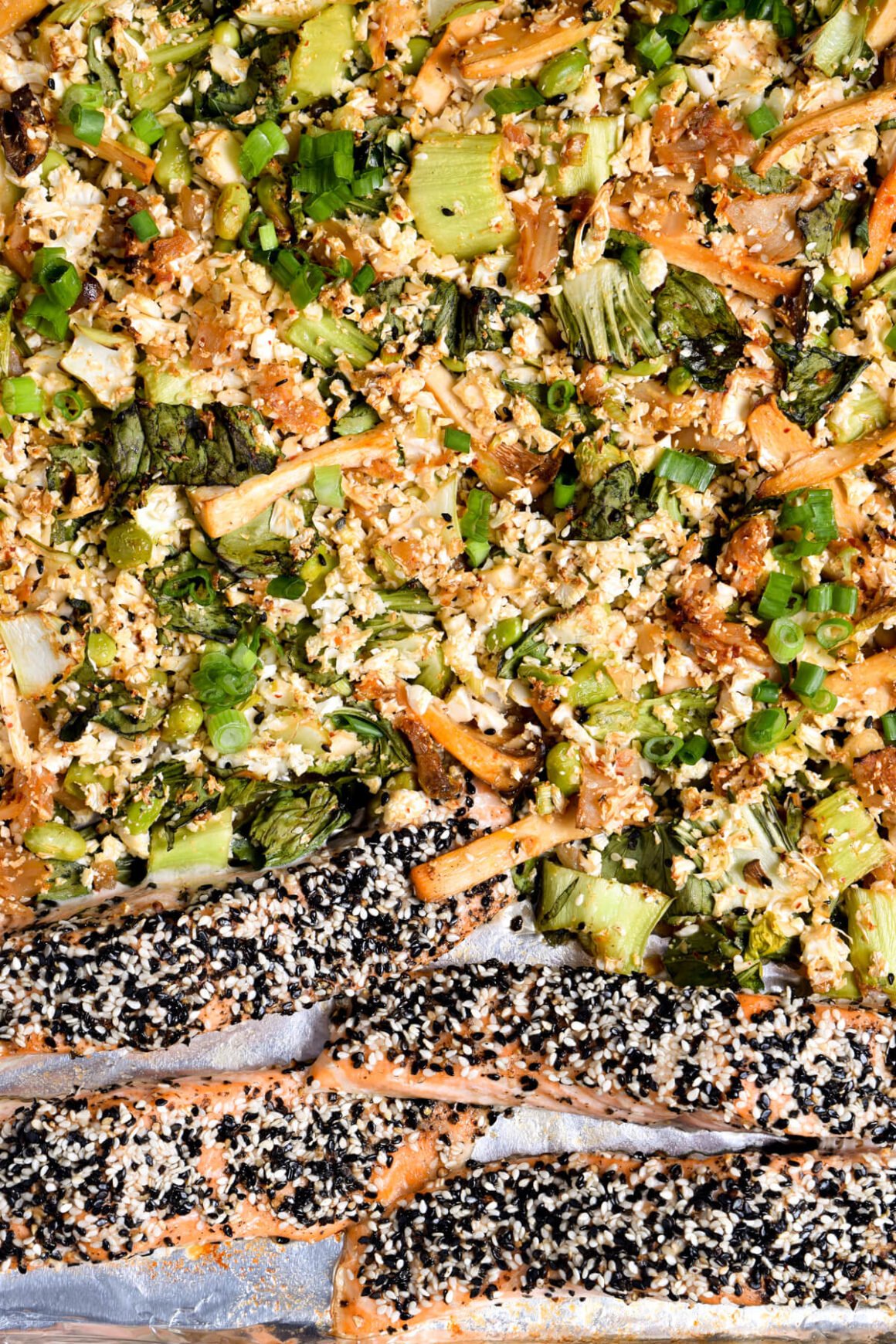 Sheet pan meals are all the rage and for a good reason. They are simple, easy to prepare, quick and fast clean up. But that does not necessarily mean they taste great. There are a few rules. The flavours have to go well together, complement each other. Each ingredient must have similar cooking times. Each element must benefit from the same cooking techniques and lastly, the juices that run from each component must, and I mean it must complement one another.
Some of the ingredients here may be a little foreign to you or hard to find, such as the kimchi which is a fermented food, one that your gut will love! You will be able to find kimchi in any health food store or Asian speciality store. Leaving the kimchi out will also be perfectly acceptable (but you will have to change the title of the recipe 😉 ). If your local grocery store does not have oyster mushrooms, don't worry, use any mushroom. Can't get black sesame seeds, use all white! As for the riced cauliflower, most groceries stores carry it, and a lot of people would prefer to buy riced cauliflower than make it, but it is super easy to make. Place a small cauliflower, florets only, in the bowl of a food processor and pulse a few times until the cauliflower has reached a rice-like texture, done!
All you need for this recipe is a sheet pan, tin foil, a large mixing bowl and an oven. Lets go!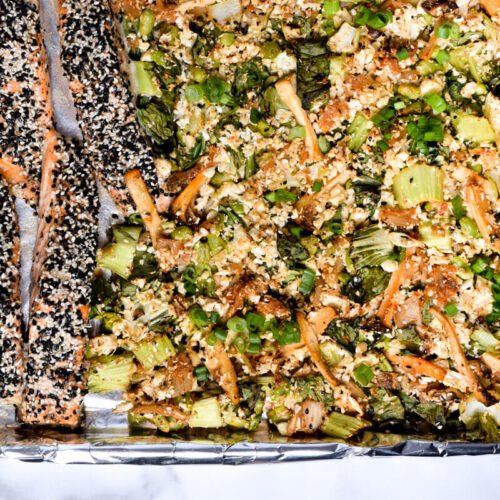 Sheet Pan Cauliflower Kimchi Fried Rice with Sesame Salmon
Ingredients
For the Salmon
4

salmon fillets, about 175 grams/6 ounces each

2

tsp/10 ml

sesame oil

¾

tsp

kosher salt or ½ tsp. sea salt

Heaping

½ tsp.

freshly ground pepper

medium coarse grind

2

tbsp

toasted sesame seeds

I like a mix of black and white
For the "Fried Rice"
4

cups

riced cauliflower

1

cup

shelled frozen edamame beans

3

large

bok choy

cut crosswise into 1-inch pieces (about 237grams or 8 ounces) or 3 handfuls baby spinach 

1

cup

/175 grams/6 ounces prepared kimchi

roughly chopped

4

king oyster mushrooms

sliced lengthwise into 4-5 flat slices in the length and then each slice into 4 julienne slices

4

green onions

sliced into rounds, keeping whites and green parts separated (see step 3)

1

tbsp

toasted sesame seeds

black and white mixed

¼-½

freshly ground pepper

1½

tbsp

/25 ml coconut aminos or low sodium tamari or soy sauce

1

tbsp

/15 ml sesame oil 1 tbsp/15 ml neutral oil, grapeseed, sunflower or avocado

3

tbsp

/45ml neutral oil, grapeseed, sunflower or avocado

for the cookie sheet
Instructions
Line a cookie sheet with foil.  Place sheet in the oven as the oven preheats.  Preheat oven to 425˚F convection or 450˚F regular.

Place the fish fillets on a piece of parchment or plate.  Drizzle with sesame oil, season with salt and pepper and sprinkle with sesame seeds.  Set aside.

In a large mixing bowl mix together all of the "fried rice" ingredients (from 4 cups of riced cauliflower to 1 tbsp. neutral oil) except for the green parts of the green onion, save those for garnishing the cooked "fried rice".

When the oven and cookie sheet has preheated, remove the sheet from the oven.  Brush the 3 tbsp. neutral oil all over the sheet.

Place the four fish fillets on one end of the sheet.

Empty the bowl with the "fried rice" on the remaining part of the cookie sheet.  Place in the oven.

Cook for 20 minutes.Remove from the oven and sprinkle with the green parts of the green onion.