Spinach, Quinoa and Oat Patties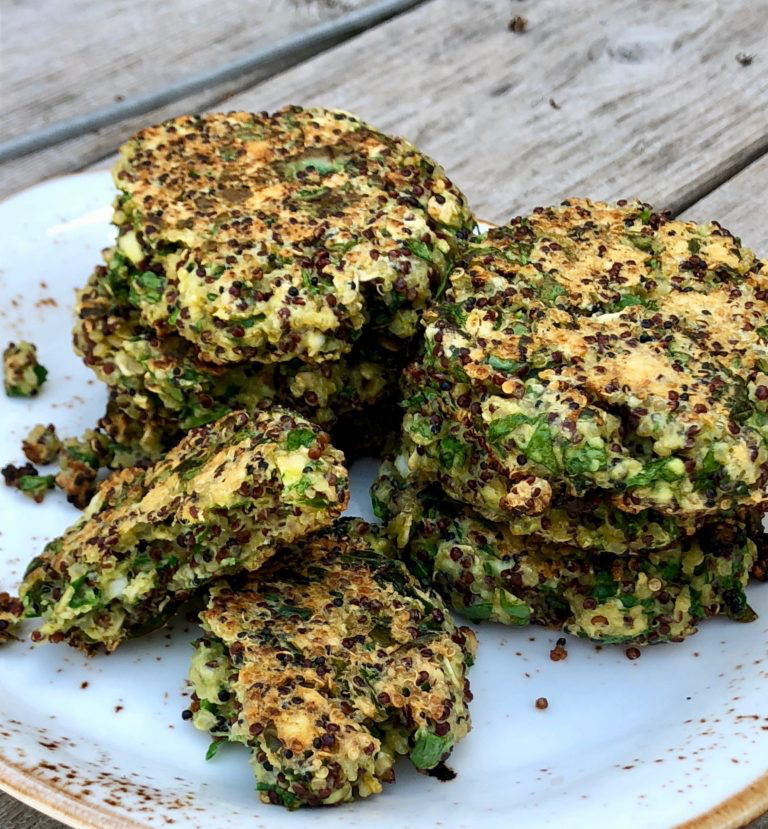 As many of you know, I am a big advocate for meal prepping. I carve out a little time on Sunday or Monday and make a few things for the week. Each week I try to make a couple of things that will last me a few weeks so that I can amortize on the meal prep from the week before. This recipe is one of them. I freeze these little beauties and eat a couple of them for lunch on the go or even breakfast or dinner. Recipe inspired by Green Kitchen Stories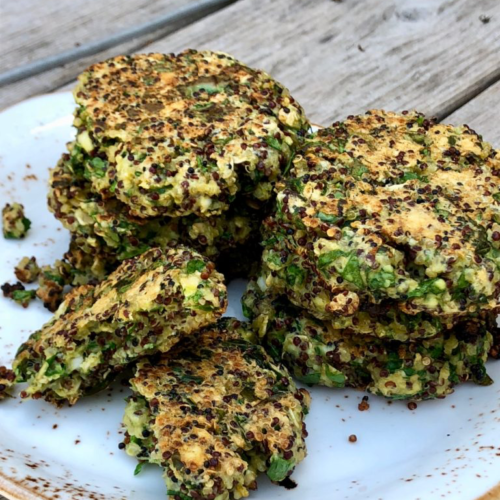 Spinach, Quinoa and Oat Patties
Ingredients
1

cup

1 cup uncooked quinoa

or 2½ cups cooked quinoa (skip #1 and #2 if using cooked), I like the look of multicoloured quinoa

Pinch of sea salt to cook the quinoa

80

grams/

¾ cup rolled oats (use GF if needed)

4

4 large eggs

beaten

175-200

grams

goat mozzarella

grated OR crumbled goat feta

100

grams/

4 cups chopped fresh spinach

1

tsp

sea salt

less if you are using feta

4

tbsp

olive oil

divided
Instructions
PLAN AHEAD – Cook and cool the quinoa.

To cook the quinoa:  Rinse quinoa in a strainer, put into a small saucepan with water and salt, and bring to a boil uncovered. Once the water has boiled, cover the pot, reduce the heat and simmer for 15 minutes.

Turn the heat off, open the lid, fluff with a fork and let cool with lid off.

Mix together the cooked and cooled quinoa with the oats, eggs, mozzarella, chopped spinach, salt and pepper.  Refrigerate for about 30 min.

To fry them:  Heat a frying pan over med heat (I like cast iron for this), add 2 tbsp. of oil. 

Using your hands, scoop a small handful of mixture and form into a patty (repeat). Lay each one in the hot oil and press the tops to flatten them a little.  Cook for about 5-6 minutes per side.  Give them time to brown and cook so that they will hold together.  Using a spatula, carefully flip and cook on the second side.

Remove from the pan and enjoy right away, refrigerate or freeze.

To bake them:  Heat the oven to 400˚F.  Generously spray a muffin top pan or lightly spray a parchment lined cookie sheet.  Using your hands, scoop and handful of mixture and fill the muffin top pan cavities or make 12 mounds on the cookie sheet and lightly flatten them so that they are shaped like a disk.  Bake for 20-25 minutes.