Squash Chips with Herbed Sea Salt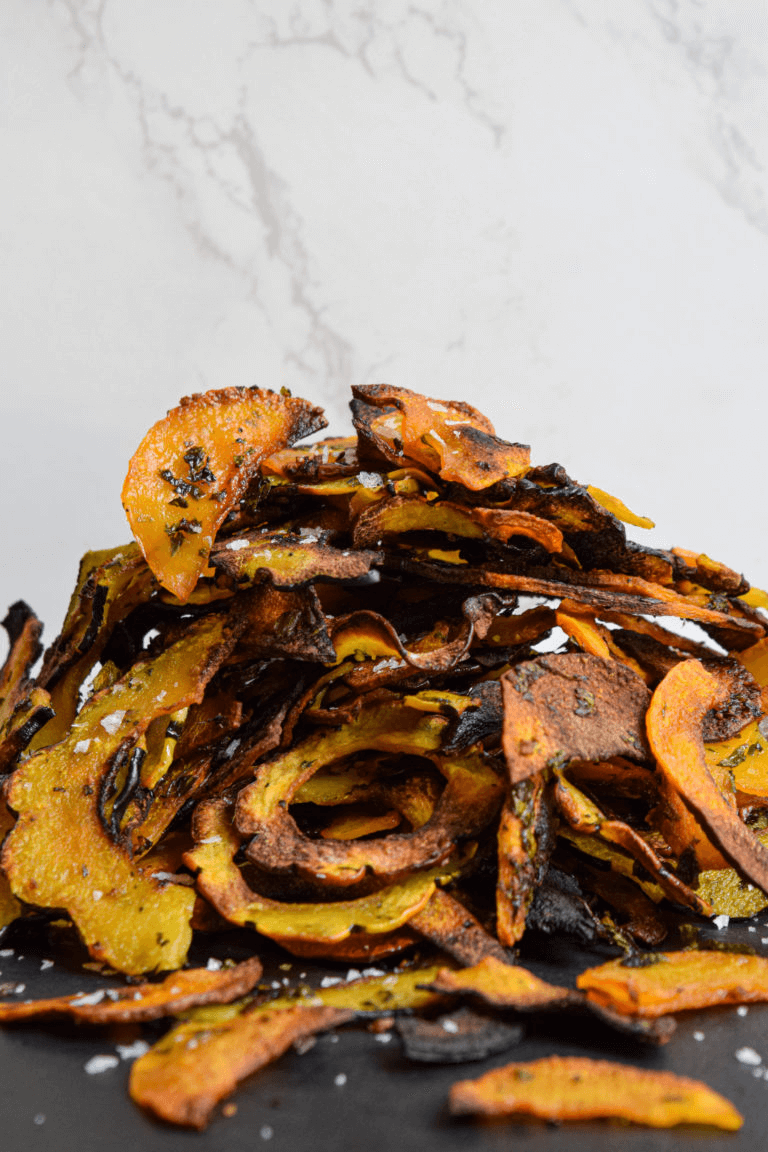 Every time I walk into my local greengrocer I an forced, by my own weakness, to buy an assortment of local squash. They range in size, shape, colour, taste and texture. I am in awe of their beauty and diversity. How can one varietal be so diverse and yet so similar? The long thin-skinned butternut squash, perfect for holding its shape when cooked, soups and mashing or the massive, super-thick skin, hard to cut buttercup squash, perfect for roasting in wedges, an intense nutty taste and crumbly texture. But my favourite for every day is the beautiful Delicata Squash. Get them when you see them, their season is super short. No need to peel it, just cut it into 1/2 inch rings, remove the seeds and roast in a 400-degree oven for 30-40 minutes.
Now, let's get to this amazing recipe for addictive squash chips. I use butternut squash for this recipe, but feel free to make the same with acorn (don't peel) or delicata squash.

Squash Chips with Herbed Sea Salt
Ingredients
¼

cup

CHOPPED mix fresh herbs : use a rough measurement BEFORE CHOPPING of:  ¼  cup packed flat leaf parsley, 10 chives, 4 leaves of basil, 1 spring of fresh thyme (leaves only), 2-3 sage leaves
Zest of 1 lemon 

do this on a fine blade zester

1½

tsp

coarse sea salt 

I like Maldon

1

clove

garlic

chopped finely

2

tbsp

olive oil

1

medium size

butternut squash

peeled well and ends removed
Instructions
Preheat oven to 375˚F Convection or 400˚F Regular.  Arrange oven racks in the upper ⅓rd and lower ⅔rd of the oven.

By hand, mix all the herbs, lemon zest, salt, garlic and olive oil together.  Set aside.

Slice the long end of the squash into ¼-inch rounds, slice each round in half.  Slice the bulb end of the squash in half, scoop out the seeds and slice into ¼-inch slices.  

Line 2 cookie sheets with foil, distribute the squash pieces evenly between the two sheets.  Distribute the herb mixture equally between the two cookie sheets and toss the squash slices all around the mixture so that they are coated well.  Lay the squash slices flat and spread them out.

Place in oven and cook for 15 minutes, remove from oven, flip the squash pieces over and place back in the oven, and cook for another 15 minutes.  If you are using convection, no need to rotate sheets.  If you are not using convection, rotate sheets so that the sheet that was on the top rack is now on the bottom rack.

Enjoy hot or room temp.  They are also great re-heated in a hot oven the next day!