Sweet and Sour Miami Ribs
Don't let the grill marks in this photo scare the winter socks off of you! I know barbecue season is a distant memory for some of us but this recipe is perfect for under the broiler cooking as well.
Miami ribs are a delicious and very easy-to cook-cousin of the large and hearty beef rib. Actually, they are short ribs cut crosswise into thin strips making them the ideal cut for quick cooking. Miami ribs are also knows as Korean short ribs or Kalbi or even flanken-style rib. They are best marinated for a long time but cooked for a short time. They stand up well to overcooking and are, of course, delicious when cooked rare. I also think they have just the right amount of fat without being overly greasy. They are an all around a great choice for make ahead reheating or eating straight off the grill or out of the oven.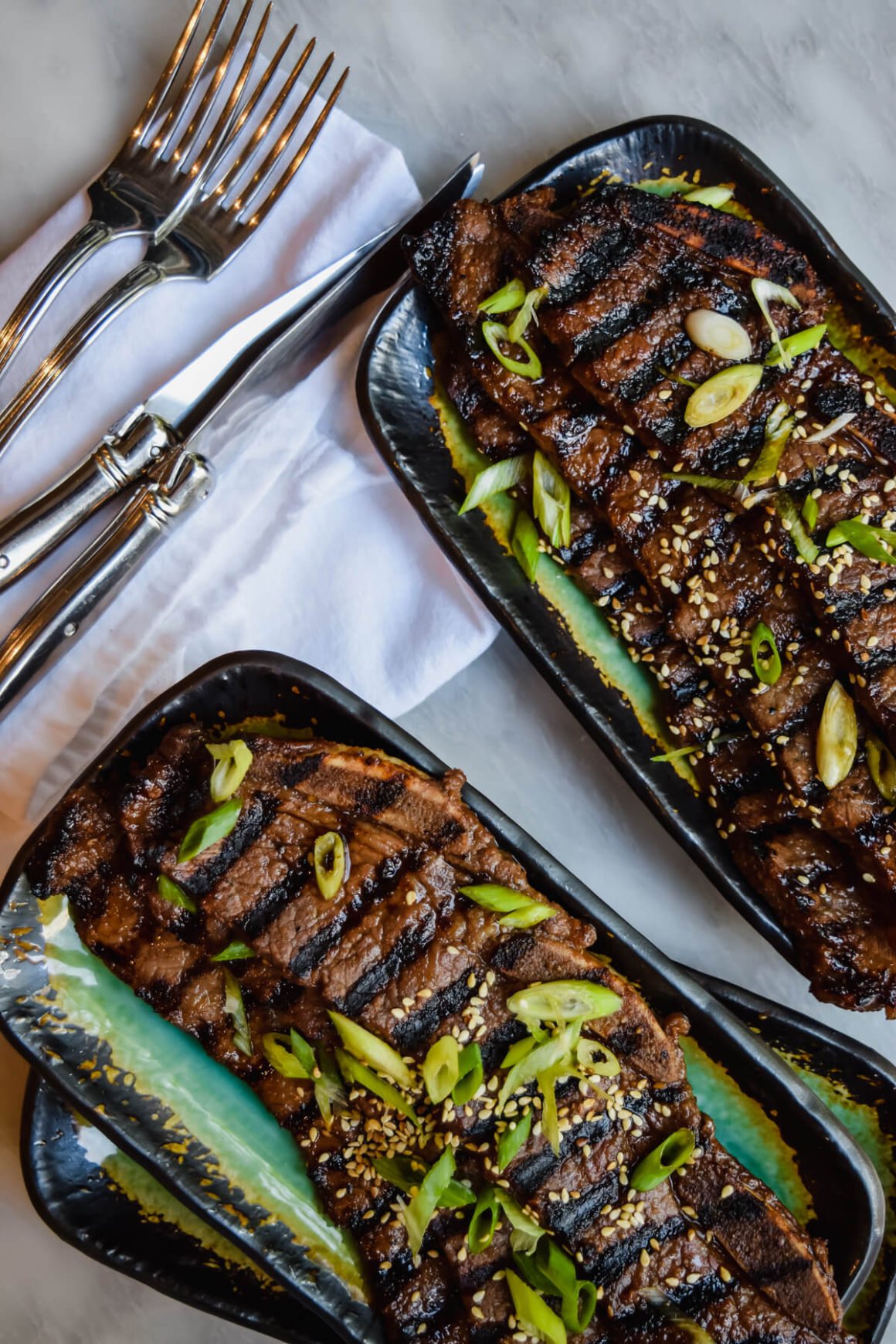 I love using silan or date syrup in this recipe. You can find silan at any store that sells Middle Eastern products. It gives the perfect tanginess with a great depth of flavour. If you can't find it, honey will do the trick or even maple syrup.
You can serve the ribs as is, on the strip, or if you want, serve them as an appetizer by cutting in between each bone when they come off the grill and laying them out as finger food.
If you want to reheat them after you cook them, place the cooked ribs immediately in a covered dish and warm them up back up in the oven later on. Covering them while hot will steam them a bit – locking in the moisture.
Enjoy my friends!!!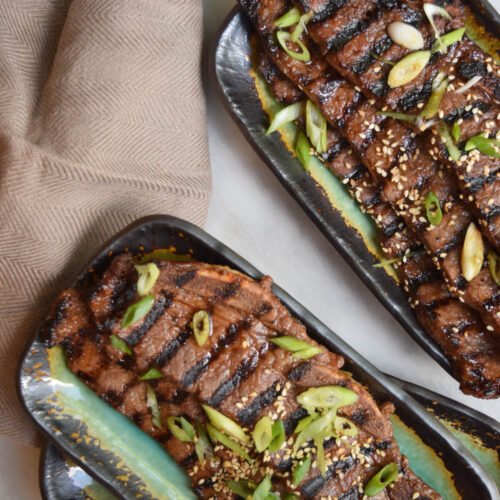 Sweet and Sour Miami Ribs
Ingredients
½ onion

1 large clove garlic, peeled

1 ½ Tbs. toasted sesame seeds

3 tbsp. date syrup (silan)

½ tsp. black pepper

⅓ cup low sodium tamari or soy sauce

⅓ cup Asian sesame oil

3 Tbs. mirin (Japanese cooking wine)

3 lbs. Miami ribs (12 ribs)
Instructions
In a blender or food processor puree all the ingredients (not the ribs) until smooth.

Reserve ½ cup of marinade for brushing on the hot ribs as they come off the grill.

In a large zip lock bag or marinating container, mix meat with marinade.  Allow to marinate at least 3 hours to overnight, turn the meat occasionally.

To cook, heat grill or large fry pan to med high heat.  Cook on the first side for 3 minutes, flip, brush with some reserved marinate and repeat on the second side.  Brush the second side as the ribs come off the grill.  If you have any leftover uncooked marinade (from the ½ cup) drizzle it over the ribs before serving.
Notes
Do Ahead Tip:  You can bbq the ribs ahead of time, undercook each side by 1 minute.

 

Do not brush the reserved marinade on as you are grilling.

 
Remove from the grill and place the ribs in a baking dish, cover.

 
Refrigerate if you are doing this step longer than 2 hours.

 

Bring to room temp 1 hour before reheating.

   
When it is time to reheat the ribs, set the oven to 400˚F, drizzle the reserved marinade over and under the ribs, cover the dish and reheat until hot, about 15-20 minutes.