Sweet Potato, Spinach, and Ricotta Stuffed Pasta Shells
Jump to Recipe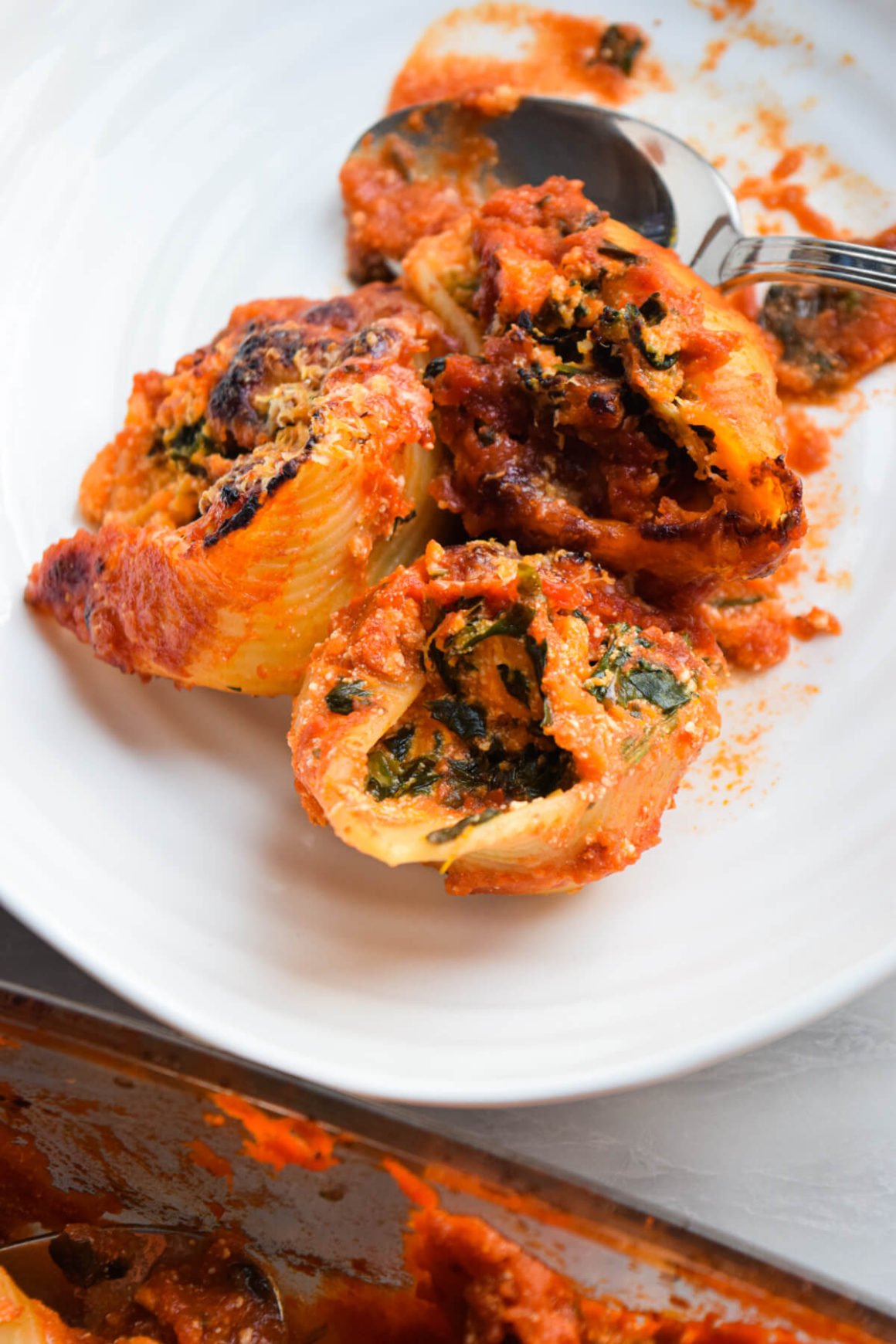 The winter and the snow always make me feel like nesting. I want to stay home, cook a little, or at least have cozy food in the freezer and turn on Netflix. There is something so warming and comforting about pasta and stuffed pasta in particular.
The perfect winter recipe.
These stuffed pasta shells are so delicious and full of healthy nutrients from the sweet potato.  Make a double batch because this freezes really well (freeze uncooked) and cook right from frozen (it will take 15-20 minutes longer)!
Sweet potatoes can take a while to cook when making them in the oven, which produces the best results. Fortunately, sweet potato flesh can be frozen. I'll cook up a dozen sweet potatoes, use what I need, and freeze the flesh in baggies. I usually portion each baggie of sweet potato by the cup measure. Meal prep my friends..

Sweet Potato, Spinach, and Ricotta Stuffed Pasta Shells
Ingredients
½

box

of dried jumbo pasta shells

you need about 24 large shells

2

small

sweet potatoes or one big

1

cup

whole milk ricotta cheese

1

clove

garlic

Big handful of frozen or fresh spinach

optional (see note)

1¼

cup

tomato sauce

⅓

cup

water

½

cup

parmesan cheese

more for the top

salt and pepper
Instructions
Cook sweet potatoes in the microwave for 5-8 minutes until they are fork tender (flip them half way).  Once cooked, scoop and flesh and spread out on a plate or a larger surface are so that it cools faster.  I put it in the fridge or freezer for a few minutes.

Bring a large pot of salted water to boil.  Add pasta shells and boil for 4-5 minutes (par-boil), drain.

In a large bowl, mix together the cooled sweet potato flesh, ricotta, garlic, parmesan cheese and defrosted/cooked spinach is using.

In a separate bowl, mix the tomato sauce with the water.

In an 8-by-8" pyrex or baking pan, spread a little sauce at the bottom.  Stuff each shell with some sweet potato mixture and place on top of the sauce in one layer.  Distribute the rest of the sauce over the shells evenly.  Sprinkle a little extra parmesan cheese on top.

Bake 350˚F COVERED with foil for 45 minutes, serve hot!
Notes
Makes about 24 shells
If using frozen spinach, all you need to do is defrost it.

 

I lay the frozen spinach on a plate, it defrosts very fast.

 

If you are using fresh spinach, chop it, place in a glass bowl with a little water, cover and microwave for a minute, it will cook.

 

Allow it to cool.