Remember these from 8 weeks ago!! Well, you may have missed it, so here it is in print, and here to stay!
I use tahini in a lot of my cooking. Tahini is a paste made from sesame seeds – somewhat like peanut or almond butter. It is made from grinding sesame into a smooth and pourable consistency. Most people think of it as a savoury condiment, but it can be used for so many purposes.
Add lemon, cumin, salt and water to tahini, and you have the perfect middle eastern dip. Add soy, sugar, lime and some spice, and you have a "peanut" sauce for a salad, wrap or a soba noodle dish.
Tahini is also an amazing addition to cookies and other baked goods. It adds richness and moisture and a delicious bitter-nuttiness. And one more hint: try topping off your tahini cookies with some flaked salt. It really brings out the tahini flavour. Enjoy!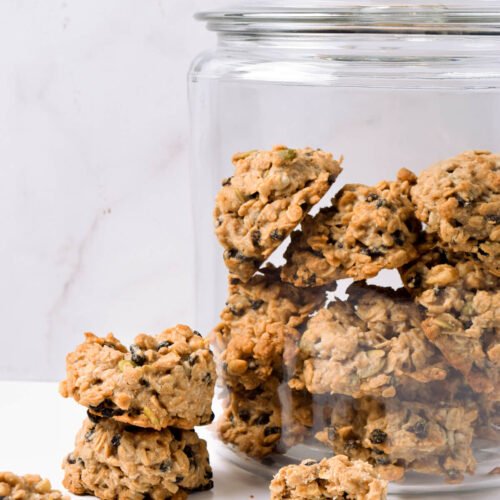 Tahini Granola Cookie
Ingredients
2 cups (8oz/225g) rolled oats, I like the large flake or old fashioned for these

1 cup (4½ oz/130 g) any flour of your choice.

¾ cup (2 oz/55g) shredded unsweetened coconut

2 tbsp. raw pumpkin seeds

2 tbsp. raw sunflower seeds

1 Tbs. cinnamon

¼ tsp. sea salt

⅓ cup tahini

⅔ cup/160 ml. maple syrup

½ cup canola oil OR liquid coconut oil

1 tsp. vanilla

½ cup chopped walnuts or pecans, optional

½ cup small raisins or chocolate chips
Instructions
Preheat oven to 350˚F or 325˚F convection. 

Line 2-3 cookie sheets with parchment.

In a large bowl, combine, oats, flour, coconut, seeds, cinnamon and salt.

In a smaller bowl or measuring cup, stir together the tahini, maple syrup, oil and vanilla.  

Pour wet ingredients into dry and stir until evenly combined.Fold in walnuts, raisins or chocolate chips.

Using a soup spoon or mini-scooper, scoop batter into mounds onto the prepared cookie sheet.  You may need to form them into mounds with you fingers.  They may appear as if they are not coming together, but they bake up great!  Don't worry about crowding the pan a little, they do not spread.

Bake for 15 minutes or until lightly browned.