Zucchini Corn Fritters with Tomato Salad
As you probably know by now, I'm a bit of a sucker for summer produce. We have such a short summer season here in southern Ontario that I need to make the most out of every bite. I like to cook and eat what is in season and there is no better way to showcase that than these zucchini corn fritters with a side salad of heirloom tomatoes of all shapes, sizes and colours.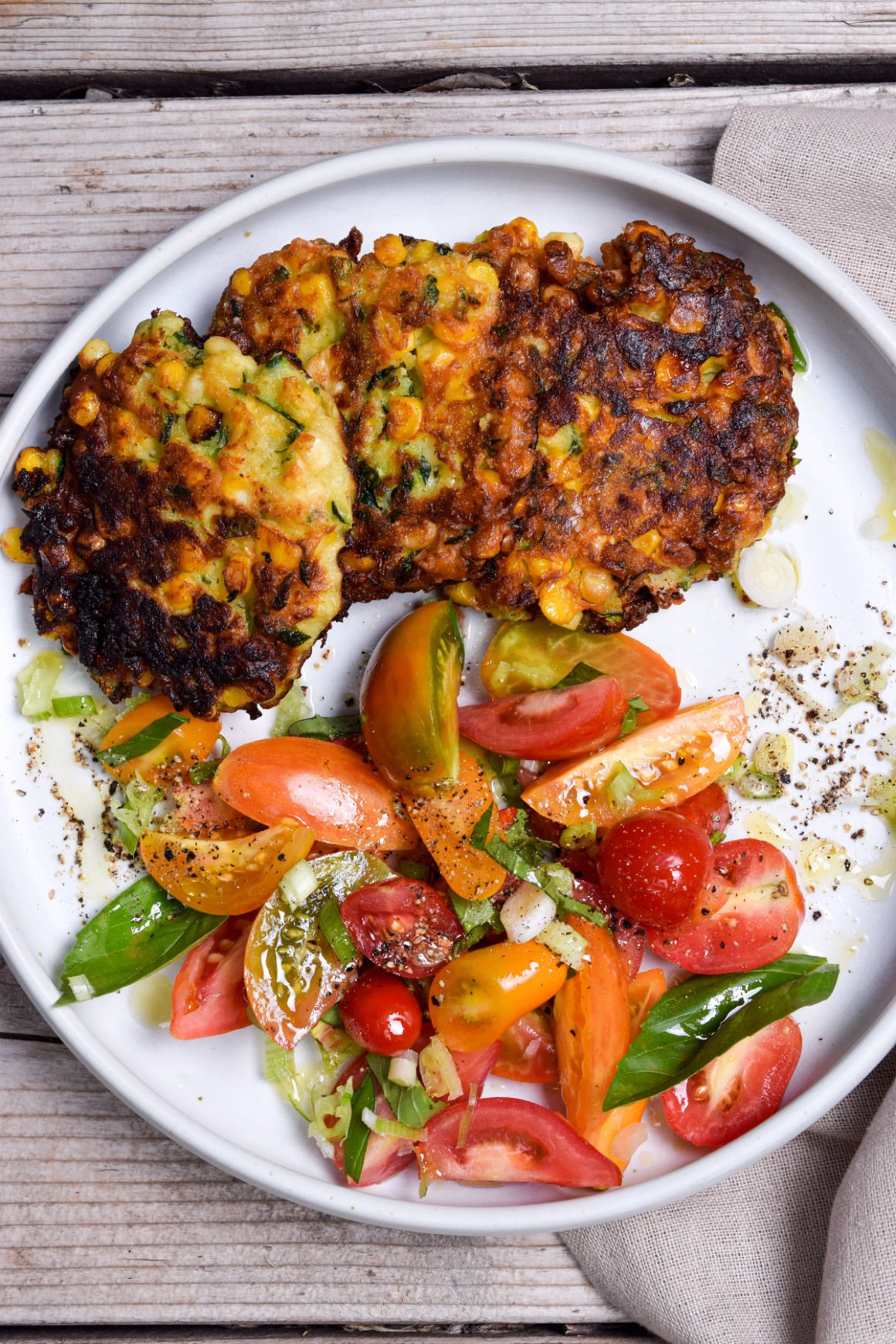 The corn gives these fritters and incredibly sweet taste and crunch while the zucchini throws in a velvety texture to balance off the crunch. Chickpea flour acts as the binder and serves as the protein source too.
All around, these fritters are the perfect end of summer food. Feel free to leave the parmesan out of the recipe, but if you do, just add a little bit of extra salt.

Zucchini Corn Fritters with Tomato Salad
Ingredients
2 zucchini 

2 ears of corn, husked and kernels cut away from the cobs

Big pinch of salt for the zucchini 

1 cup chickpea flour

1 ounce parmesean cheese, grated (about ¼-½ cup grated), optional

2 green onion, white and light green parts, minced

10 basil leaves, sliced thinly

1 tsp. kosher salt or ½ tsp sea or table salt (3 grams by weight)

¼ tsp. black pepper
For the Tomato Salad
2-4 cups assorted small tomatoes, halved or quartered if large

6 basil leaves torn

2 green onion, white and light green parts, minced

Splash of white wine vinegar (about 1 tbsp.)

Drizzle of olive oil (about 3 tbsp.)

Kosher salt or Maldon Sea Salt

Freshly ground pepper
Instructions
Using the large holes of a box grater, grate the zucchini into a colander, sprinkle with a good pinch of salt and using your hands, mix the salt through, let stand for 15 minutes. 

Push the excess water out of the zucchini down through the colander.  Make sure that the zucchini is well squeezed out.

In a large mixing bowl, mix together the zucchini, corn, chickpea flour, cheese (if using), green onion, basil, salt and pepper.  Add a few tbsp. of water so the the mixture is not too try but not wet, it should hold together when making a ball.

Heat a large fry pan, add enough oil to cover the bottom and then some.  Using your hands, scoop bout ⅓ cup of mixture, form a ball, gently place in the oil and flatten out the top.  Repeat until you have about 6 fritters going.  Fry for about 5-6 minutes, flip and repeat.  Remove the first batch and repeat with a second and maybe a third batch.  You should have about 12 fritters. BE CAREFUL, THE CORN CAN POP AND SPRAY HOT OIL
In the meantime, make the tomato salad.
In a large mixing bowl, mix tougher all the salad ingredients.   

Place on the serving platter and serve the fritters on the same platter so that the flavours can interact with one another.