Crispy Green Falafel Balls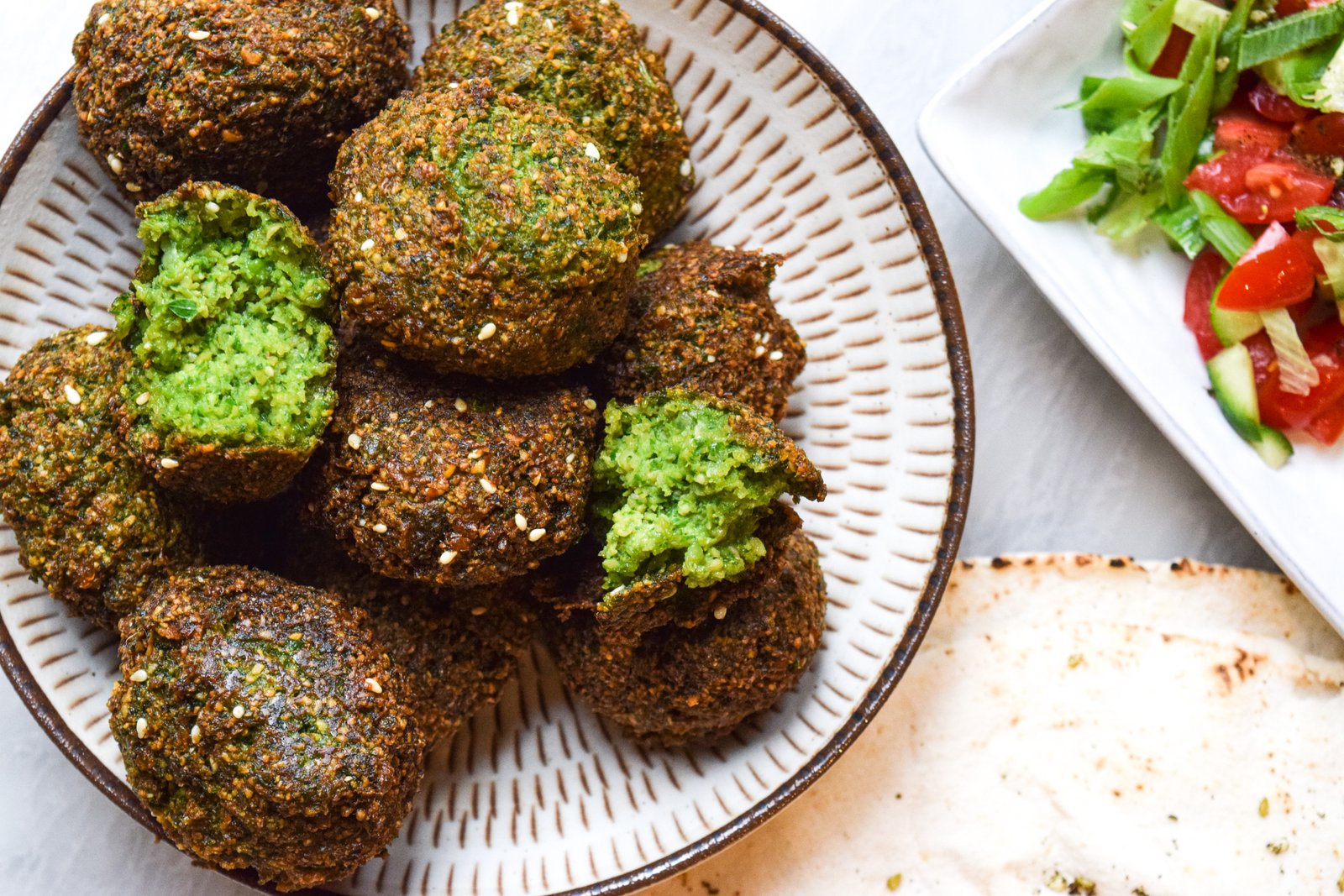 Craving a traditional falafel at home? The secret to making falafel balls that taste great and actually work is starting with dried chickpeas. I had the best falafel balls in Tel Aviv at Hakosem, this is Ariel Rosenthal's recipe. I usually serve this dipped in tahini but of course you can serve these in a pita with Israeli salad, tahini and all the other traditional accompaniments.

Crispy Green Falafel Balls
Ingredients
For the Hakosem Falafel Balls (about 15-20 balls)
⅔

cup

DRIED chickpeas, soaked in the fridge overnight in water

1

cup

parsley leaves

1

cup

cilantro leaves

½

med onion

2

cloves

garlic

½

jalapeño chilies

2

tbsp

water

1

tsp

kosher salt

½

tsp

ground cumin

½

tsp

ground coriander

1

tsp

sesame seeds

¼

tsp

baking soda

Grapeseed oil for frying
Instructions
Make the Hakosem Falafel Balls. Drain and rinse the chickpeas then place them in the bowl of the food processor. Mince until they are chopped into large crumbs. Add the parsley, cilantro, onion, garlic, jalapeno and water. Pulse until you have a green paste, you will need to scrape down the sides a few times. In a small bowl mix together the salt, cumin, coriander, sesame seeds, and baking soda. Heat 2-inches of oil in a deep pot (small one is fine). The oil needs to be hot (360 ̊F). You can test it by putting a small piece of bread in it. It should sizzle.

Add the spices to the falafel mixture, mix together. Place a paper towel on a plate. Using a spoon and your hands form the falafel mixture into large walnut size balls. Drop them into the oil, only about 6 at a time. Flip them after 1-2 minutes, cook on the second side and remove to the lined plate. Repeat until all the falafel balls are cooked.
Notes
Makes 12-15 falafel balls. Note: You can prepare the Green Falafel Mixture WITHOUT the spices and baking soda hours or even a day ahead. Add the spices/baking soda right before shaping and frying. Baking the Falafel. Preheat oven to 375 ̊F. I recommend frying the falafel but if you want to bake them generously oil (1⁄4 cup) a foil lined cookie sheet. Shape the falafel balls into flat-ish balls (not so round) and place them on the sheet. Bake for 12-15 minutes , flip and repeat.