High Protein Apple Muffin
I love muffins but most often they are cakes dressed up to make you think that they are healthy, when really they are full of bad fats and bad sugars. No, not these babies.
These muffins are a fabulous breakfast, snack after a workout or when you have the mid-afternoon munchies. They are full of protein and are a fruit serving too! Adding a whole tablespoon of cinnamon is not just to make them taste good, it is there to slow the digestive process down, keeping your blood sugar low.
Make a double batch of these (that way you can use the whole block of tofu) and keep them in the freezer. I pop one in the micro for 30 seconds, and a star is born, well maybe not quite a full-on star but a pretty damn good breakfast or snack! My kids loved these when they needed breakfast in a hurry, mostly when they could not get up in time for breakfast before school.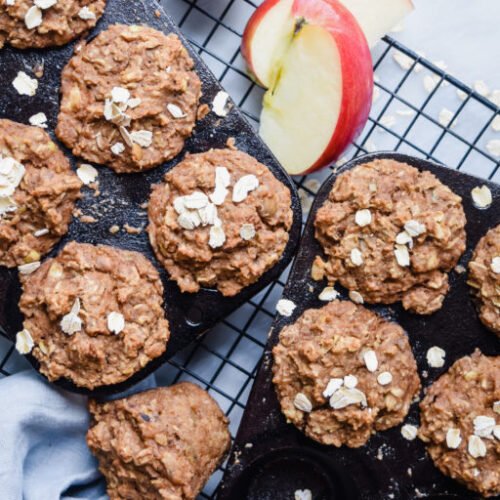 High Protein Apple Muffin
Ingredients
1

cup

rolled oats

2/3

cup

 rice flour (can use white or brown rice flour)

1/3

cup

barley, spelt or whole grain flour

1/2

tsp

kosher or sea salt

1

tsp

baking soda

1

tbsp

cinnamon

1/2

lb

firm or extra firm tofu, I used organic sprouted tofu, this one (half the double pack for a single recipe or the full double pack for a double recipe)



2

large apples, cleaned, cored and cut up (leave skins on)

1

cup

 light olive, melted coconut, sunflower or grapeseed oil

1/4

cup

 pure maple syrup
Instructions
Preheat oven to 350˚F.  Spray a 12 cup muffin tin with cooking spray.  

In a large mixing bowl mix the oats, flours, salt, baking soda, and cinnamon.

In a food processor blend tofu, apples, oil and maple syrup until smooth.

By hand, mix the wet ingredient into the dry ingredients.  Do not over mix.

Fill the muffin tins about ⅔ full.